Nuuly review (and why I'm on the fence about it)
Hi hi from the Happiest Place on Earth. We're spending time with friends and enjoying all of the rides and Disney treats. 🙂 I hope you're having a wonderful week, too.
For today's post, I wanted to share the details on Nuuly. (<— Not sponsored or affiliated with the company; just wanted to share my thoughts.) I FINALLY decided to give it a try after being ad targeted for so long. Since we're back in the world a bit more and seeing people in real life, I thought it would be a fun way to try something new and give the ol' wardrobe a refresh. (Does anyone else completely clueless about style lately? It's like I turned my back to help with virtual learning almost the entire year and turned around and now these horrible wide leg pants are everywhere.)
Here's the details on Nuuly and what I think so far! (And why I don't love it as much as I thought I would.)
Nuuly review (and why I'm on the fence about it)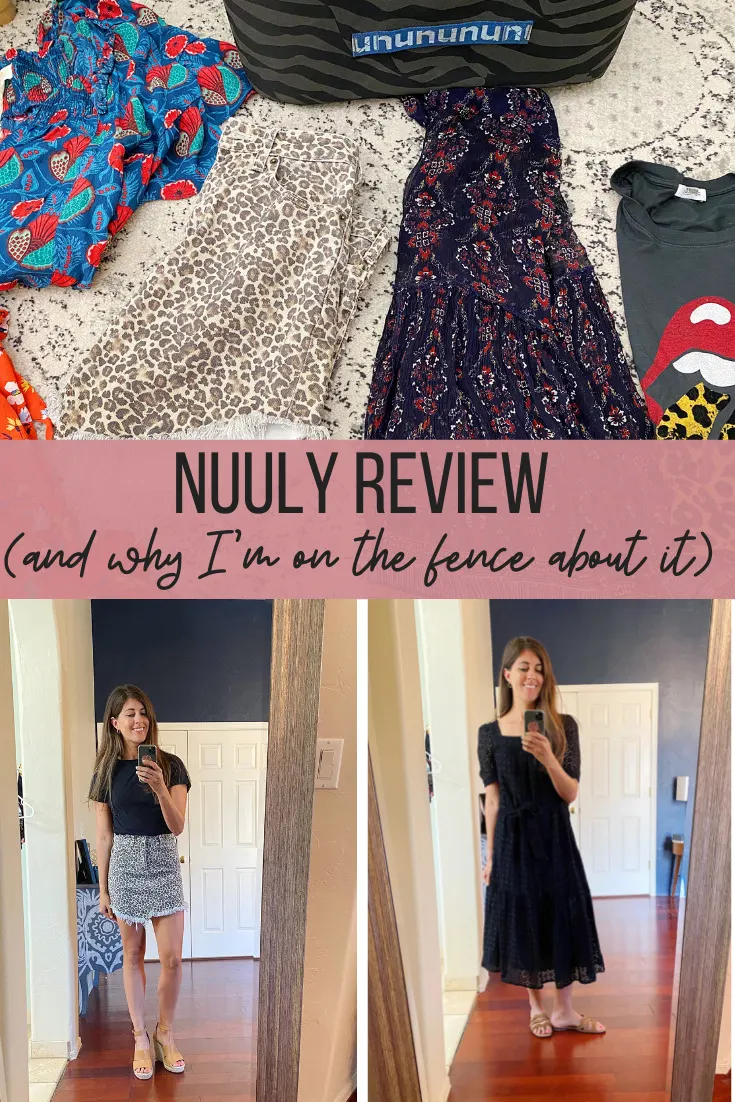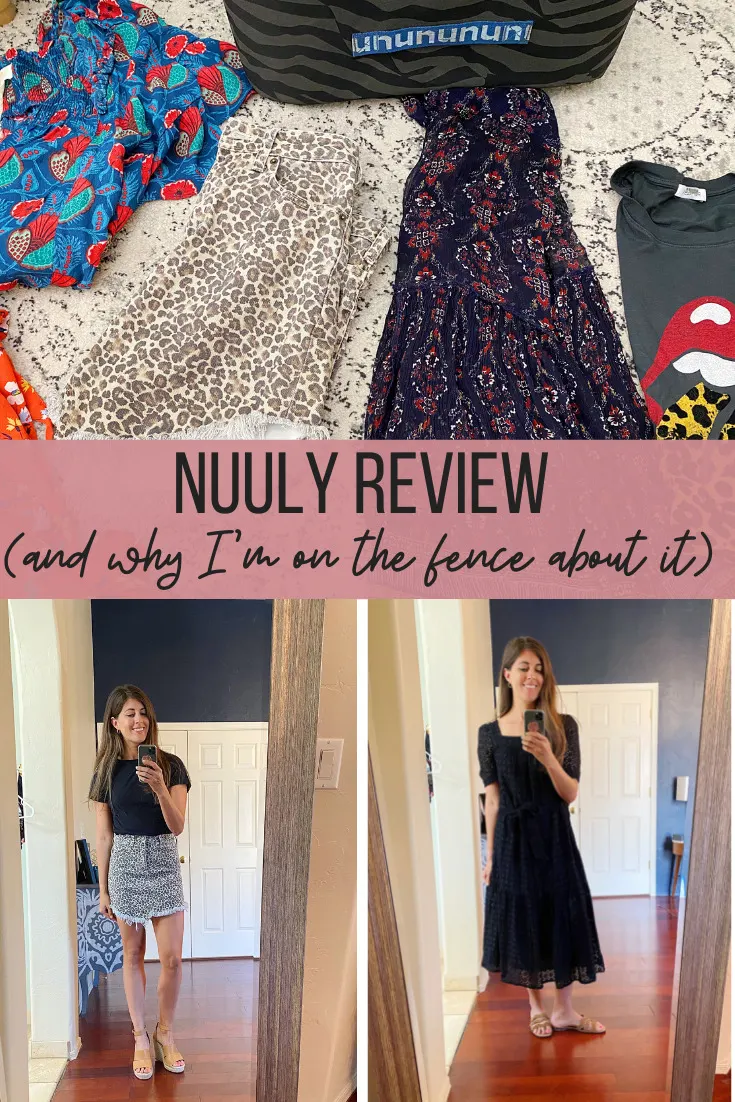 What is Nuuly and how much does it cost?
Nuuly is a subscription service that allows you to choose 6 pieces per month from their virtual closet of tops, sweaters, jeans, tops, skirts, and dresses. They have a lot on the site from many of the brands I love, including for love and lemons, Maeve and other anthropologie brands, Free People, Paige, etc.
You pick your 6 items, they send them to you, you wear them as often as you'd like, and then you return and repeat. They take care of insurance and cleaning (more on that below). The cost is $88 per month + shipping, so I think it ended up being closer to $98. I've tried a similar service in the past (Rent the Runway unlimited) but liked that this had more casual everyday options. (I think RTR is better for weddings/events, fancy dinners, and travel.)
Pros:
– The opportunity to try out different brands and styles with a low commitment. Most of the clothes I picked retail for around $100 each, so that part was a *deal*. I like to rotate the things in my closet often, which can get pricey, and I love that this is a green alternative to constantly buying new clothes. (Even from the packaging alone! These are delivered in a reusable bag, which is washed between lenders. No boxes or plastic wrap.) I also have zero probs wearing clothes other people have worn, so there ya go.
– Some really cute options on the site. I love the selection of dresses on the site and am also pumped about all of the cute sweaters for fall. It's never worth it to buy a ton of sweaters with the AZ heat – we have winter for like 2 months – and this would be a fun way to try out some new options without having to pay full retail.
I liked almost everything that came in my first shipment!
Here's what I picked: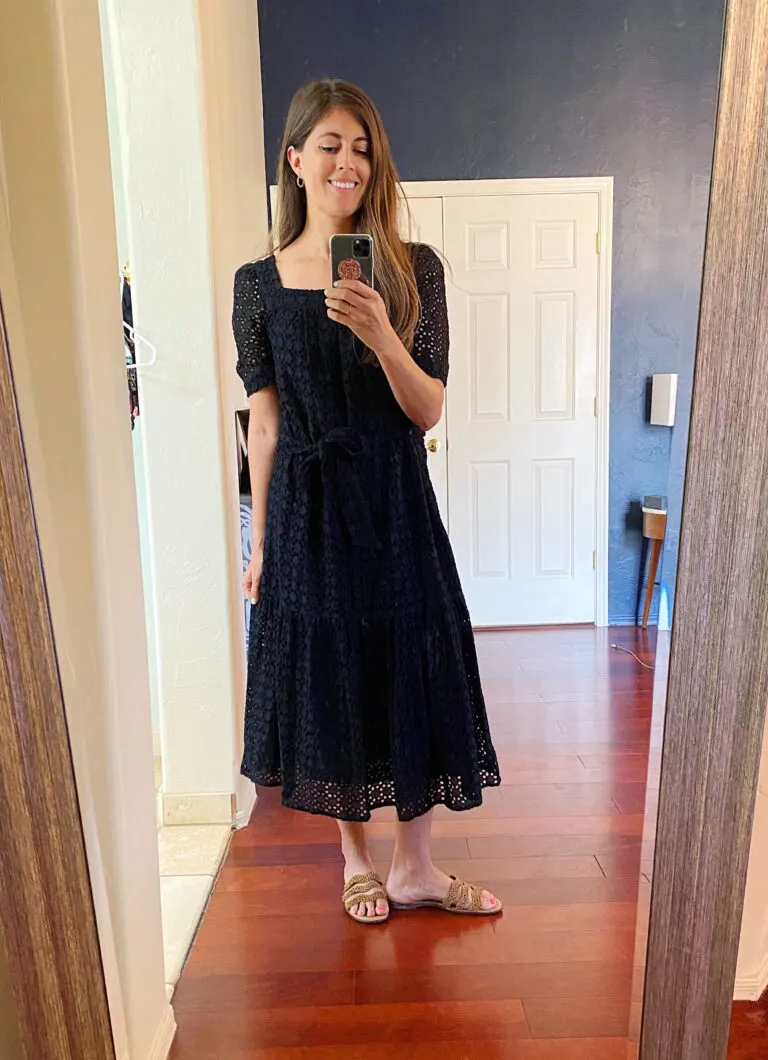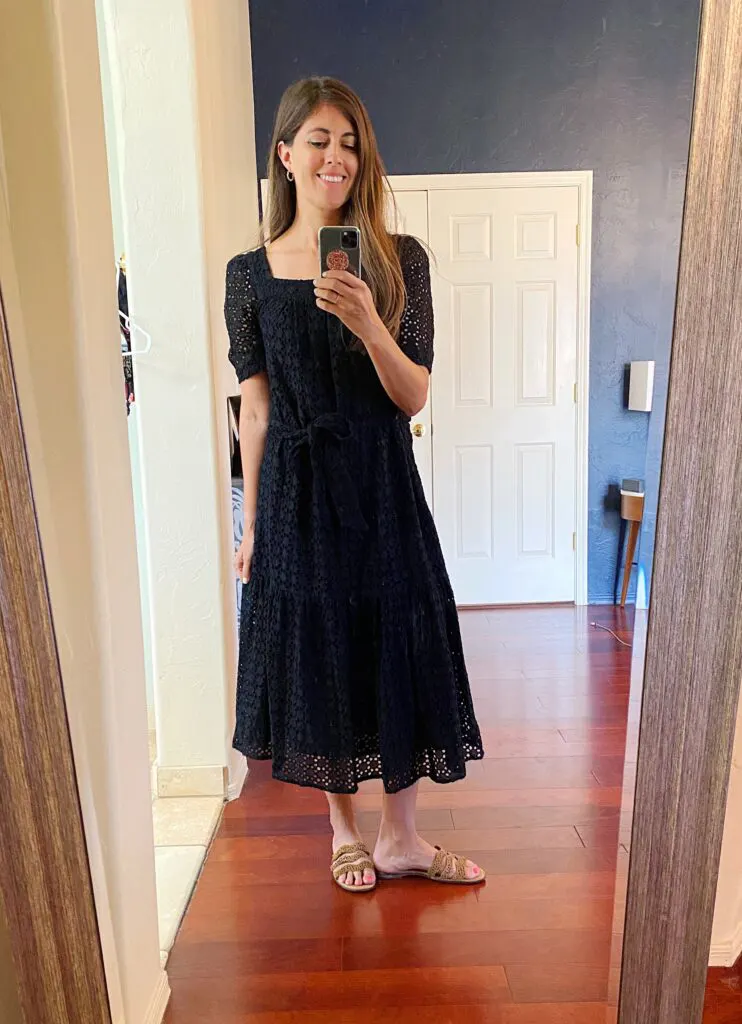 1. Josette Eyelet Midi Dress 
Maeve by Anthropologie
This was almost worth the shipment alone and I'm considering keeping it. (You have the option to buy anything you want to keep at a slight discount.) It was such high quality, arrived new with tags, and is adorable to dress up or down. I've already worn it a few times: to drinks with friends, to a meeting for Liv's school, and running errands with a high bun and sandals.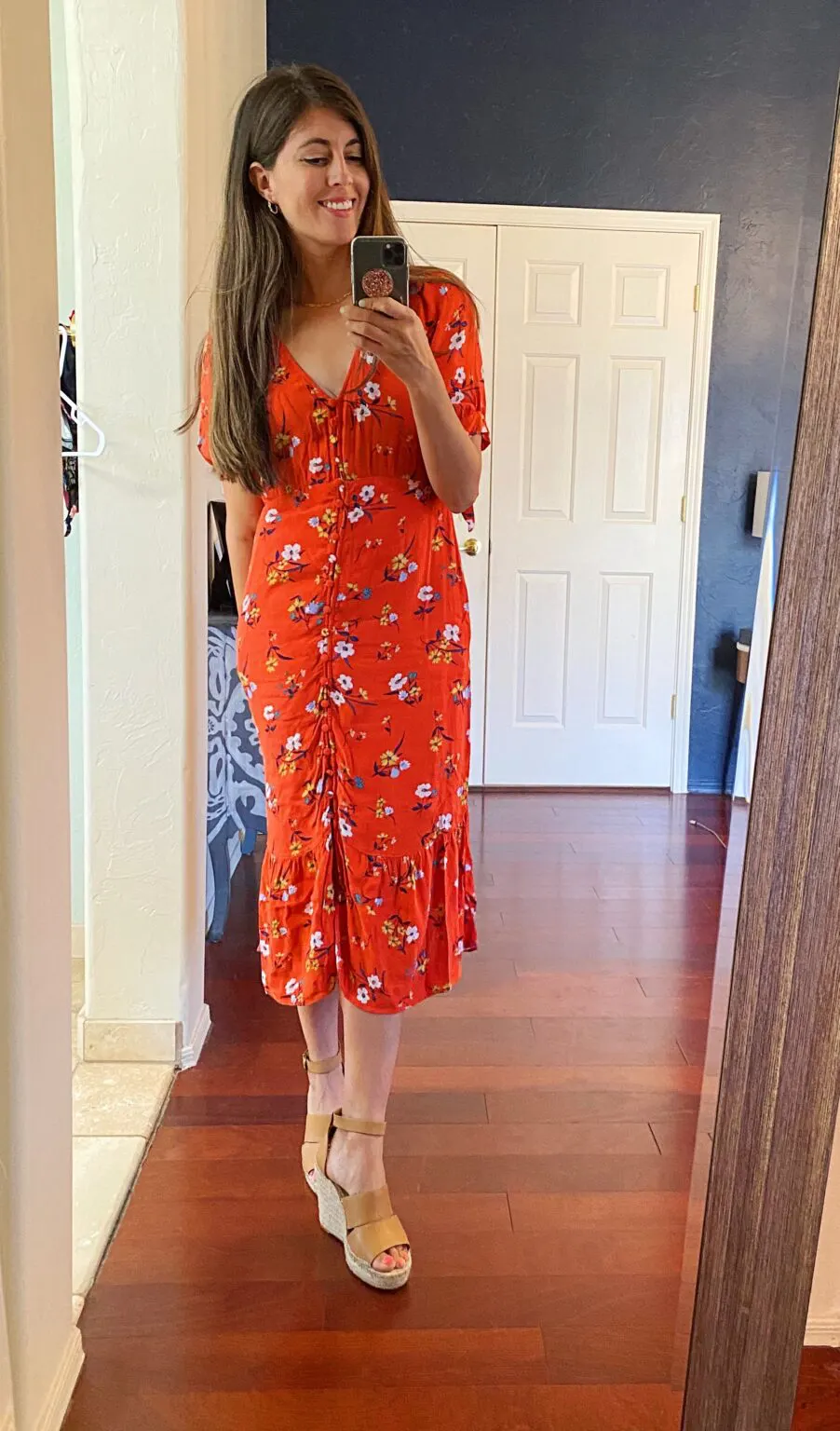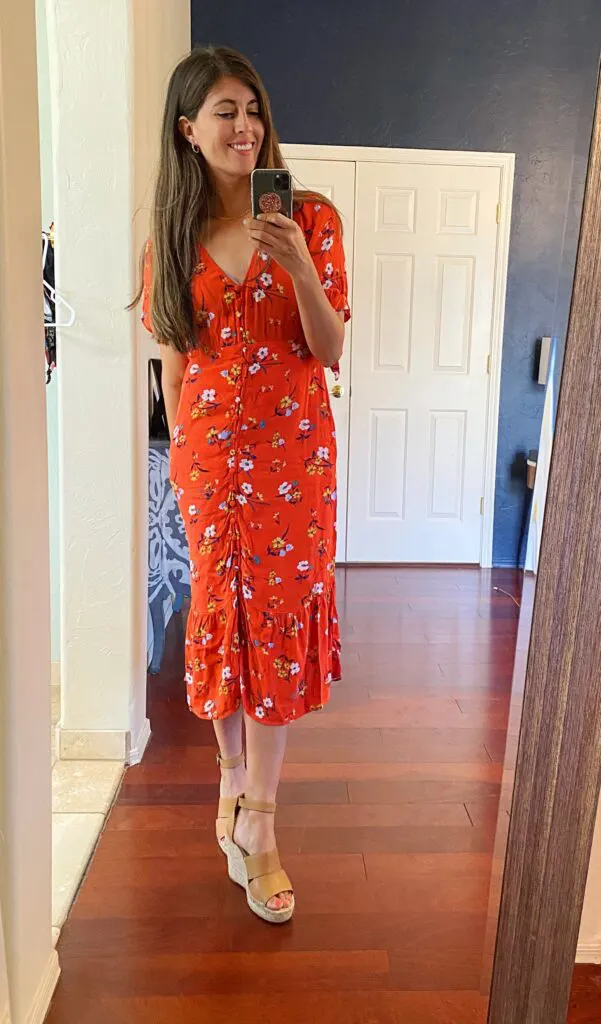 2. Eudora Midi Dress
Maeve by Anthropologie
I loved the color and pattern of this dress, but the pockets were a bit weird. They added extra fabric that made my hips look like there were bumps on them. The fabric also wrinkled easily. I only ended up wearing this one once to dinner.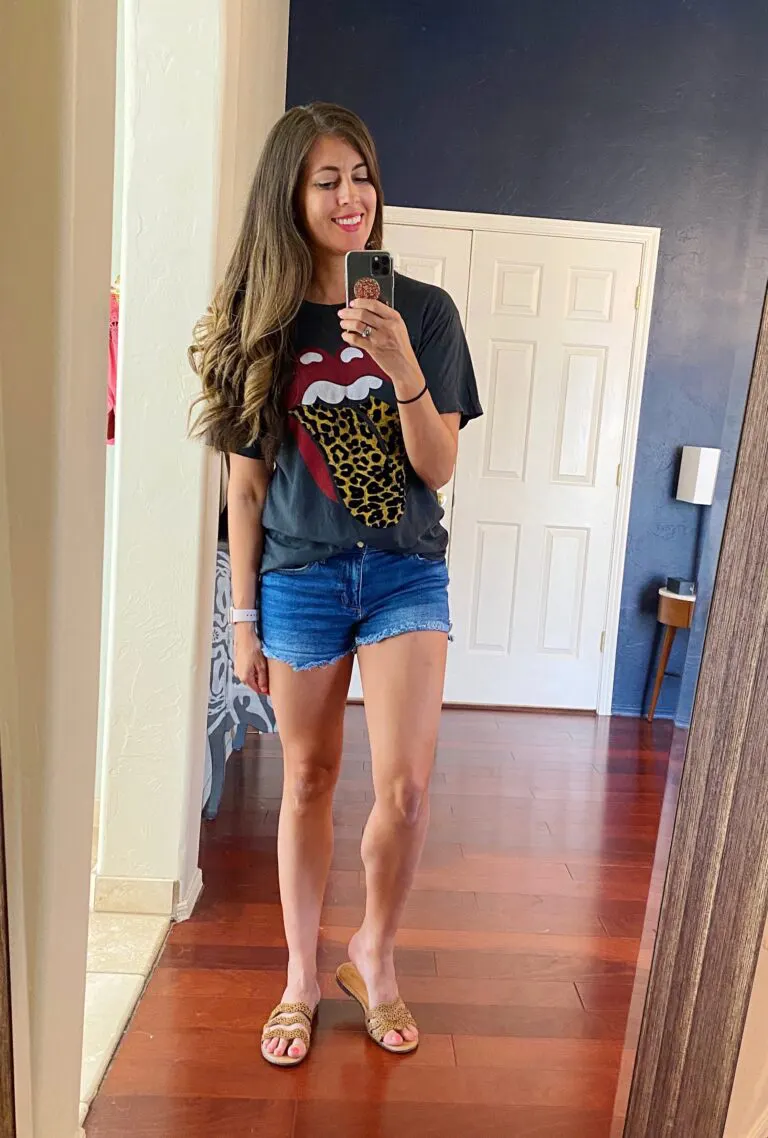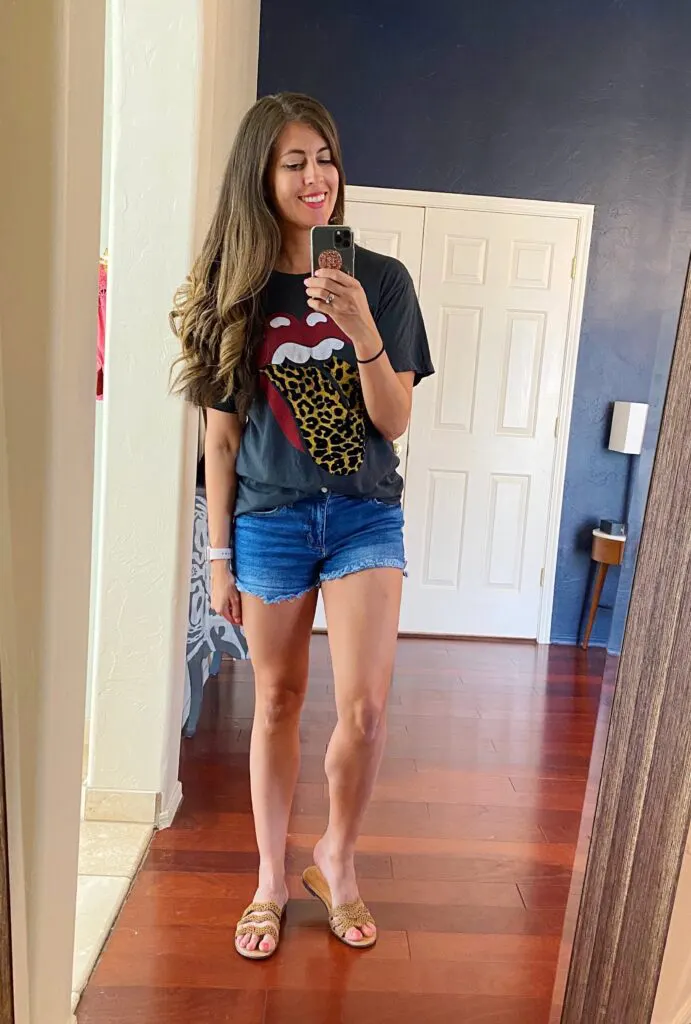 3. Stones Flocked Leopard Tongue Tee
This shirt was adorable with jean shorts or leggings and every time I wore it, I got compliments on it from someone. It's a little funkier than the things I usually wear and I liked switching it up a bit.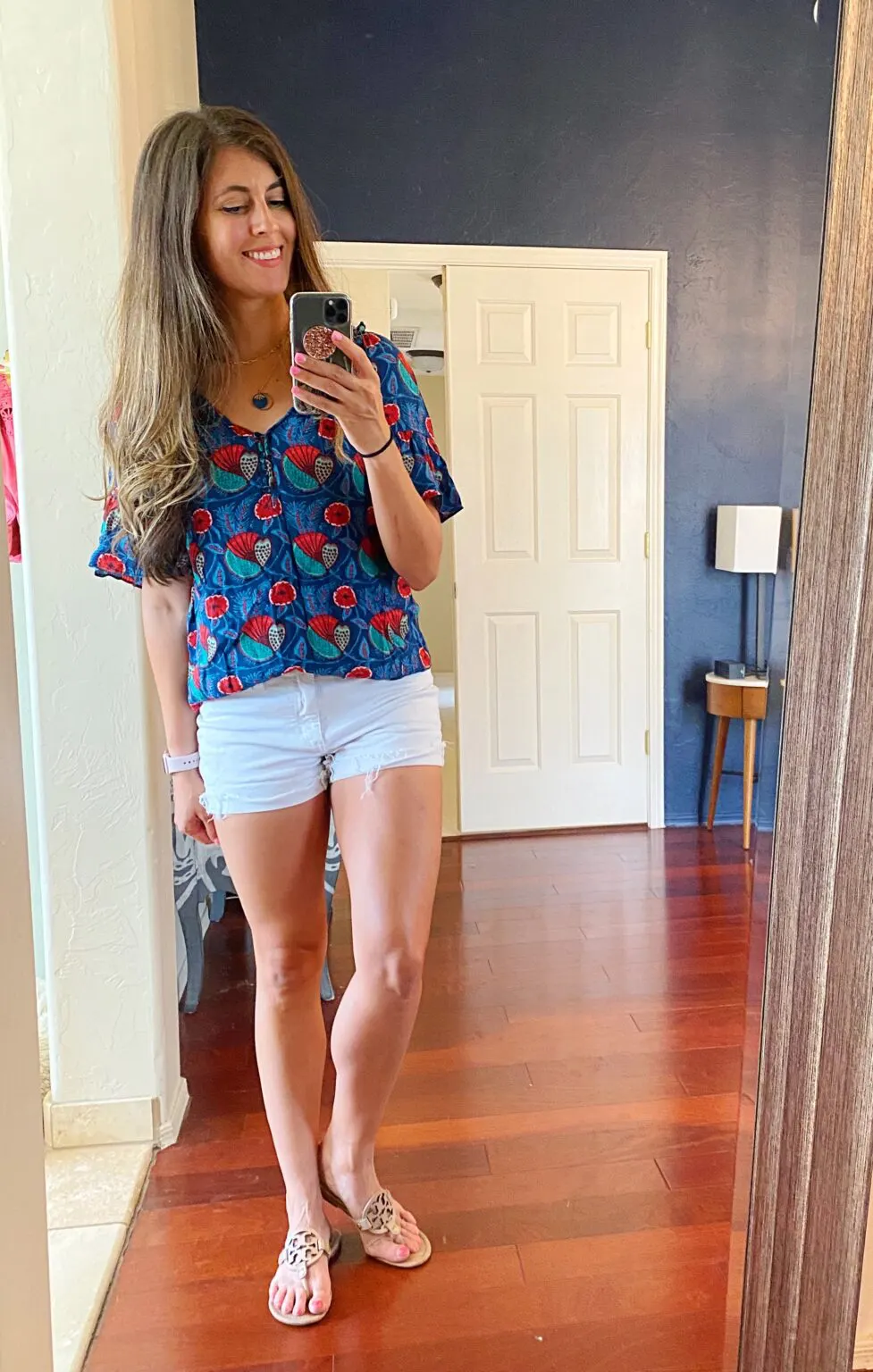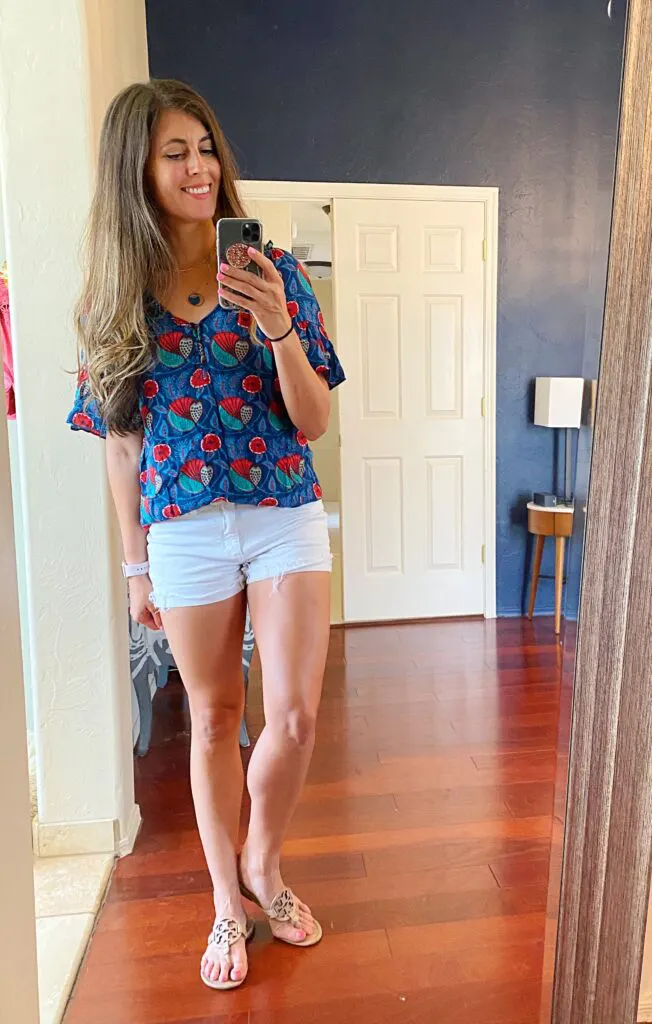 4. Letitia Smocked Blouse Maeve by Anthropologie
This was another one that pushed my comfort zone a bit, as I tend to stick with more solid tops. I ended up loving it and wore it a few times with white jean shorts.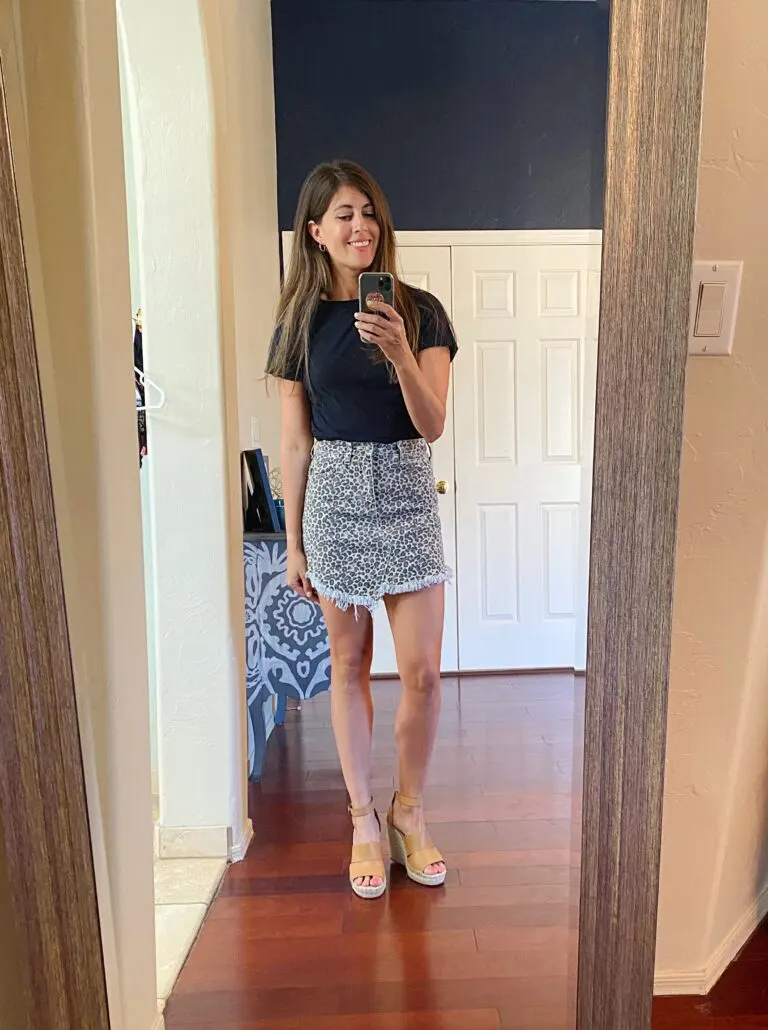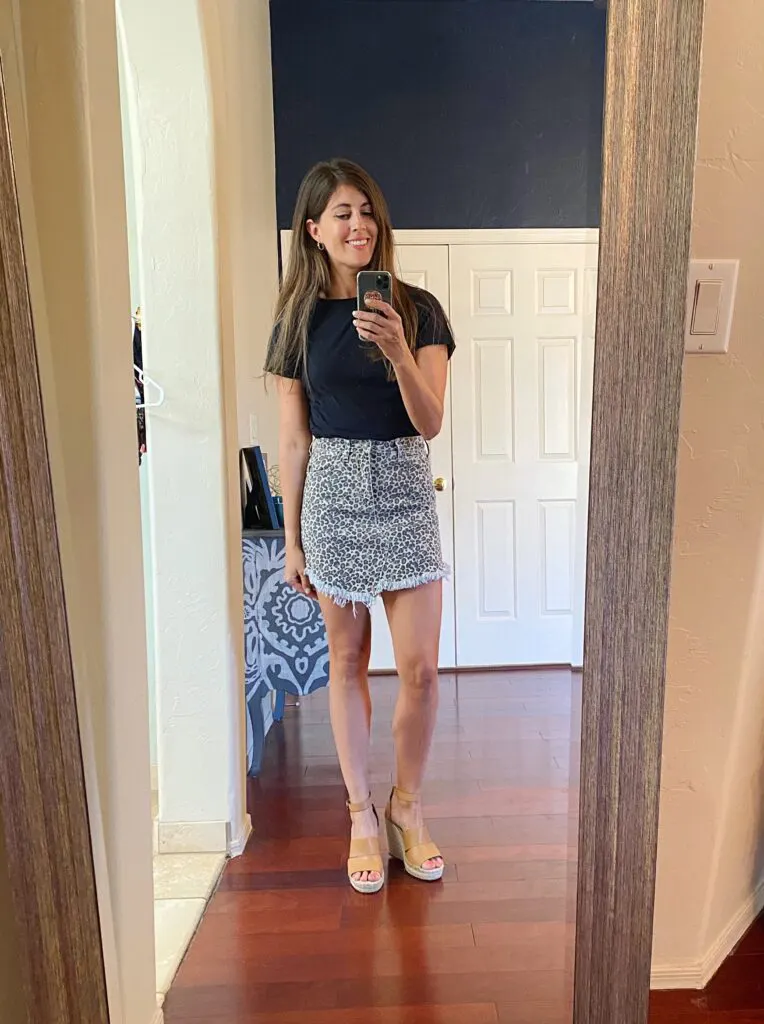 5. Free People Printed Bailey Denim Mini (<— $30 at Off 5th right now!)
I was really excited about this one but it was way too small. Free People typically runs small and my size up wasn't available, so I stuck with my normal size. I couldn't breathe in it lol.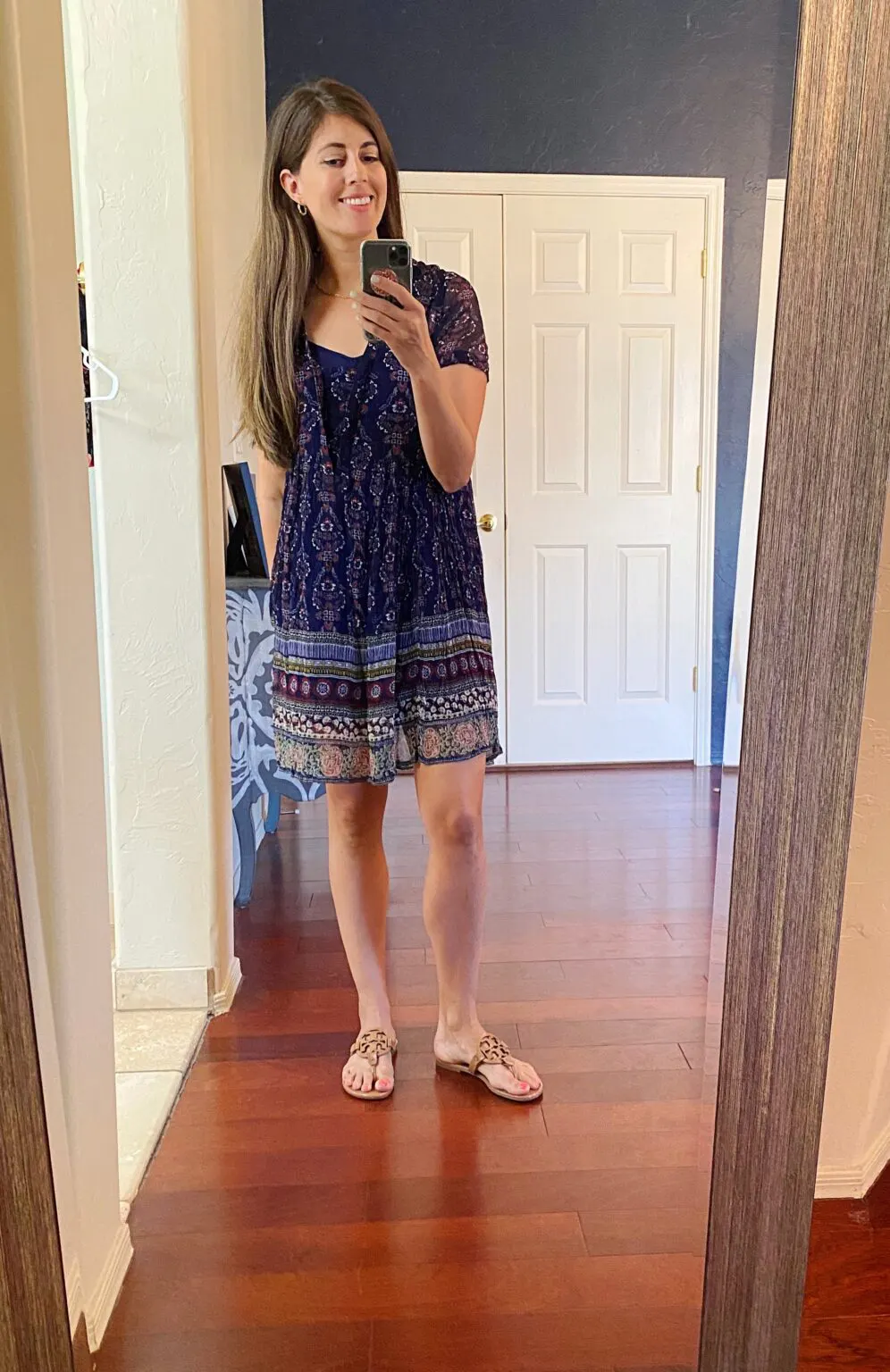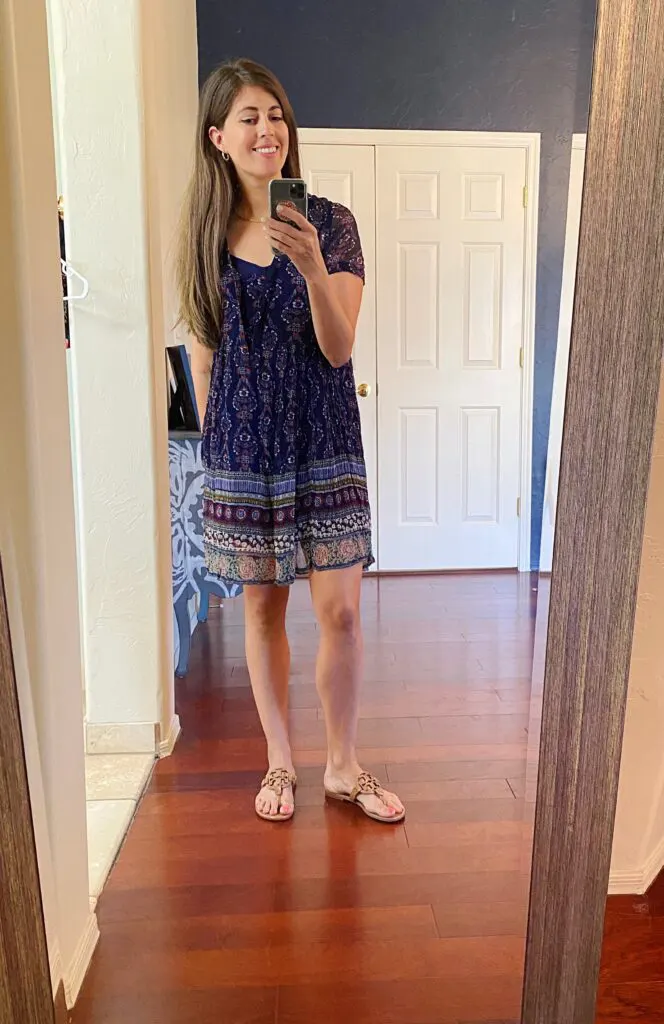 6. Morning Glory Tunic Maeve by Anthropologie
I had a couple of probs with this one (more on this below) and in the end, I didn't end up wearing it. I was just a bit too big and boxy; wasn't a fan.
Cons:
– Sizing. Sizing is always inconsistent with services like this, so it's helpful to know how certain brands run. I also definitely recommend lurking the reviews for the items you're considering. For example, I knew for Maeve items to size down, and to size up for Free People. I sized down for the tongue tee and was glad I did. The reviews will usually give a good idea for how certain items will fit, but it's still hit or miss.
– Shipment. My shipment took a long time to get to me. Once I clicked "order" it was about 10 days until my Nuuly arrived on the doorstep. I feel like if you have to wait 10 days out of each month for the clothes to actually get to you, you're not getting the full $88 worth. I'm going to try again this month and see how long it takes!
– Smell. (!!!!!)  GAHHHH. So they dry clean the items and the bag in between each rotation, but the tunic above was stinky when I pulled it out of the bag. The smocked blouse was also a little stinky, but nothing like the tunic. I ended up contacting support to ask them what I should do, and they said I could carefully wash them using the label's directions. I hand-washed the two items and let them air dry, which helped a ton, but it still was a bummer that it arrived smelling less than fresh lol. So we'll see how the next shipment goes with that, too.
All in all, I'm on the fence. There are some great benefits of using it and it's a fun way to swap out my current rotation, but at the same time, I could put $88 per month towards other things I could keep and love. I'm going to try it for another month or so and decide if I want to continue.
Nuuly Promo Code
This post isn't sponsored or affiliated in any way, but if you decide to try out Nuuly, my referral link gets you $10 off your first month.
Have you tried a monthly subscription service before? What are some of the ones you love?
Our membership that gets the most love is definitely Thrive Market.
xo
Gina