Hi friends! How are you? Happy Monday! How was the weekend?
Ours was a great one; the perfect mix of time outside, playing in the water, and hanging out at our fave local spots.
Friday night, the Pilot was working a bit later, so the girls and I got ready to head to Wild Adventures. As soon as we walked out the door, we were greeted with thunder and lightning. I went to grab them a snack and think of a plan B, when the Pilot called and offered to check the radar for us to see if the storm was going to hit. (He's kind of like a weatherman since he has access to all of the detailed storm reports.) He said that the storm would miss us, he was getting off work, and we were all are able to go to Wild Adventures together.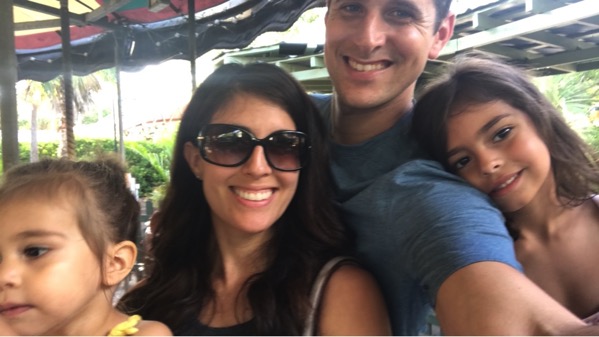 It's funny because last time we were here, I was kind of meh about Wild Adventures. In addition to having pool access, this is one of the things that MAKES the summer for kids here. It's so awesome to have a full-up theme park to take the girls to, with lots of rides and a petting zoo. Both of the girls cheer when we tell them we're going.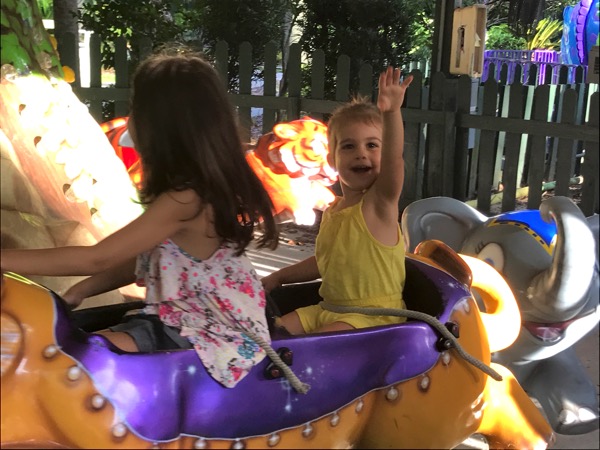 We stayed out way past their bedtimes, and came home to put them to bed, drink some wine, and call it a night.
Saturday morning, we all went to Birdie's Market (<— the best) for breakfast.
I switched up my usual breakfast game and got a salad instead of fruit with my eggs and potatoes. Walking on the wild side.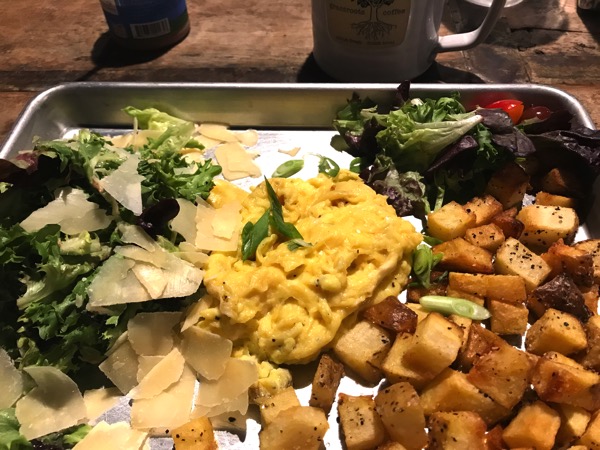 The Pilot got the huevos rancheros,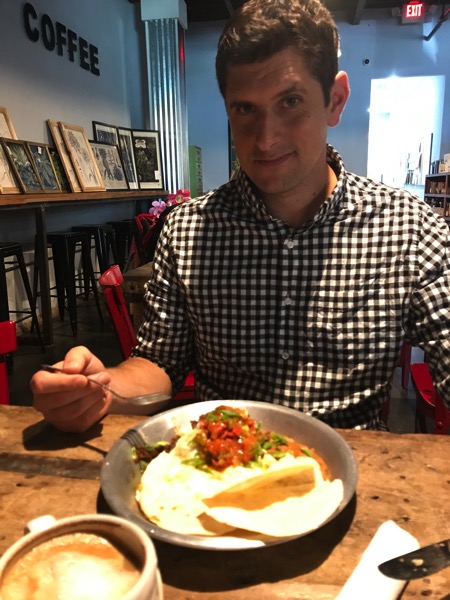 the girls had banana bread French toast casserole, eggs, and sweet potato tots,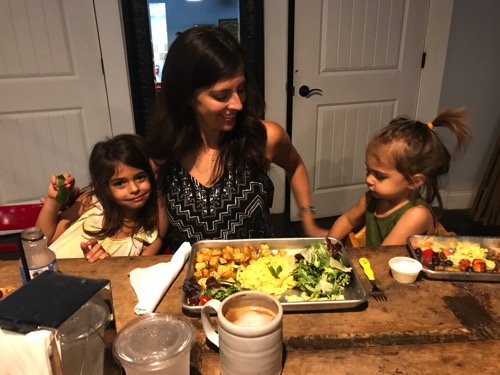 (this was the best picture of the 3 of us haha)
and we had some of the amazing Grassroots almond milk lattes.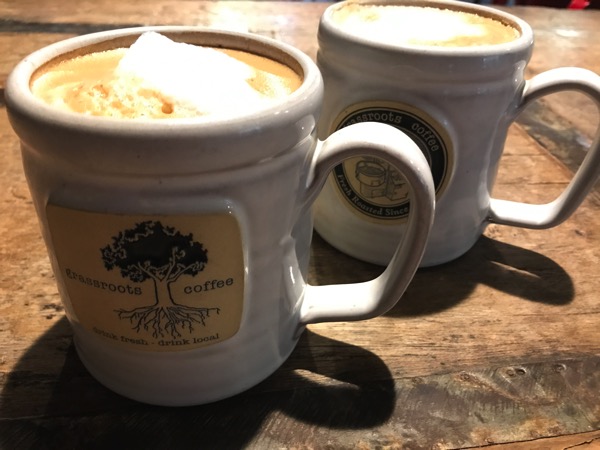 The rest of the day was chores -I can't believe we're still working on unpacking and getting the house together. It's a slow process- and a break to take the girls to the park. Maybe we'll be unpacked by the time we move again…
Sunday morning, we enjoyed breakfast here at home, grabbed some groceries, and I hit up the gym. I did a 5-minute run, a 1000m row, and the latest BODYPUMP 102. It was.awesome. I haven't done BODYPUMP in a while -I subbed it a couple of weeks ago- and man. My legs are feeling it today.
During P's nap, the Pilot and Liv went back to Wild Adventures to check out the water park.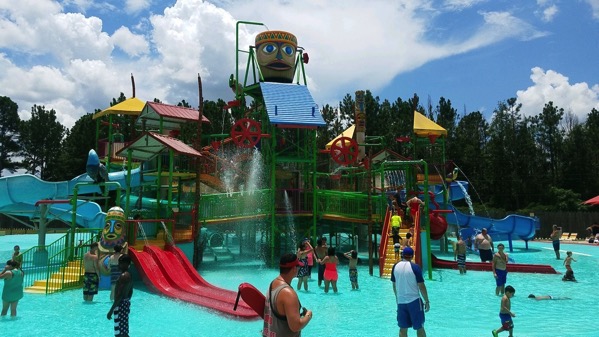 (Just one of the areas. Apparently it's enormous.)
We've only been to the theme park area and haven't even ventured over to the water park. Liv had so much fun on the slides, and the Pilot scoped out the baby area for P. I think she's going to adore it. (I felt bad she missed out, so I took both girls to the pool later that afternoon so she could get some water time!)
We also had an awesome day date and caught a yoga class!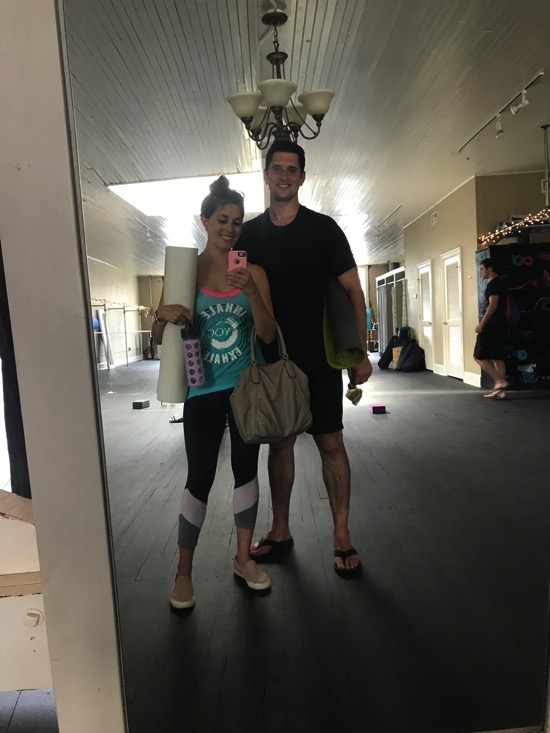 You guys.
I've been begging, like seriously begging, the Pilot to take yoga with me for years now. He's never been super into the idea -he was convinced you had to be flexible to practice yoga- and I kind of let it go, even though I thought he would love it. When I told him our babysitter was coming over for a couple of hours and casually suggested a yoga class, I was shocked when he said yes. I'm pretty sure he was half-listening when I asked him because as we drove to class he was very confused.
"Wait, what kind of yoga is this? Just couple's yoga, right?" (<— they had an intro couple's yoga class a few weeks ago)
"No, it's regular power yoga."
"POWER yoga?! What? No. I'm not ready for that."
"Let's just go. You'll be fine. Just take child's pose when you need it."
"I don't even know what that is."
He hadn't eaten lunch since he just walked in the door from the water park, so I offered him a warm baby food pouch from the car (which he reluctantly consumed), and we rolled out our mats in the back of the packed class. The room was warm and sticky -perfect for lots of sweat- and we made our way into the dynamic 75-minute flow.
I kind of expected him to leave halfway through, but he powered through the entire class. And he ROCKED IT. I was like, "Who is this guy?" I think he's been practicing secretly, because he did all of the major Sun Salutation poses like it was NBD, then just popped into crow pose, and then did the jump from crow back to chatarunga.
My favorite parts:
When we were in downdog and he looked over at me and whispered, "You did this to me." and
when we were in bound side angle, he mouthed, "This some bullsh*t right here"
lolololol.
But, he did it! Aaaaaand I think he liked it?!
I asked him to write a quick blurb about his experience, so here we go:
So, cue the Kevin Hart, "no, I wasn't ready" line when Gina told me what we were doing. It felt a little like one of those dreams where you walk into a class you'd accidentally been missing for months, and find out there's a test. I had no idea what i was supposed to do, and I was pretty sure I was about to be exposed…big time. Oh well, I committed, so I decided I was going to make it work. I was relieved to find that the instructor, April, was awesome with form cues in a comfortable (but challenging) low pressure setting. I worked my butt off, but I never felt lost. By the end, I had sweat out a lot of toxins (read: whiskey) and felt like I got a satisfying workout. I'll definitely go back again, and try to be less terrible with the poses. It was a great first class. Now, if you'll excuse me, I'm going to spend the next day or so huddled in the fetal position while my muscles heal.
This morning, we're taking it easy and I'm starting to get things ready for girls' night. Barre later today!
Have a happy Monday and I'll see you soon.
xoxo
Gina
Have you convinced your partner/mom/dad/roommate/BFF to try your workout fave?? How did it go? Usually I can convince the Pilot to try something once. 🙂