Review: Shiva Rea Daily Energy
Note: This review post is not company-sponsored in any way. I purchased this DVD on Amazon with my own dinero.
____________________________________________________________________________________________
This morning, I was beyond stoked to try out the Shiva Rea Daily Energy DVD.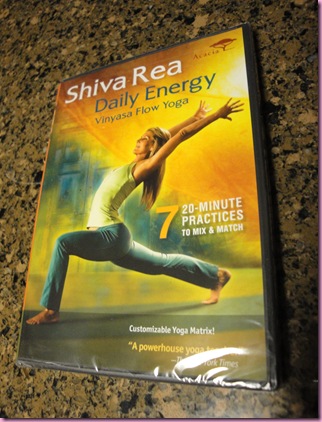 I'm always looking for new yoga programs/podcasts/DVDs, as I like to practice at least 3 times a week and have the attention span of a Chihuahua. Another problemo is that due to my dance background, I memorize moves and flows very easily which is a quick recipe for boredom.
Enter the yoga matrix: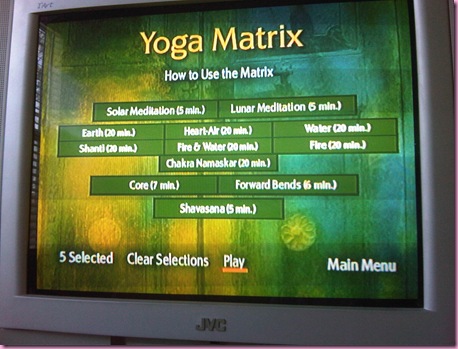 (Sorry for the less-than-stellar pic. I took it via Crackberry up in the yoga room)
So in an almond-shell, you can do one of the 7 20-minute sections, a pre-selected blend to create a complete yoga class, or you can mix and match your own.
I decided to do the mix and match thang and chose the solar meditation, fire and water, fire, core and savansana for a total of 57 minutes.
Solar Meditation (5 minutes): At first I thought Shiva Rea was kind of a nut case. She's very calm and mellow, but some of the "warm up" movements seemed a little ballistic to me. We were shaking appendages and "pushing energy around" and I had no idea what to expect for the rest of the practice. It was a short warm up, but I felt pretty good and the fact that I had the room heated up to 87* helped a little 😉
Fire and Water (20 minutes): This flow was excellent. We did some reverse warriors, triangle, half moons, bow pose, and arm balances. Every time we did the flow, she added something on to make it more challenging and explained how to get into the arm balances very well. I surprised myself a little! By the end of this section, I decided that I really liked her 😀
Fire (20 minutes): Holly push-ups. We probably did at least 100 in this section and the way she went about it was super sneaky. We'd be flowing and then she would say "now we'll start our prostration push-ups". Prostration sounds a little too much like "frustration" to me 😉 We did a lot of push ups, jumping movements, warriors and chair poses, and I had a lovely line of sweat on my shirt. Just when I was debating whether or now I'd do this series again, we did crow (my favorite) and side crows (which I'm still working on). Lurved.
Core (7 minutes): This DVD is worth purchasing for the core series alone. We did an awesome mix of movements (most of which I've never done before) and my abbies were on fire. Shiva Rea is also ridiculously bendy, which is something to aspire to 🙂
Savansana (aka yoga nap time) (5 minutes): I can totally see myself doing this 5 minutes of beautiful relaxation on any of my hectic days. The music and her voice we so calming- the perfect way to end a practice.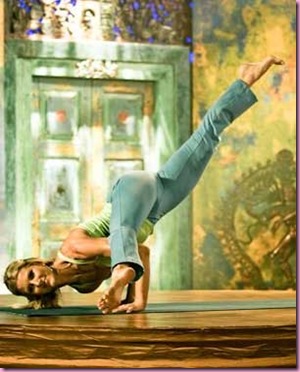 (Source)
Pros: Easy to customize to your needs and schedule, challenging. I definitely pushed myself and doing a DVD felt more personal than a podcast.
Cons: Shiva has a very unique style, which takes a second to get used to. This DVD also assumes that you have a background practicing yoga- definitely more of an Intermediate/Advanced DVD.
Verdict: 2 almond butter-covered thumbs up 😀
Let me know if any of ya'll try it (or have already tried) this DVD!
Enjoy your day <3
Gina