Hi guys 😀 How are ya? Happy almost-Friday!
I can't believe we're leaving for Orlando early tomorrow morning and the Princess Half is on Sunday. It snuck up on me so quickly! Certainly I'm regretting those missed runs (I hate the cold) but something hit me yesterday to tell me I'm going to dominate it. I think this is accredited to the fact that I took the week of strength training. My legs are itching to GO and I really, really just want to get this thang over with. Here's the re-cap of last year's princess half.
Some of yesterday's eats included:
AB & J Breakfast Cookie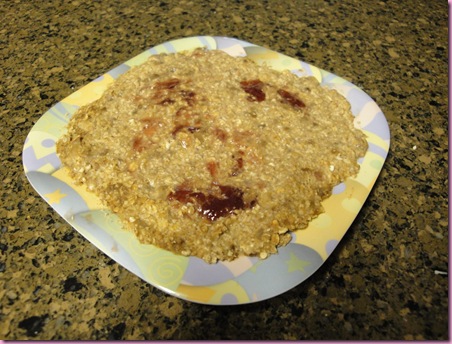 -1/2 C oats
-1 T almond butter
-small bananer
-almond milk
-1/2 scoop Sun Warrior
-cinnamon and mesquite
-1 T strawberry Polaner spread
Ahhhhmazing.
It was kind of a chill day.. I only had two training appointments (I like to alternate chill training days with insane ones) and helped out with the Lifestyle Challenge at the gym. My sessions are on Friday, but I liked to sit in and listen to the discussion about removing processed foods from your diet. It's fun to talk about nutritionally-devoid refined flour products, glutamates, high fructose corn syrup, artificial sweeteners and trans fats. Gets my motor running, ya know??
Some more eats:
Double-fisting it at Main Squeeze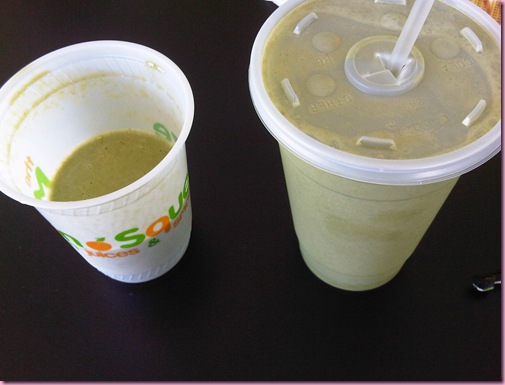 (The first glass was full before I took the picture)
I got my usual tropical superfood with extra spinach and the baggie of vanilla Sun Warrior that I carry around in my purse. He also added an antioxidant supplement because well, these allergies are kicking me in the booty.
A 3-egg white puff with nutritional yeast and chipotle seasoning and a huge salad with Goddess dressing and dill.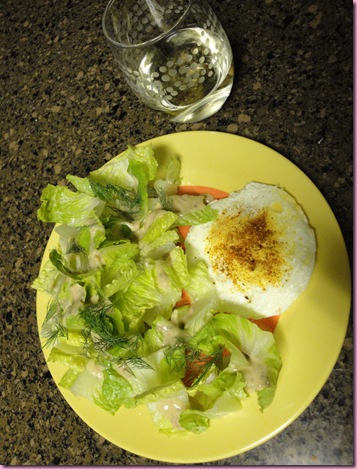 For the record, Chenin Blac pairs beautifully with an egg puff.. I'm just sayin 😉
Zumba was  BLASTY last night. It was a smaller class (around 18 people) but it was awesome.
After teaching, I met up with the pilot who was at El Toreo (which I refer to as "TGI Viernes" because it's the Mexican version of TGI Fridays) with some friends, and then came back to the casa.
This morning, since I'm out of almond butter (it's a very sad day), I decided to have some Chia Pudding using the Chia goodness I bought last week along with the chia seeds I had on hand.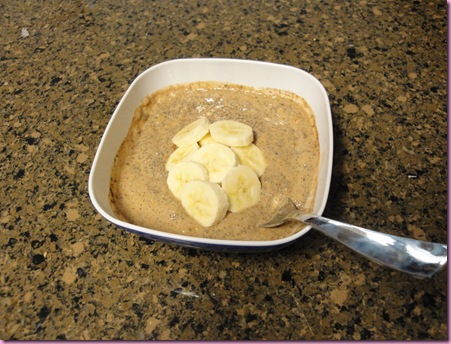 In the mix:
1 T chia goodness
1/8 C chia seeds
1 C almond milk
1/2 scoop vanilla Sun Warrior
1/2 T maca
1/2 sliced banana
Not too shabby 😀 I almost didn't notice the AB was missing.
I'm off to try the new Shiva Rea DVD and carpe diem (6 training appointments today!). See ya this afternoon 🙂
xoxo,
Gina
Something to talk about: Half marathon tips! This will be my second one but I love to hear tips and tidbits from the pros. One of my big debates is that I always run faster at the beginning. Last year, for the first couple of miles, I busted 8 minutes and had to slow down SO much at the end (final time was 1:56:42). I want to run a little faster in the beginning but not so much that I'm dying at the end. How do I pace myself?! When the adrenaline is pumping, I want to go so much faster, but then I regret it later!