A Juicy, Beautiful Giveaway
Hey everyone!!
Want a full-sized bottle of my favorite cleanser???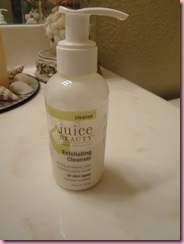 You have two ways to enter:
1) Leave a comment and let me know what your favorite juice flavor is (mine is spinach, apple, lemon and parsley!)
2) Tweet "I want to win @juicebeauty from @fitnessista" (I'll keep track of the tweets spreadsheet-style)
Winner will be announced Friday , December 11 at 8:00 EST
Ready… set.. go!