Friendly reminder: This trip to Fresno was paid for by the lovely people at POM Wonderful
WOW. Those POM people know how to wine and dine a girl 😀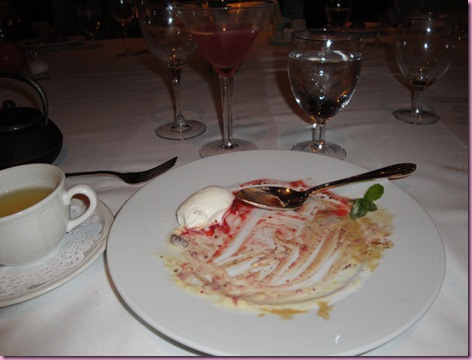 Our second night in Fresno, we were treated to one of the most succulent meals I've ever enjoyed at the Vintage Press.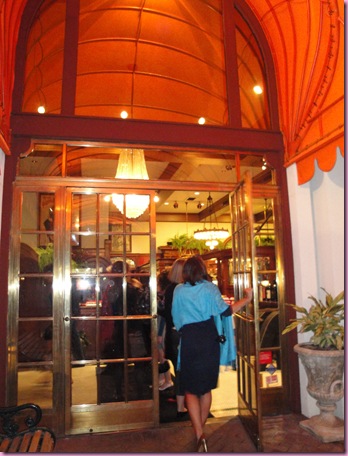 Before our dinner, we were treated to a lecture on anti-aging and antioxidants by Janel.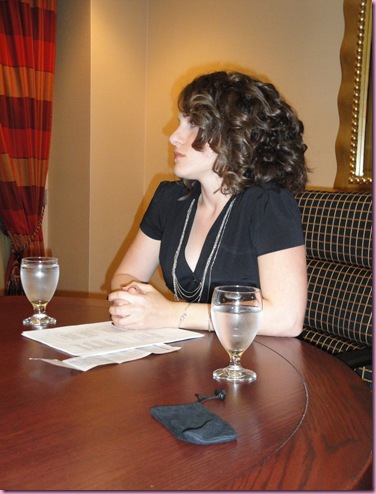 This girl is a seriously awesome. So full of information and she presented it in a way that anyone could relate to and understand.
Here are some of the highlights of her talk:
When we think anti-aging, many of us think of the elderly and physically becoming old with age. While we can't turn back the numerical value of our age, we do have the ability to reverse or prevent age-related diseases, such as diabetes, cardiovascular disease, osteoporosis, eye health problems, etc.
In order to prevent age-related diseases, we need to focus on antioxidants, which aren't an ingredient in any food, but they're properties that these foods possess which hinder free radicals (which can cause abnormal cells such as tumors)
In a nutshell, antioxidants protect our body. They're the same thing as putting something to prevent rust on something that's already rusted and has been set in the rain. The oxygen causes further rust on metal, which is basically the same thing that happens with the free radicals in our body if we don't protect it with antioxidants
While there are a ton of antioxidant-enriched substances out there, our best bet is to get them through food, particularly plant-based food such as fruits and veggies, beans and legumes, probiotics (yogurt) and whole grains
Some foods to stay away from are trans fats, saturated fats and red meat
While I knew pretty much all of the information she presented, it always feels so good to hear other people talk about living a lifestyle I fully support and encourage. Janel is going to do big things.. be on the lookout 😉
After our talk about nutrition, we set out to eat a ferociously decadent meal in which I pretty much threw some usual Gina eating habits to the wind 🙂
To celebrate, I took a step up from my usual homeless person garb, bathed (fancy!) and put a dress on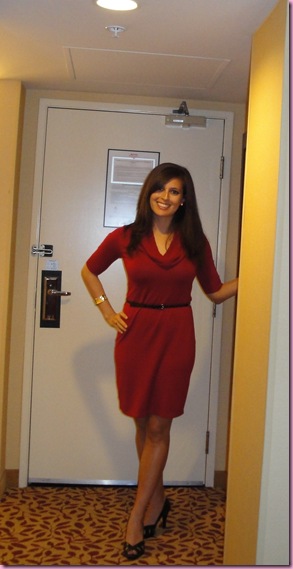 Heaby and I: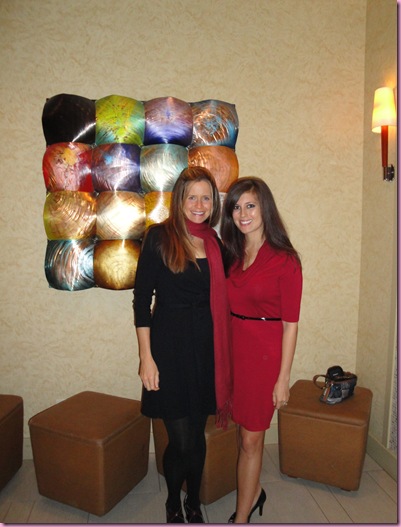 They even created a special menu for our group.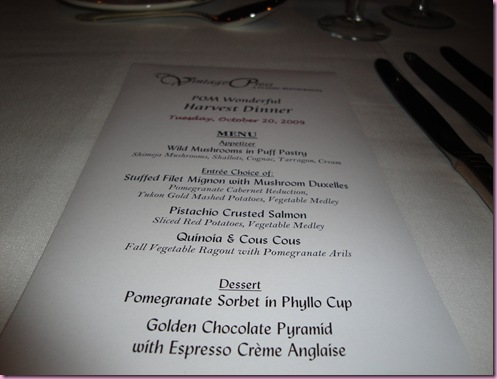 And a beautiful tablescape.
The servers passed around hors d'oeuvres while we got settled, which I mostly opted out of, but I did have this tomato mozzarella skewer (except for the mozzarella)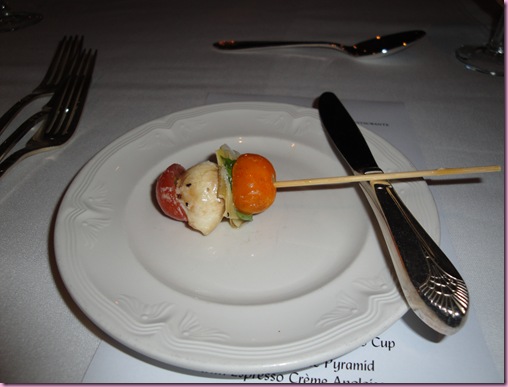 And some of this super smushy bread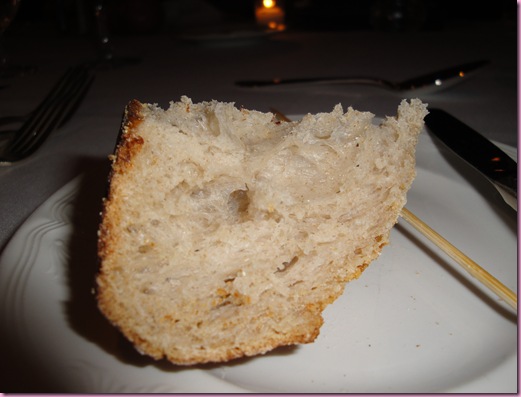 With a glass of Shiraz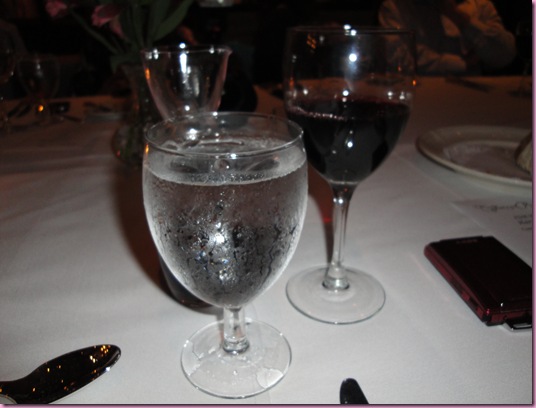 The executive chef spoke to us about the menu and was so kind to let us do substitutions if we wanted anything else.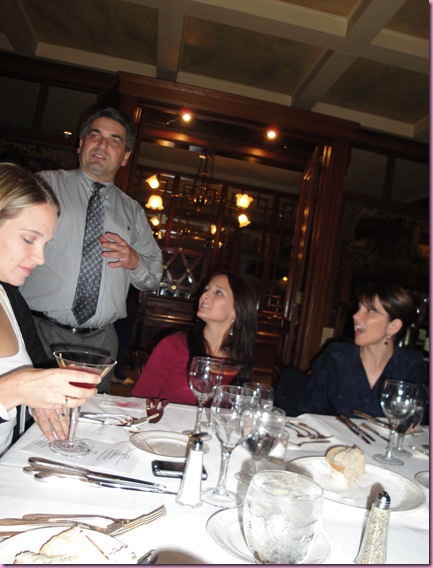 The first course was a lovely mushroom appetizer, which was originally served in phyllo dough but I asked for mine with just the mushrooms.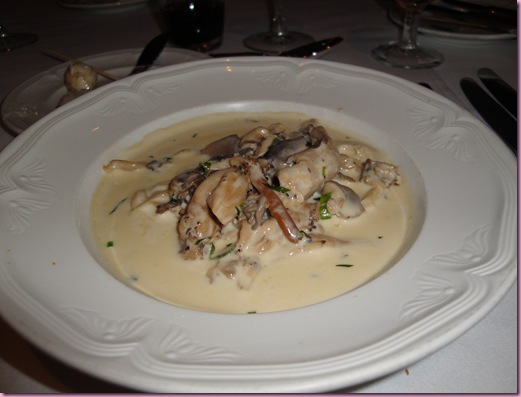 I'm not gonna lie, I could have just eaten that all night. It was served in a creamy butter sauce and I now fully understand Julia Child's love for butter. I wanted to swim in it.
Each sub sequential course was equally amazing.
Salad with pistachios, pears and pomegranates (no cheese on mine and I pushed the croutons aside)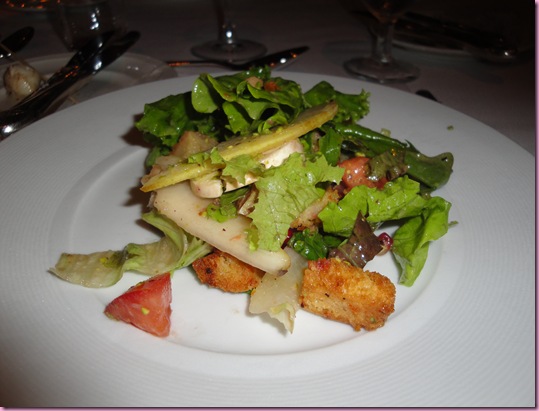 I ordered the pistachio-crusted salmon with double veggies instead of potatoes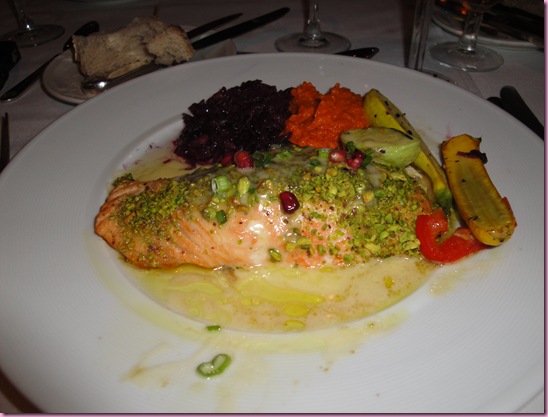 (It was served with cabbage, creamy mashed carrots, squash and foodgasms)
And a POMtini, because I'd been thinking about one for about two days 😉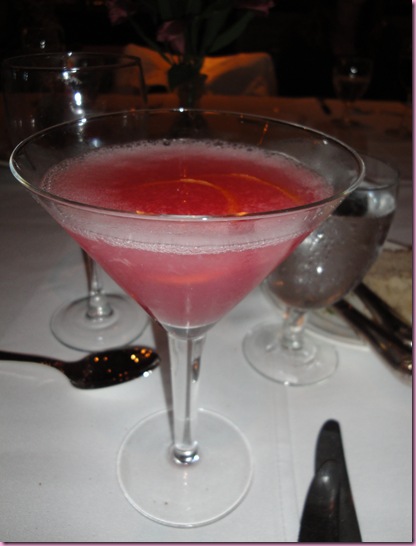 For dessert, I ordered the chocolate ganache pyramid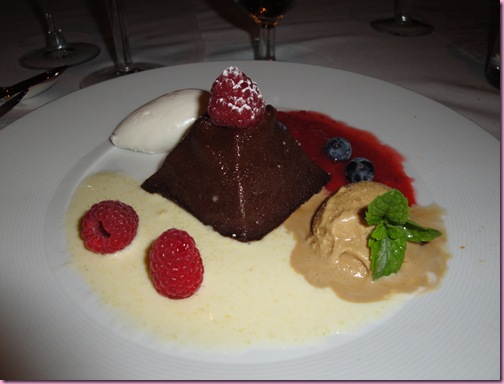 (It came with whipped cream, raspberry coulis and a cappuccino ice cream)
No words.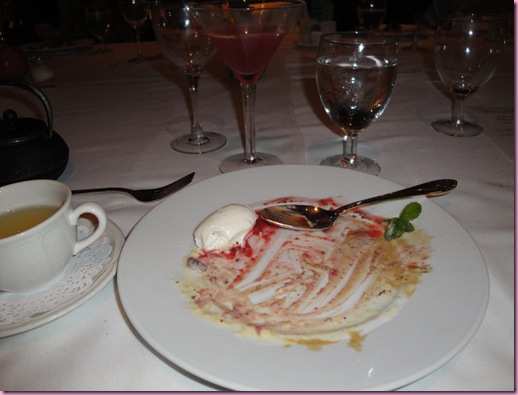 I also had a cup of green tea with Stevia a la purse.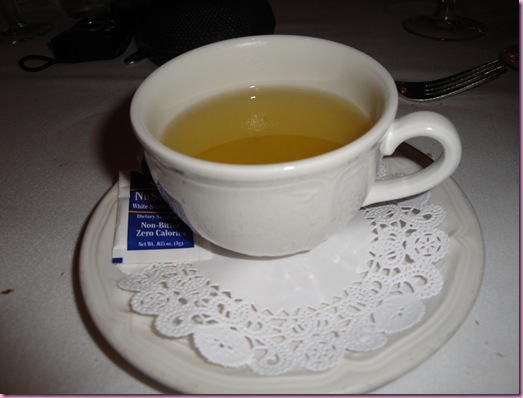 I waddled back to the van with the group, so content and full of gourmet food baby and called it a night.
Needless to say, it was a treat night and I wouldn't have it any other way.
Thank you so much the the lovely people at POM for such a beautiful dinner, to the amazing staff at the Vintage Press (the service was impeccable and the executive chef seriously created some masterpieces) and to butter. Haha.
I'll be back with a special guest post –we got in late last night and I didn't get to put it up yet- the last part of our POM trip (a tour of the plant) and the Orlando shenanigans 🙂
Have a wonderful day!
xoxo,
G
Something to talk about: What's the most decadent and delicious restaurant meal you've ever had?? (for some reason the comments on my pages aren't working, except for the main page. I'd try to fix it but… technology and I don't always get along)