As you guys know, I was so lucky to try some samples from the Pure Market Express fairy 🙂 Pure Market Express is a home delivery food service, specializing in raw food.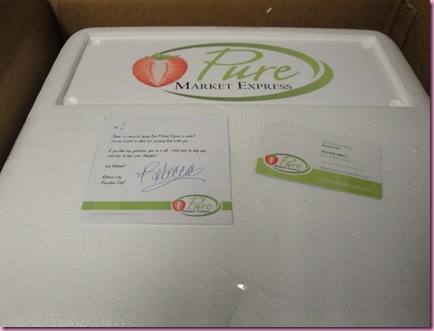 The package arrived on my doorstep, and to be honest, I was kind of anxious to see how well raw food would do in the shipping process. Raw food can be difficult to store (as some of it can get super watery and blah within a while) and I had no idea how they'd be able to keep it cold without freezing it. Let's just say they have it down to a science 😀
EVERYTHING in the container was perfectly insulated and cold.. and looked like heaven.
They sent me the Spanish Rice and Mexi Chips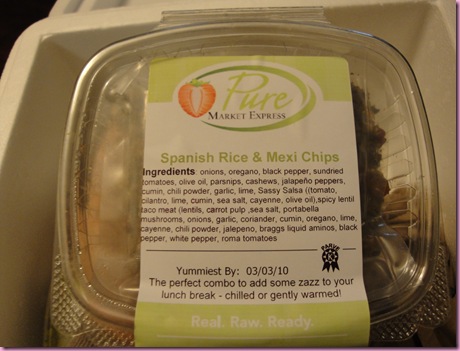 Raw Cheesecake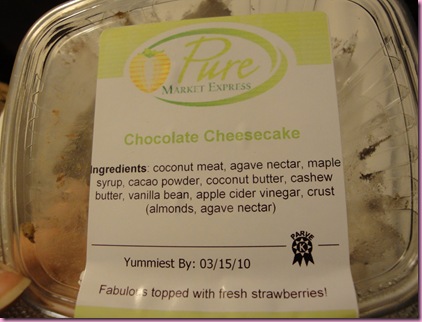 and Raw Lasagna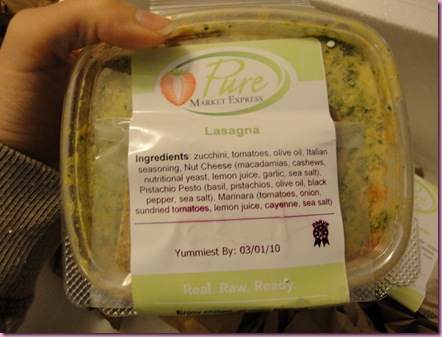 The first product that I tried was the Spanish Rice and Mexi Chips. I was so stoked to find that all of the nutritional information was displayed on the bottom of each package: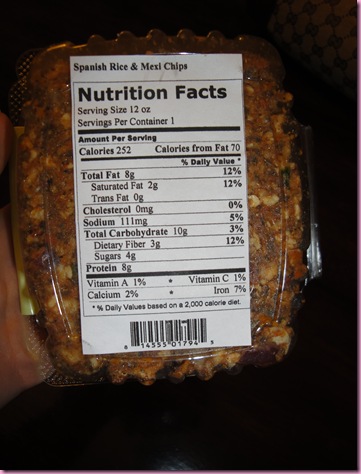 This is an AWESOME tool because a lot of raw food is very nut-heavy, so it's difficult to tell how many calories and fat grams you're getting out of it. The nutritionals for the Spanish rice were amazing and I was happy to see that they included a lot of delicious veggies in with the nuts—the last thing I want to eat is a pure nut pate.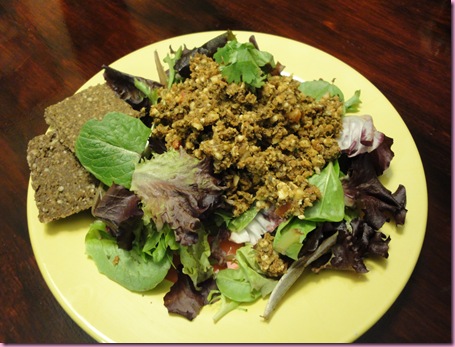 I served mine on top of organic greens and proceeded to devour every single morsel. It was perfectly seasoned, filling, hearty and so delicious.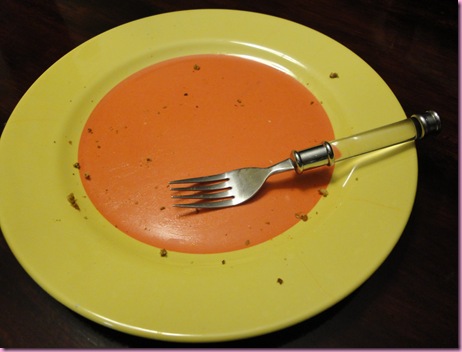 It was that good 😀
This says a lot because I'm a tough critic when it comes to raw food as I've been spoiled by working for Matthew Kenney, and Mexican food because my family is Hispanic and makes some insanely delicious dishes.
I loved everything about the Spanish Rice and even thinking about it right now, I'm trying to figure out when I might be able to have it again 😉
The next day, I tried the raw lasagna.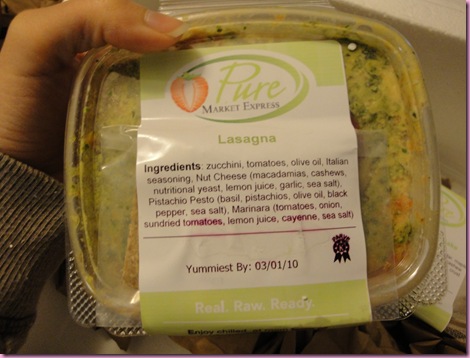 To be honest, I usually can't stand raw lasagna.The zucchini slices are usually too thick, it's usually too nut-heavy which makes me sick to my stomach.
I decided to be brave and give it a whirl—I was very pleasantly surprised.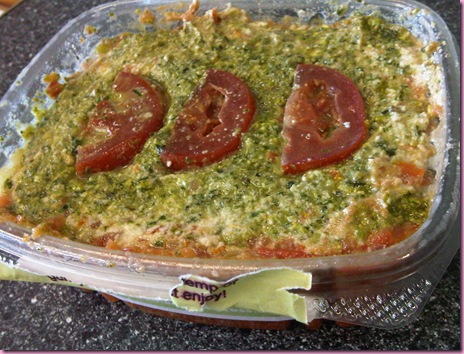 The zucchini noodles were SUPER thin (and more noodle-like!), there were thick slices of tomato and best of all, they were easy on the nut cheese.
Amazing 😀
I haven't tried the cheesecake yet (but plan to as soon as Lent is over) and will be adding that review to this page as well.
So in an almond-shell, I think that Pure Market Express is an amazing choice for food delivery, especially if you'd like to try some raw food for the first time. The nutritionals are stellar and it tastes delicious. It's perfect for on-the-go Fitnessistas who work long hours, or for people like me, who think food always tastes better when someone else makes it 😉