Should they stay or should they go?
Last night we had an amazing time at the foodball game, sharing nachos minus cheese (aka chips with lots of jalapenos) and lemonade, chatting with our friends, and cheering on the cats. [For me, I just cheer when everyone else cheers] One thing I did notice in our squadron was the lack of friends who have babies. Maybe football games are way too loud and sensory overload for little ones, but I also did see quite a few small ones decked out in U of A gear with other families.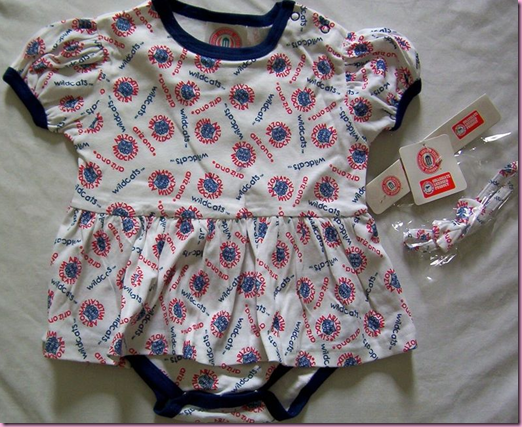 on eBday! I die.
Part of me thought that I would LOVE to have our little nuggette with us, in a U of A dress, carried the Ergo or a sling. I haven't even met her and am already think about all of the places I want to take her. On the other hand, I noticed the stairs (SO many stairs! I had to take a break a few times climbing up since the 15 lb weight plate on my stomach makes climbing stairs a little more challenging), the loud noises, obnoxious people and large crowds -  maybe not the best environment for a baby? But then again, isn't Disneyland obnoxiously loud and sensory overload as well?
I wished my friends with babies would have been there because I love to play pass-the-baby and chat with them, but can understand why some of them decided to say home. I also got kicked in the back HARD by a toddler sitting behind me.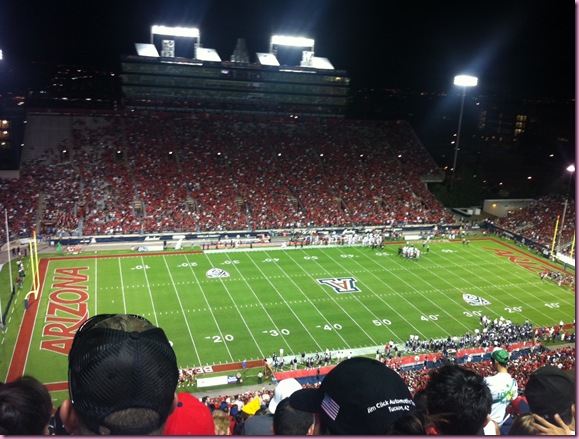 So how do you decide whether it's a "bring them along" or "you're staying with grandma" or "we'll just chill at home" kinda night? I want our children to adapt and be exposed to different surroundings, but what's your deciding factor on whether it's appropriate or not?