Summer Shape Up 2012: Week 4 Workout + July Calendar
Hey everyone!
Here we are: the last week of the Summer Shape Up! Don't forget to send me your success stories (fitnessista at gmail dot com, subject: SHAPE UP SUCCESS!) so I can post little snippets along with your pics this Friday. Can't wait to see your amazing work and I'm so proud of all of you who have participated the entire time and those who are just joining the party. getting started. I hope if anything it's given a little bit of inspiration to try out a new workout move or recipe.
Here's what's in store for this week: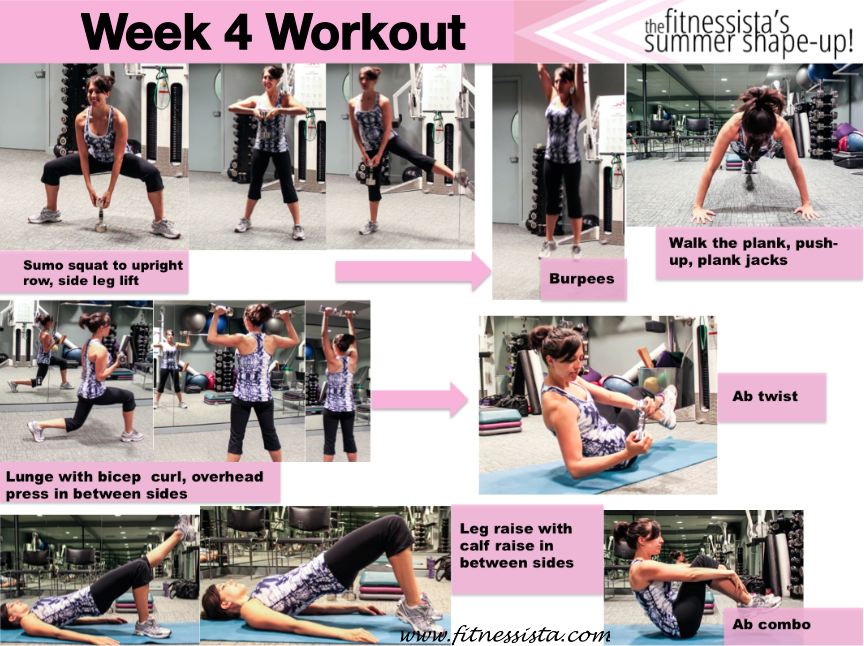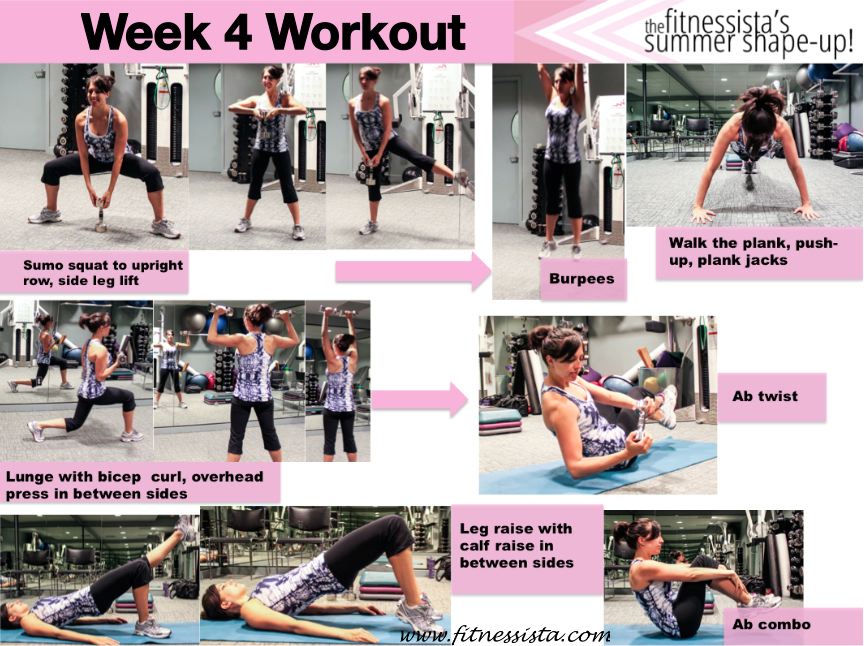 It's pretty straightforward, which is why I didn't include a video for this week.
Form cues:
1) Sumo squat into upright row, side leg lift: as you sumo squat down (make sure your feet are wide, toes pointing out), try to bring the dumbbell (or kettlebell) to the floor), bring the weight up into an upright row (leading with the elbow), bring the weight down and do a side leg raise (keeping your toe pointing forward, foot flexed). Repeat on the other side. 10-12 reps on each side.
2) Burpees! 1 minute. We're already pretty familiar with these, but if you're feeling stronger, try to add in a pushup.
3) Plank walk, push-up and plank jacks. Similar to the plank walk and push-up in Week 1, but you'll do 2 walks to the right, 2 push-ups and 5 plank jacks (plank position, hop your feet in and out). Repeat going to the left, back and forth a total of 8 times (4 in each direction).
4)Lunge with bicep curl, upright row in between sides. As you come down into your lunge (watch your form and watch your front knee- don't let it creep forward), do a bicep curl 6 times, and just the lunge 4 more times (so you're lunging 10 times total but only 6 bicep curls). 10 overhead presses, then switch to the left side. 10 lunges (6 with bicep curls on the left).
5) Ab twist. Keep your feet off the floor and rotate (look at the weight the entire time) 10 times on each side.
6) Single leg raise (hold a flat weight on your stomach for a challenge). 15 on the right, 15 calf raises, 15 on the left.
7) Ab combo. Pick 4 ab moves (bonus: choose your most challenging ones!) and do 10 of each.
-You'll go through the circuit 1-2 more times for a total of 2 to 3 times.
-Remember to warm-up, cool down and follow with the cardio indicated in the July Calendar (Monday, July 2 is followed with HIIT of choice. 15-25 minutes of intense intervals on cardio of your choice)
–BONUS: Add in a Tabata set from one of these videos in between #4 and 5. 
-Always check with a doc before making any fitness changes. Honor your body and your injuries- modify as necessary <3
-Don't forget to check in each morning on the main page of the blog and let me know how it goes! Tweet your pics and victories @fitnessista #summershapeup . I love posting my faves each Friday!
-Here is the July workout calendar if you'd like to follow along with us: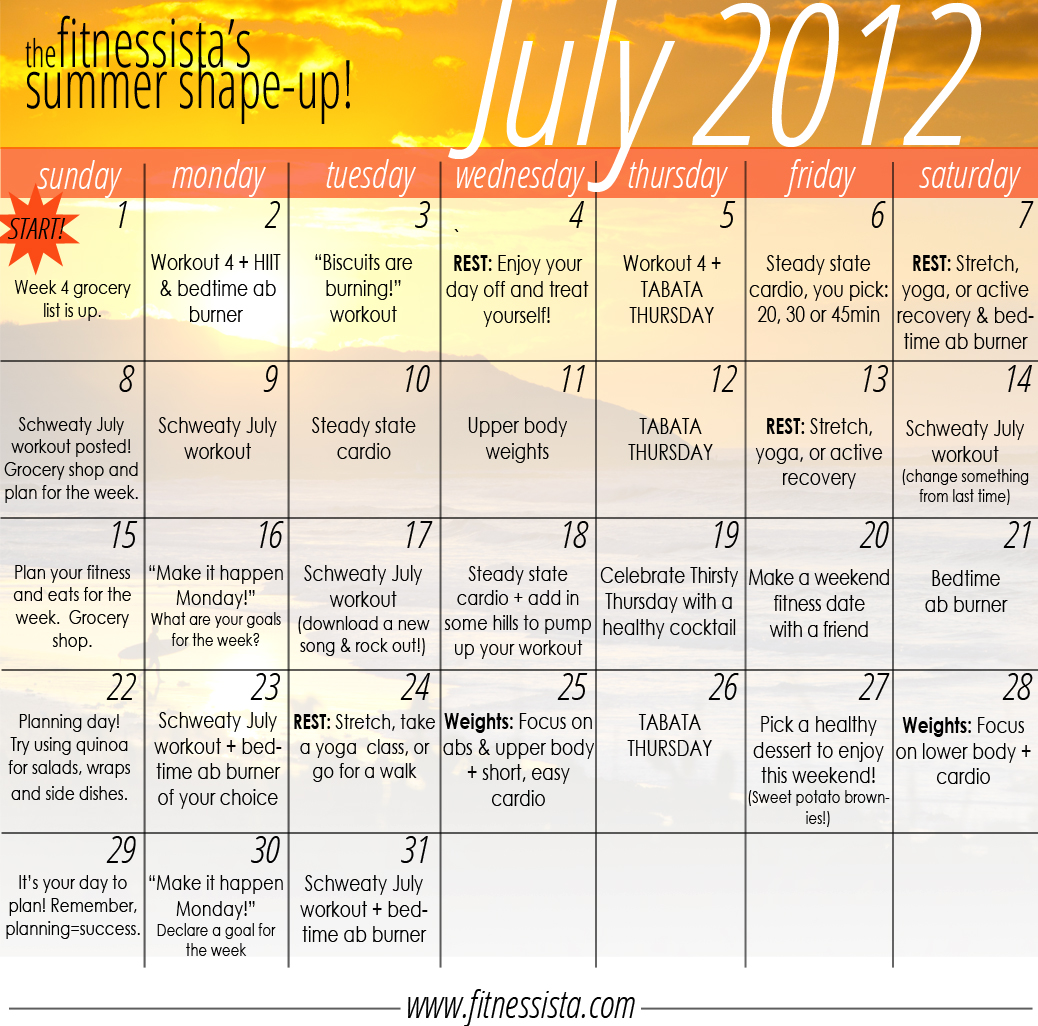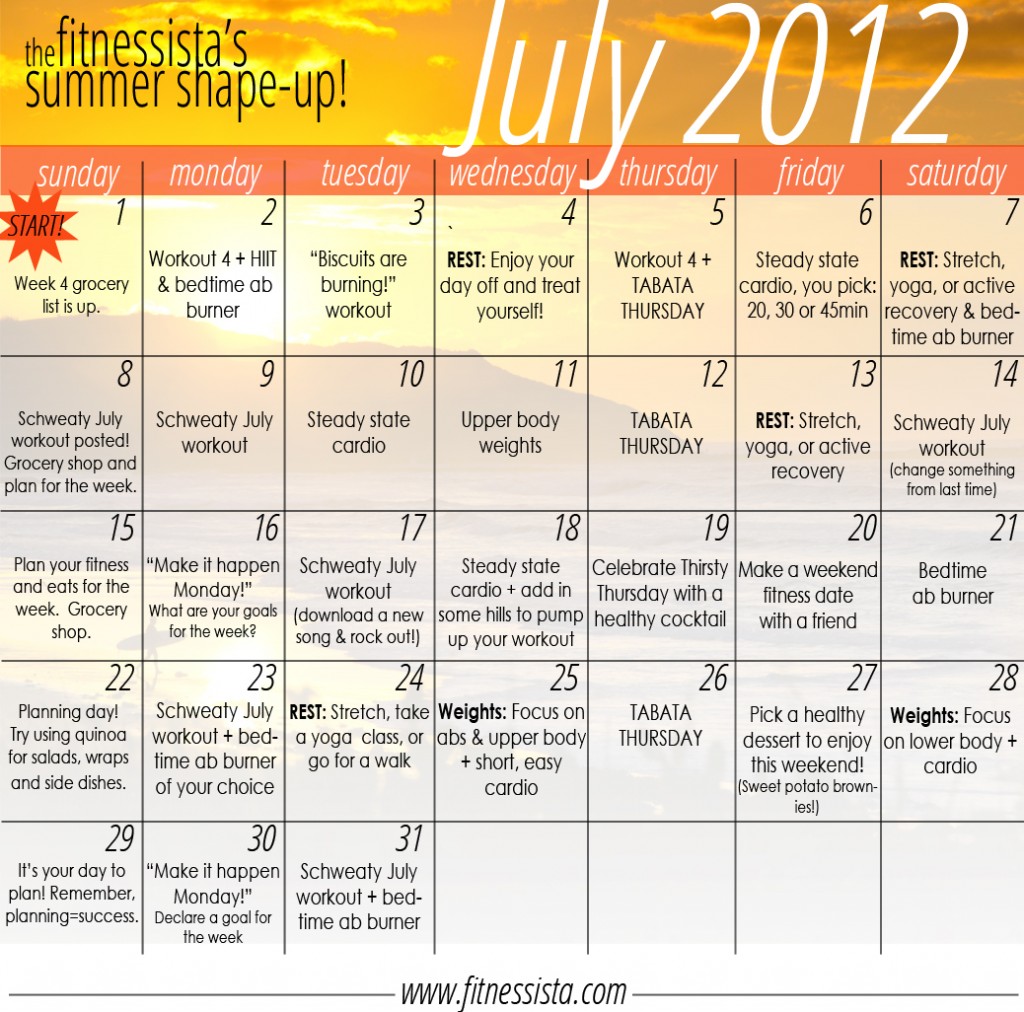 Thank you so much to Katy for making the beautiful July calendar for me! Hit her up for any graphic design needs: katymalatesta at gmail dot com.
Indicated workouts:
-Workout 4 (above)
–Biscuits are burning elliptical workout
Happy Week 4! Let's make it the best one yet 🙂
xoxo