Summer Shape Up 2014 Week 4 Workout
Welcome to Week 4 of the Summer Shape Up! Here's what we have in store for our last week of this year's challenge: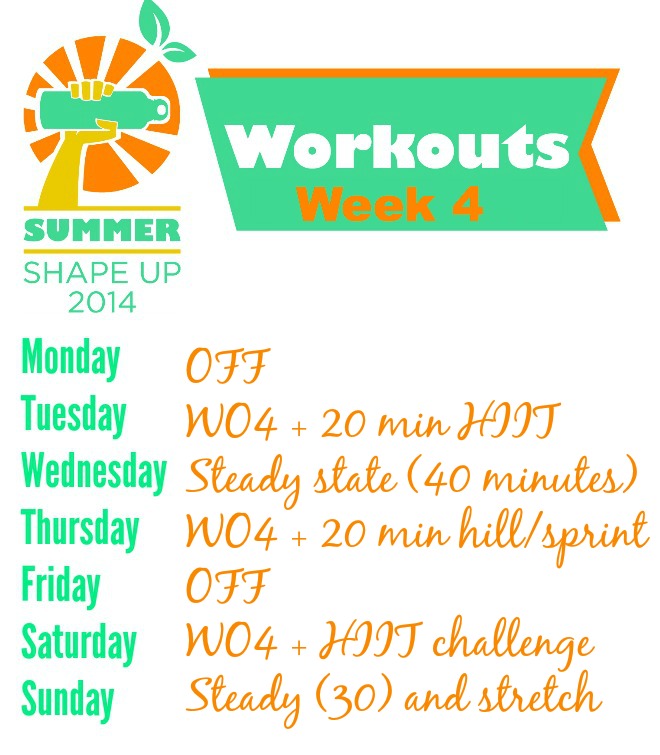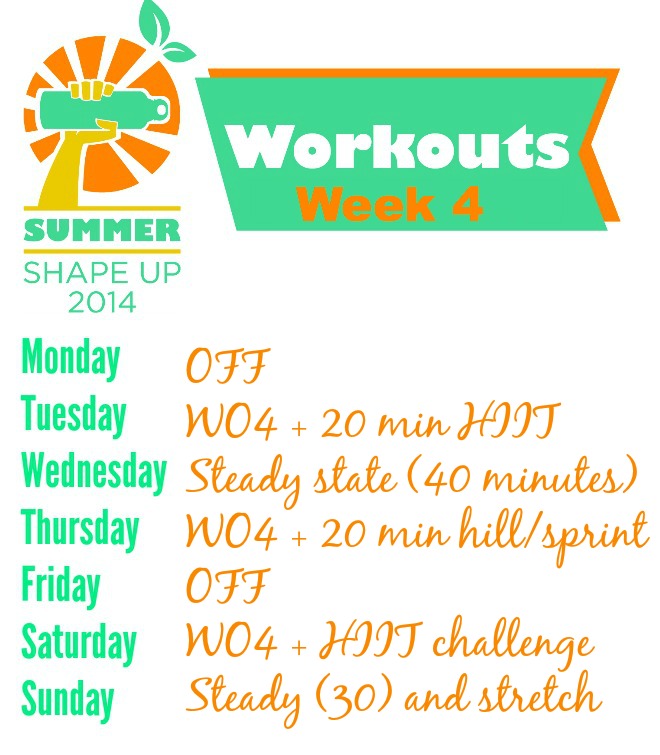 Cardio guidelines: (feel free to adjust or shuffle as you need!)
20 minute HIIT: 30 seconds HARD, 30 seconds easy X 20
Steady state: for this one, increase your speed 1% higher than your usual speed
Hill/sprint: crank up the incline for the first 10 minutes, adding resistance every 30 seconds until you reach your max. At minute 10, decrease your resistance by 1% and sprint for 30 seconds. Recover for 1 minute (slow pace; keep your resistance), and after that minute, decrease your resistance by 1% and sprint for 30 seconds. Repeat until you've finished your 20 total minutes.
HIIT Challenge: check out this Frost HIIT workout, or do your own plyometric moves for 20 minutes: 45 seconds on, 15 seconds off.
Steady: your choice! Power walk, jog, run or take a class you enjoy. Stretch or a recovery yoga class are great options, too!
Here's what the Week 4 workout looks like including modifications!
Some tips:
If you need to finish the entire workout (including cardio) in one hour or less, set a max time for 30 minutes for this workout.
Complete the circuit up to three times total.
See if you can slightly increase your weights for the final week! Hopefully you've seen some awesome strength gains from this challenge. Keep up the awesome work and finish with the same intensity as the beginning of Summer Shape Up!


Be sure to comment on this post every day this week with your workout to be entered in the Sabra giveaway! What did you do? How'd you feel?
Sending love, healthy wishes, strength and high fives for an AMAZING Week 4!
xoxo