Hello hello! Happy Monday! How was the weekend? I hope you had a great one. It was an enjoyable one over here, especially since it was our first weekend in a house and completely unpacked. Let the "real life" and some semblance of a routine begin. The weekend included giant margaritas, a family dinner party, Father's Day celebrating, and a huge inflatable unicorn, so I'll call it a good one.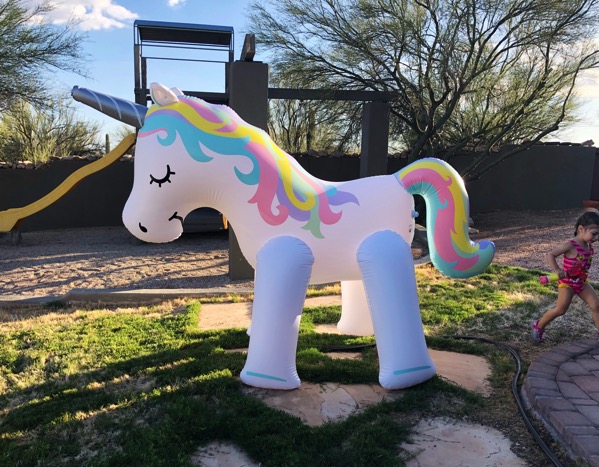 (My dad and stepmom got this enormous unicorn sprinkler for the girls. It's already their new favorite thing.)
Friday afternoon, we hit up the children's museum,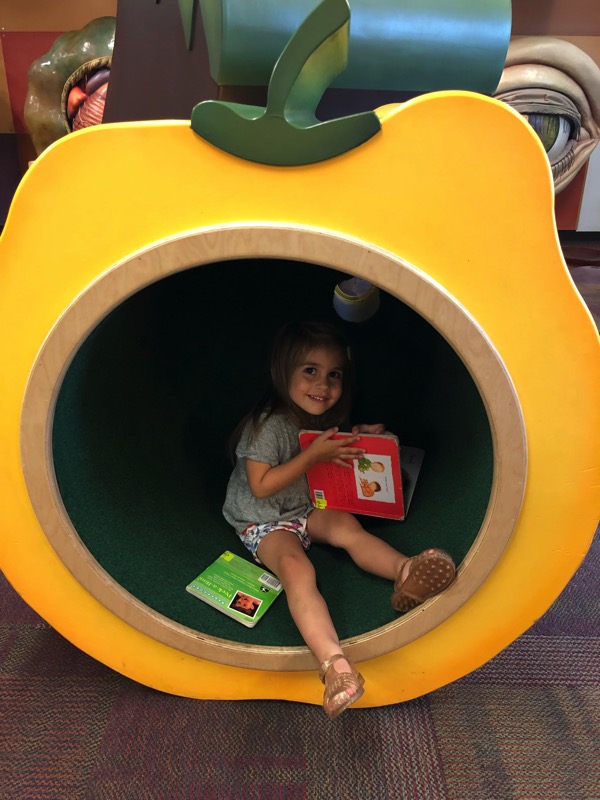 and later that evening, the fam came over to hang out and have dinner. The Pilot grilled his famous burgers and my Uncle E got to work in the kitchen with the fish. (We also had an enormous salad, sweet potato fries, and strawberry popsicles for the kiddos for dessert.) Whenever my brother Kyle makes recipe delivery service-type meals, he does his own thing with the ingredients. It made me laugh that Uncle E (<— also a chef) did the exact same thing. I set out the ingredients for the pollock from Blue Apron, and he made it without even looking at the recipe. He coated it in the potato flakes, used the verjus, and added pecorino romano and lime juice. It was AMAZING. He called it "No Apron" since he didn't actually look at the recipe, but it was perfection.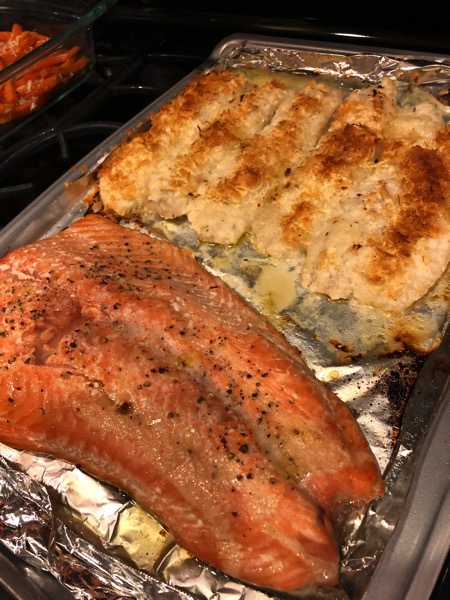 It was a pretty late night – the girls have been going to bed at like 10 pm since we got here… which is like east coast 1 am. HALP ME- and it started pouring the evening. It was the first of the desert rain (monsoons!!) and apparently, Tucson really needed it. Tucson hasn't had rain since February, so the Pilot and I joked that we brought the rain from Valdosta, where it rains pretty much every day during the summer. 
I woke up early to catch an Orangetheory class,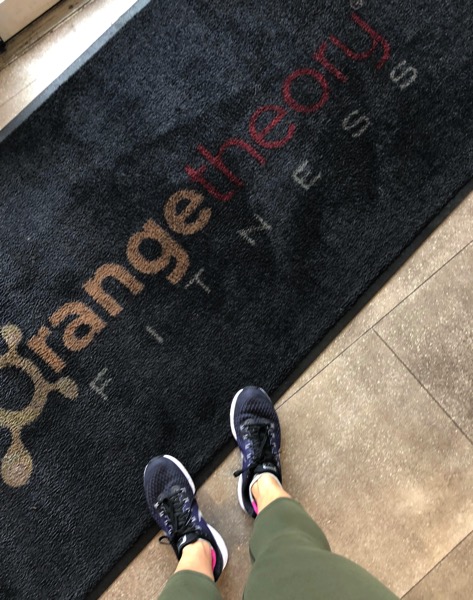 (it was a power day! My fave. This was the first week I took class with the new mini bands and they're equally painful and awesome.)
had breakfast here at home,
then met up with the cousins to see Incredibles 2.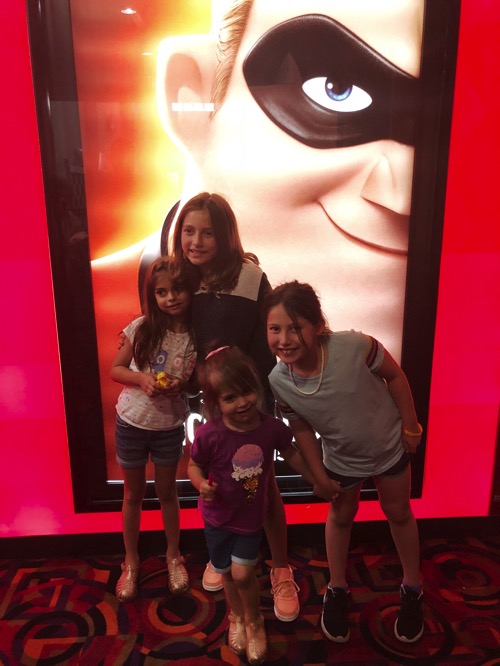 The movie was great and P lasted the whole time! It was her first entire movie in a theatre.
Saturday night, we got Mexican food at Guadalajara Grill. The service was sloooooooooowww, but it was ok since we had giant margaritas, chips, and tableside salsa + guac to keep us busy until our entrees arrived. (I'm pretty sure I had 1400 chips.)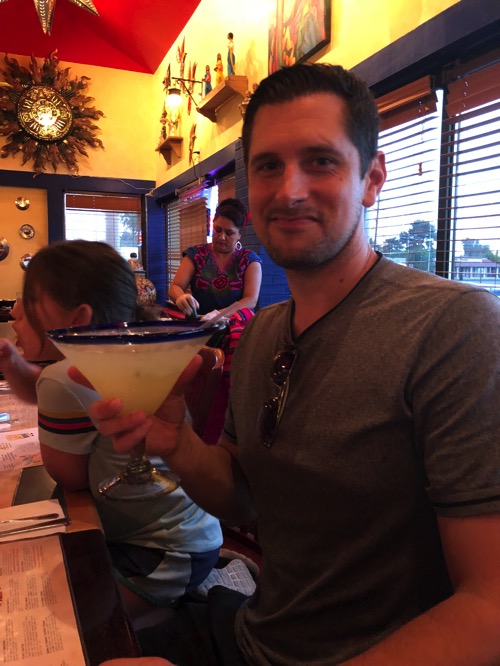 Sunday morning, we had Father's Day brunch at Bisbee Breakfast Club, which is a new-to-us spot. We were a *small* table of 12 with my cousins, uncle, grandparents, my mom, and stepdad. Bisbee Breakfast club has a few locations in Tucson now since it's gained crazy popularity in the past year. It's all for good reason, too; everything was fantastic. I got the eggs Zorba (with olives, tomatoes, spinach, and feta) with gluten-free toast and an almond milk latte. Our table also shared a couple of sticky buns.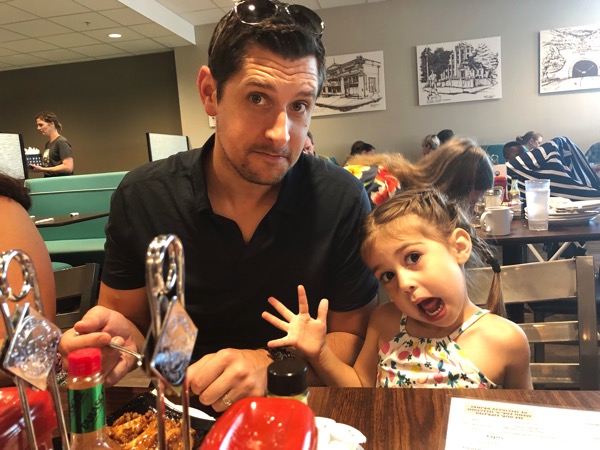 The rest of the day was pretty relaxing with church and hanging out at madre's. We met up with Kyle, Meg and Everly for dinner at my dad's house in the evening. They had the giant unicorn set up, the girls played on the playground and swam in the pool,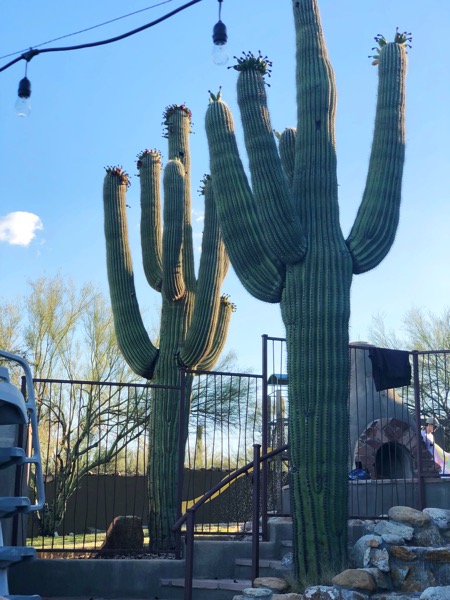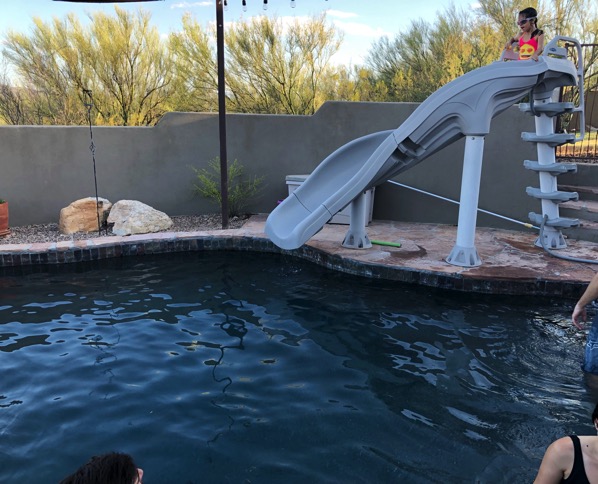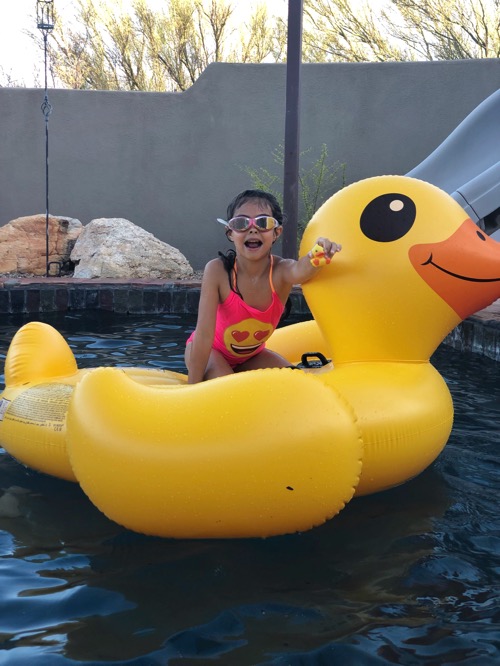 and my dad grilled chicken and burgers with tons of different toppings. For dessert, I brought some of the cookie, Oreo, brownie creations. 
It was a great day filled with family, great food, and relaxing. The best part: NO MORE UNPACKING. Wahoo!
I'm off to get some work done this morning and hopefully catch a barre class later today!
BE SURE to check back later tonight for another blogiversary giveaway. (It's a really good one… just a heads up.)
Have a very happy Monday and I'll see ya soon!
xo
Gina
-Podcast launch party this Wednesday! So excited <3