Last time that the "What's your excuse" mom sparked controversy, I was tempted to write about it. It eventually blew over, I forgot about it, and was recently reminded. The infamous Facebook photo-phenom made a return, and I decided I couldn't keep my mouth shut (or fingers from typing) any longer.
If you're not familiar with the "What's your excuse" mom, a photo was virally shared a few months ago of a hot fitness mom, wearing a sports bra and tiny shorts, looking fit and amazing. In the photo, she's surrounded by her three young boys along with the caption, "What's your excuse?" She caught a lot of fire in response to the photo, and the backlash spawned conversations on both side of the spectrum: praising the mom for providing inspiration, and berating her for shaming the habits of other other moms.
I didn't find anything wrong with photo. The mom looks great, her kids look happy and healthy, and if it were left alone, I could find it extremely inspirational. It IS possible to get extremely fit after having three children within three years. Good for her.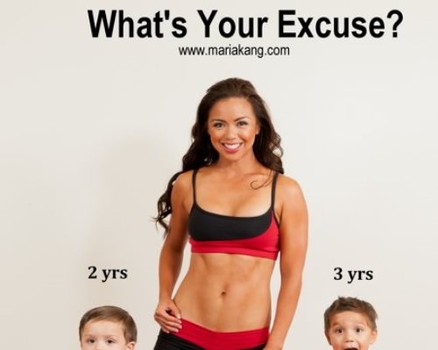 The problem I have is with the caption:
"What's your excuse?"
What?!
Maybe a mom's "excuse" is that she's trying to make ends meet, spending any potential gym time working to support her family.
Maybe she's sick, and has a medical explanation for why her body looks a certain way. Maybe she's injured or physically disabled and can't work out.
Maybe she's enduring a personal tragedy, or depression, and making it through the day is a battle in itself.
Who are you to judge?
I feel like this is just another layer of the so-called mommy wars: women fighting to climb a ladder that doesn't exist, stepping on each other along the way. 
I also feel like this is an aspect of fitness that I personally loathe: achieving a certain body type for the sole purpose of comparison.
If you want to look a certain way, do it for YOU. Don't do it to turn around and ask why everyone else isn't doing the same. Maybe they have a reason… or, maybe it's just not important to them. It shouldn't be important to you, either. Also, there is SO much more to fitness and healthy living than physical results. The benefits that can't be photographed (better sleep, more energy, higher sports performance, better posture, etc), to me, far outweigh some chiseled biceps. Physical appearance is just a tiny glimpse into overall health. 
She recently posted yet another photo, indicating that she doesn't have any "special help" to help her achieve her fitness goals.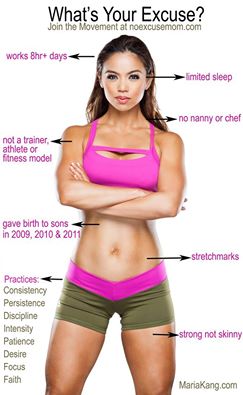 (Photo source. Icing on the cake: the photo was Photoshopped)
No chef, no nanny, not enough sleep, works 8+ hours a day, wah wah. What about the mom who does have a nanny and has a hot bod? Are her results less impressive? Not really. 
I think the purpose of this post was to share my thoughts and emphasize the importance of compassion. We're all on different paths of our unique fitness journey. For many people, that journey hasn't even started yet, and the snobbiness and judging in the fitness world could be what's preventing them from beginning. Reach a hand out to someone who may need support along the way instead of guilting them (even if it's unintentional) to follow the path you've decided for yourself. I think it's especially important to remember that if you're a mom: we're all in this together. Being a mom is hard work, and by tearing each other down, we just make it more challenging. 
The funny thing is that I used to judge a lot more before I had a child. I was so fixated on how I wanted things to be when/if I had my own children, it was much easier for me to make assessments of other women for their choices. Now that I've been in the proverbial trenches, and many things didn't work out the way I originally anticipated, I care so much less about how other women choose to live their lives. I'm too busy trying to figure out my own <3 Even though these photos got me thinking, and maybe got me a little riled up, I'm going to try and put myself in this mom's situation. Maybe she's not as confident as these photos suggest, or she's trying to make herself feel better about something unrelated that she's experiencing. Either way, she has her own things going on. 
As always, excited to hear your thoughts.
xo