WSU 2016: Week 1 workouts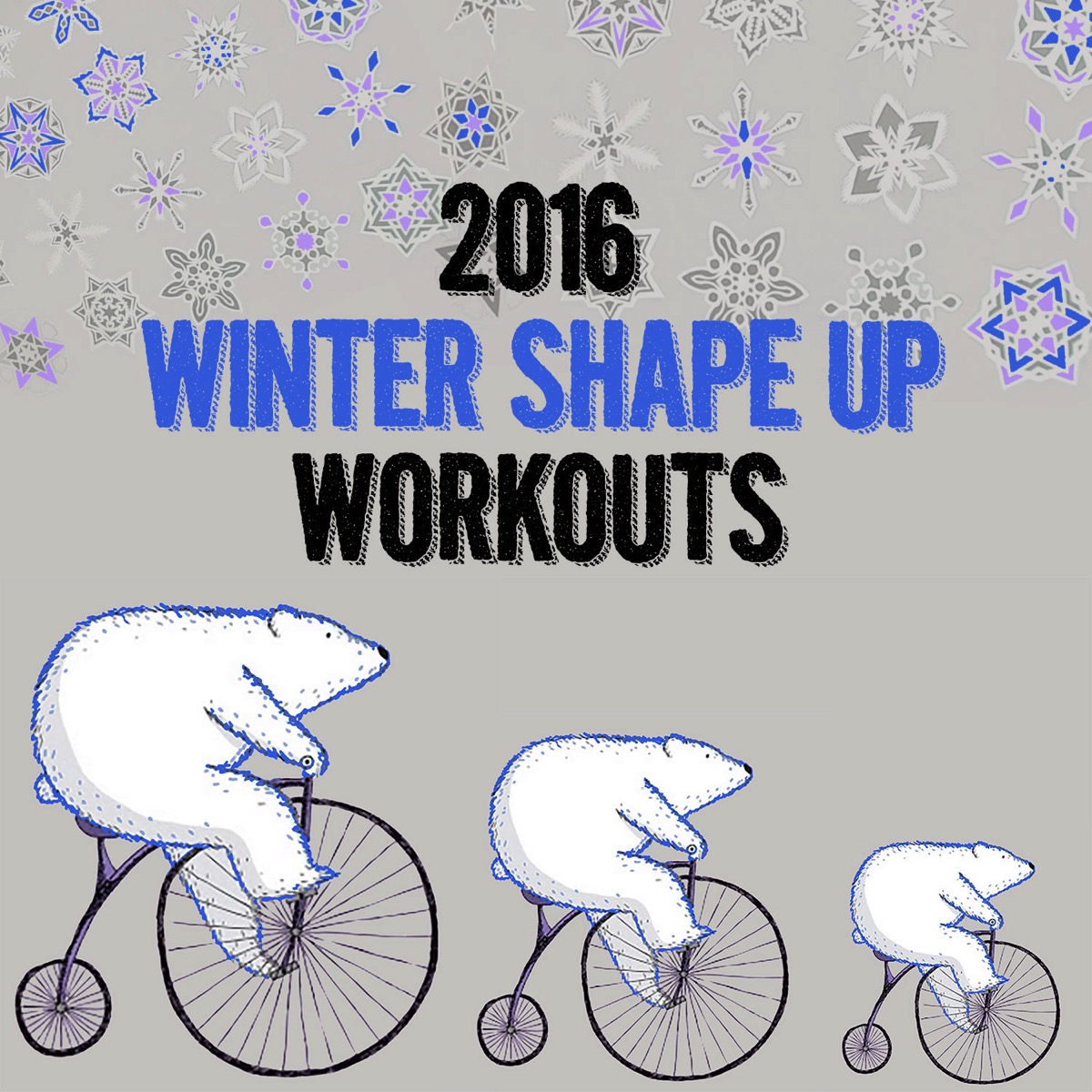 Welcome to the Week 1 workout page! Lots of variety, new workouts, and sweat ahead. 🙂
As you guys know, I'm still healing at 2 months postpartum, and still don't feel comfortable jumping around to film new intense workout videos. I'm still gaining back my strength, and while I planned to make full-length videos for this challenge, I forgot how it feels to be 2 months postpartum and just easing back into the game. I always tell you guys to honor your bodies, and by "fighting through it" to film the videos, I wouldn't be honoring mine. Thank you so much for your understanding, and even without new videos, you still have all-new workouts, plans, and tons of variety on the way.
If you'd like extra video options, check out the amazing ones from our sponsor at Crunch LIVE! (Use WSU30 for a free 30-day trial)
*As always, check with a doc before making any fitness or nutrition changes
Here's the week 1 schedule!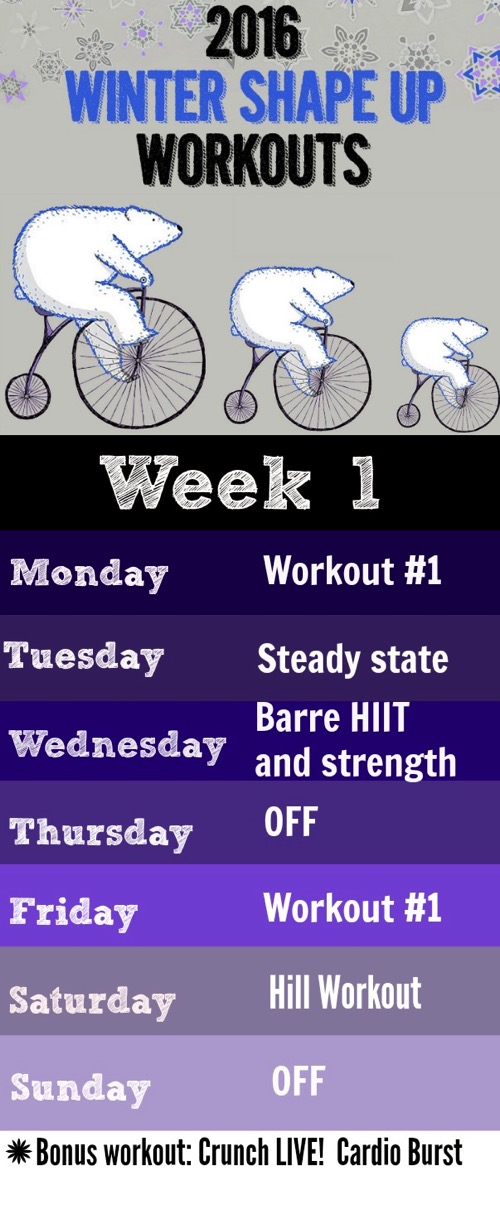 Monday: Workout #1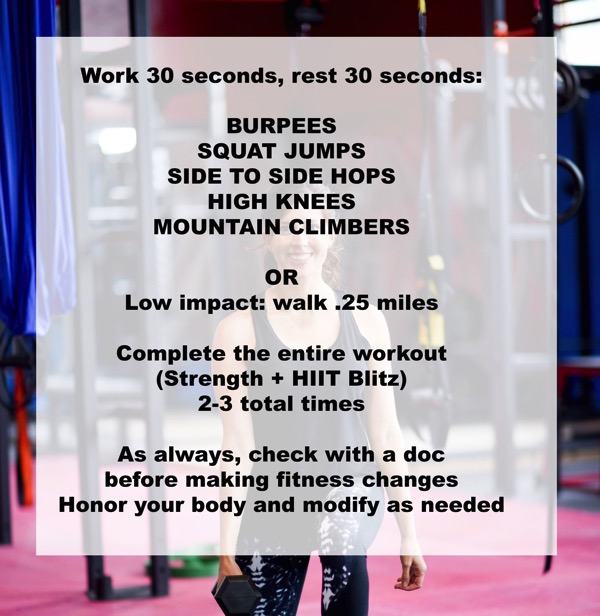 This workout is meant to be completed circuit-style, moving quickly from one exercise to the next: strength, and then your HIIT blitz (or walk). After one round, rest for about 60 seconds and go again. You can complete the circuit 2-3 total times through.
The exercises:
Lunge with dumbbell pass and overhead press. Start in a lunge position, holding the dumbbell in the OPPOSITE hand of the leg that is forward. As you sink into your lunge, pass the weight under your leg and grab it with your other hand. Step the back leg forward (or to power it up: up into a knee raise) as you press the weight overhead. Complete 10 on one side before switching to lunge on the other side.
Squat kick: hold a dumbbell at your chest, with feet under your hips. Sink into your squat (booty back, chest lifted, and core engaged). As you exhale to rise, kick one foot forward, pressing out through your heel. Squat and repeat on the other side.
Wide row: make sure that you create 90 degree angles with your elbows. Do not let your arms rise higher than your torso, keep a nice flat back, and pull up and in through your core.
Decline pushup: (modify option: push-ups against a wall, or on your knees) You can place your feet up on the couch, on a stability ball, or bench. Make sure to press through your entire hand, squeeze your chest, and exhale on the way up.
Plank: on your knees or toes. Challenge option: gently move your body forward two inches and back two inches for the 45 seconds block.
HIIT: for these movements, you'll work for 30 seconds and rest for 30 seconds. If you want to add in your favorite high-intensity or plyo exercises, go for it! If you want to keep things low-impact, go for a brisk .25 mile walk, or you can spin 30 seconds as fast as you can, 30 seconds of rest for 5 rounds.
Tuesday: Steady state cardio. 45 minutes at an easy to moderate pace, or take a cardio class you love
Wednesday: Barre workout x 2 + barre strength workout x 2
Thursday: OFF
Friday: Workout #1. You know the moves! Focus on working through it as quickly and efficiently as possible, using awesome form.
Saturday: Hill workout. You can do this on any cardio equipment of choice. Start off with a moderate pace and resistance. Every 30 seconds, increase the resistance, until you hit your MAX. Hold your max incline for 2 minutes, then decrease it back down to your base point. Repeat, until you've completed 30 minutes of cardio.
Sunday: OFF
Bonus workout: Crunch LIVE! Cardio Burst! This is an awesome one to try out during the week, and you can do it instead of the steady state work on Tuesday or the Hill workout on Saturday. I love the mix of high-energy cardio moves, and you also have the option to add gliding disks (or paper plates) to make your legs scream for sweet mercy.
Who's excited for an awesome week 1?! Don't forget to check in on THIS PAGE (<— click here to comment) each time you complete a workout for your chance to win amazing prizes from our friends at Daily Harvest.
Let's go after it!
xoxo
Gina