On the 11th day of detox, my meal plan gave to me…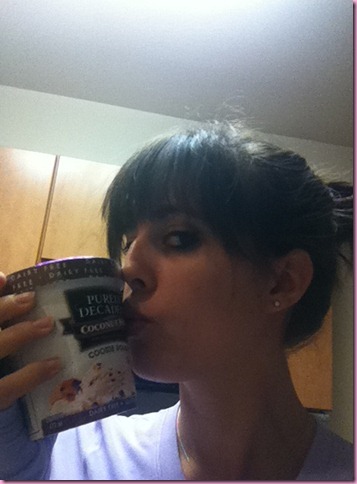 a pint of coconut iiiiice creeeeeeam

Hi friends! Holy macaroon giveaway entries! Keep 'em coming- I'll announce the winner in the am.
Before I start this post, I have to show you guys this photo I took today: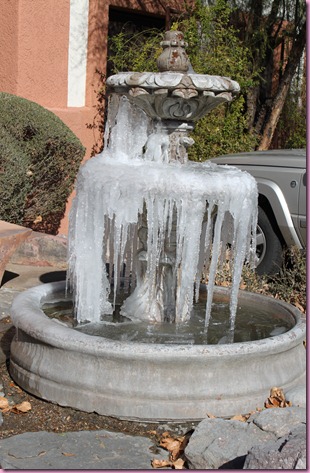 Fountain freezes over! It was a low of 14* last night. Where do I live?!? Yearning for the desert warmth and sunshine to come back, fo sho.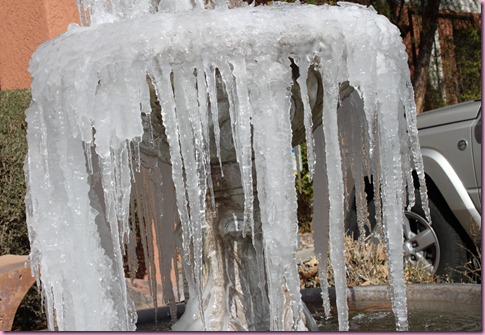 Detox Re-cap, Days 1-10
So, when I first started the doctor detox, I wasn't really planning on writing that much about it. After overwhelming requests, here I am to give ya a 10 day re-cap. Ask and ye shall receive

As you guys know, I'm nearing the end of my treatment with my homeopathic doctor. I started seeing him last fall for some hormone imbalances and figured I'd give it a whirl the homeopathic way before diving into other medicines. From the get-go, my doc said that I'd be taking herbal supplements for about 5 months, after which I'd start gradually reducing the supplements until I didn't need them anymore. He made it very clear that his job was to fix my imbalances and get things working the way they're supposed to and assured me that I wouldn't need to take supplements forever. He said he he wouldn't be doing his job if I had to do that. He's a good guy, extremely knowledgeable and I trust him, so when he said I'd need to do a 30 day detox at the end of my treatment, I decided to roll with it.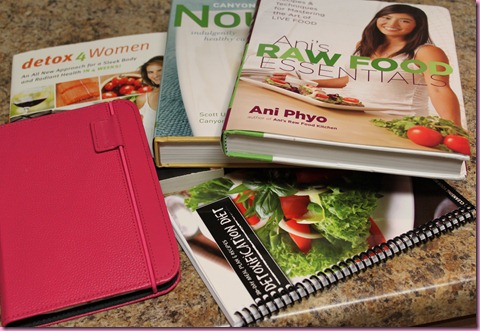 I like to do my own thing, especially when it comes to eats. Don't tell me what to do… I'll give you the stink eye and keep on my merry way

For me to listen to this guy and *almost* follow his plan is kind of a big deal

Here's the breakdown:
-Days 1-10: Fruits, veggies, protein smoothies, quinoa, tea, kombucha, coconut oil, organic butter, raw honey, seasonings, beans, lentils + supplements
-Days 11-20: Add in fish
-Days 21-30: Add in nuts, seeds, fermented dairy (I'll be using goat's), and chicken (I'll be using certified-organic local sparingly)
The recipes he gave me were extra lame, so I used it as an opportunity to create my own detox-friendly recipes and experiment with new ingredients.
During the first 10 days…
I drank a ton of green juice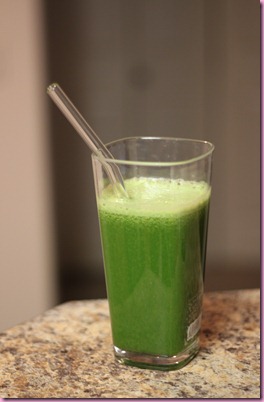 I fell in love with socca
Raw honey
and today, a new type of flour: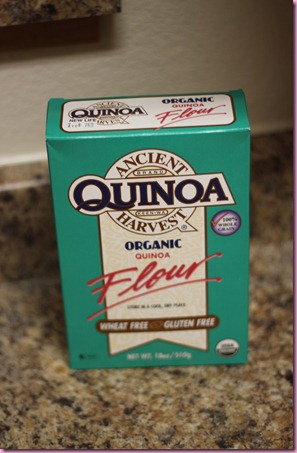 Quinoa flour!
I couldn't believe it when I saw quinoa at the health food store yesterday. I've had mad hankerings for bready, carb-y type foods and since the only grain I'm *supposed* to have for the 30 days is quinoa- problem solved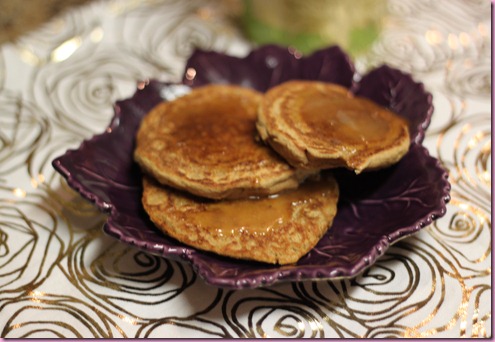 First thing I made was some raw honey covered perfect protein pancakes. They were UHMAZING

The first 10 days weren't as difficult as I thought they'd be, but I will say that I am DYING for almond butter. I thought that I'd be able to eat it on day 10, so I thought Sunday was close enough and made amazeballs and snacked on quite a few almond butter-covered spoons. Saturday night, I also enjoyed some perfectly-cooked salmon. Both were totally worth it

I'm committed to finishing out the rest of the program as planned, but I will say that the second it's over, I'll be digging into something gooey, chocolaty and delicious.
How I feel…
-The first 7 days, I felt amazing. The green juice gave me tons of energy, I was doing a great job of fueling myself despite the meal requirements, and I was feeling confident that I'd be able to finish, no prob.
-Day 8 hit me like a ton of bricks. I'm not sure if it's because I ate the salmon and nuts before I was supposed to, but I was exhausted and had a terrible stomachache all day :/
-Days 9-10: A little tired, and a giant, horrific cold sore appeared on my lip. I'm not sure if the cold sore has to do with stress, traveling, or is detox-related.
Today I feel much better. This could be because I'm back to the swing of things, or because I know that there's a hefty bowl of coconut ice cream on the meal plan

All in all, I know that what I've been doing with the doc is working. A major indication of my hormones being backwards was the fact that I cannot stand the mornings. It was hard for me to wake up, I'd hit snooze over and over, be quichi/tired and then get my second wind at night. Lately, I haven't hit the snooze button, rarely needed to nap and have had fairly constant energy throughout the day. Winner winner, my friends

I'll post another re-cap at the end of the 30 days and will continue to update ya on what's going on.
Well, I'm headed to my brother's bday dinner and then off to teach!
See ya in the morning with a macaroon winner

xoxo
Gina