[My last post about sleep for a while, I promise! It's a valuable commodity, though, and wish I would have read more about sleep routines and tips while I was pregnant]
It still mystifies me that babies fight sleep.
Someone tells me to go to sleep… um, twist my arm. Goodnight 😉
Even though we definitely have some all-nighters over here, I feel like we've got a solid nap and bedtime routine going.
All babies are different, but here's what's been working for us:
Naptime:
-Since we've been following The Baby Whisperer routine during the day (Eat, Activity, Sleep, You-time), Livi is ready for her nap within 1-2 hours of each time she's awake. When she starts to get sleepy, she'll smile less, kind of zone out and start to yawn. I'll try to catch it by the first yawn, so she doesn't get overtired, decide if she's going to sleep in the Pack n' Play or in my arms- usually it's about half and half each day.
-I'll close the blinds, take the hanging toys out of the Pack n' Play, turn on the Pandora Lullaby station,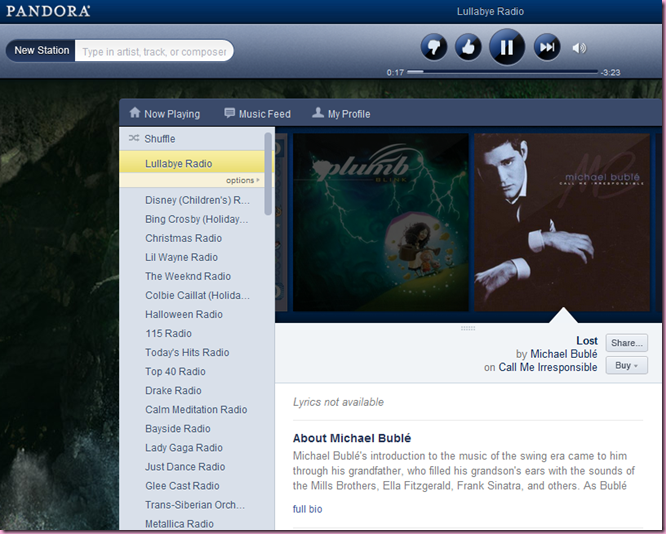 (the swoonmaster himself, aka Michael Buble, is frequently played)
and tell her we'll see the sun in a little while- it's naptime.
-Rock her to sleep either in the rocker or bouncing on the stability ball.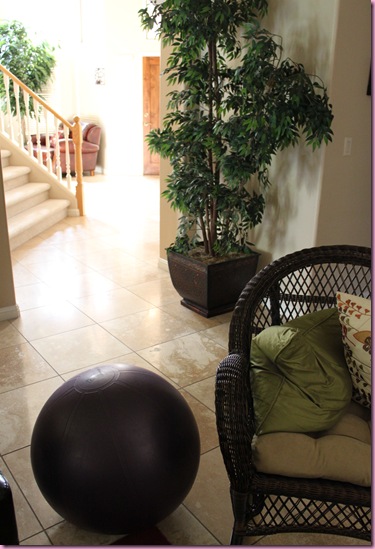 When she's crashed, I'll either enjoy smelling her baby hair and just relax, grab the Kindle and read a book as I hold her, or put her in the Pack n' Play. (Thank you so much to the mom who left the tip to put her head down first so it doesn't startle her awake- she actually stays asleep for a little while now!)
-If she's in the Pack n' Play, it's the perfect chance to blog or answer emails, clean up around the house, start dinner, or take a little snooze myself.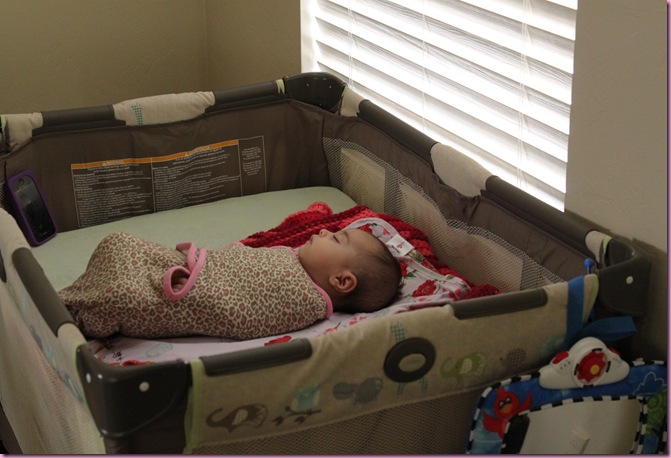 *One of the things I've learned in Healthy Sleep Habits, Happy Child is to respect naptime. That book and The Baby Whisperer made a great point in stating that our bed isn't in the middle of the living room with loud noises and a TV on, so we should respect the baby's chance to rest and make it a peaceful environment for them. Liv still naps when we're out and about or in her carseat, it's not the same quality of sleep, so when we're home for naps, I'll turn the TV off, play some pretty lullaby music for her, so she can sleep soundly. I've found that even since I've started turning off the TV for naps, she's slept longer and isn't cranky pants when she wakes up. She'll coo and make funny sounds, and when I go to see her, she's full of smiles 🙂
Bedtime:
-Earlier is better! In the beginning, we made the mistake of putting Livi to bed when we went to bed: around 11:30. We figured that if she stayed up late, she'd sleep later, and it was quite the opposite. We'd have an overtired, angry little elf on our hands, and we'd party all night. Now she's going to bed between 7-8 and sleeping so much better (and later! wahoo!).
-When we put her to bed, we'll put her jammies on, swaddle her, turn on the Jewel CD and Tom will rock her to sleep in the nursery. He's usually just getting home from work, so it's his cuddle time with Liv, and I'll hang out with them in the nursery until she falls asleep. We'll take her into our room, turn on the salt lamp, put her in the bassinet with the Sleepy Sheep on, and turn on the baby monitor. We'll stay and watch her for a couple of minutes to make sure she's happily snoozing and then head downstairs.
-Since we started putting Livi to bed earlier, Tom can unwind after work, I'll hit up the gym and we get some time to catch up and hang out.
-Dream feeding is amazing. There's more info about it in The Baby Whisperer, but the idea is to feed her while she's still half asleep. I'll pick her up out of the bassinet and give her a bottle around 10:30 before we go to bed, and with her eyes closed, she sucks the entire thing down.
So that's been working for us, for now 🙂 The funny thing is that once you find something that works, something will change, and you adapt and roll along with that. Definitely keeps you on your toes!
I'm just happy that I've finally been able to figure out her cues, get a routine going (instead of going through a checklist of 5 things everytime she cries- I can anticipate what she needs in advance, thanks 100% to the books I've read), and feel comfortable taking her out and about. I remember the first time I took her out in public by myself, to a midwife appointment when she was a little over two weeks old, I was so nervous. Getting dressed myself (before she liked the babysitter balance or bouncy seat), packing the diaper bag and putting her into the carseat, I was worried she'd be crying, I'd have no idea what to do, and that disaster would ensue. It was totally fine. It's gotten to the point where I don't feel like I'm guessing all day, and that we can go out and about, no problem.
She's awake now, so we're off to get her a floppy hat and hit up the street fair 🙂
Have a happy Sunday! See ya later with lots of pics from the day <3
xoxo
Gina
Where's the most random place you've fallen asleep? In my retail days, we had all-night inventory two nights in a row, and I was there for both nights, all night. Late on the second night, I may or may not have fallen asleep on the floor, next to a shelf of pants. I told my boss about it, and clocked out early to make up for the time integrity fail :/