2/17: Thoughts from the week
-Every morning when I get dressed, I keep in mind that I will be wearing purple for most of the day 😉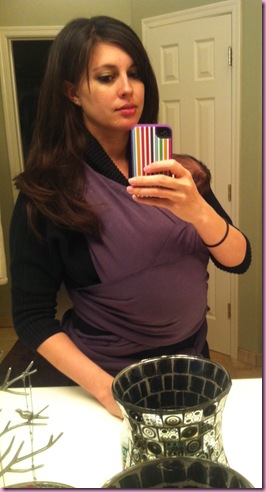 Might be time to invest in another Moby.. ours gets used all the time –Tom likes to wear her in the Ergo instead- but it will be nice to have a backup when this one is in the wash.
-In Livi's bassinet, there was a group of tiny black fuzzies. I was wondering where all the lint came from, and then realized that it was hair! Many babies start to lose their hair, and end up with the "Friar Tuck": hair on the sides, bald on top.
Livi has what I like to call the "Billy Crystal"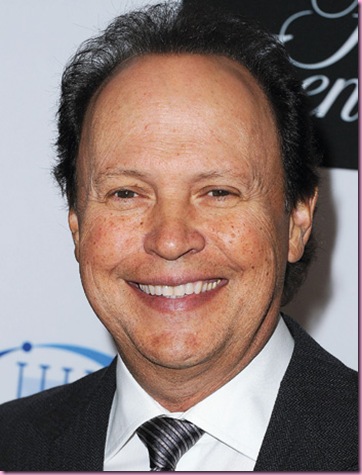 Source
Yep.
-You guys are geniuses suggesting the velcro swaddles. We had a few that Kyle and Meg gave us when Liv was first born, but they were a little too big for her. Now, they fit perfectly, with room to stretch and move her legs, and she doesn't try to get escape. She has slept SO much better the past two nights and it's AMAZING what a little sleep will do!
-I've said this before, but I really want to start making dinner again. I kind of quit this week because I was dragging from being awake all night and day for so long, but I think we're ready to get into it. Meal planning, one big grocery shop, the whole shebang. Even when I did find time to put something together this week, we didn't have groceries for it! One big shopping trip makes it so much easier than taking Liv out to get a few things for a meal or two.
It's going to be a challenge to squeeze it in during naptime, or prep something during the day that can be quickly made at night, but I'm determined… and sick of takeout. The other night, we spent $50 for dinner for two of us- about 1/4 of what I'd spend for weekly groceries.
-It's tradition in my family to get ears pierced at an early age –mine were pierced when I was 3 weeks old- and I thought for sure we'd get hers pierced around the same time. Madre will do the honor since she's a stylist and pierces ears, too. Now, looking at Liv's teeny perfect ears, I can't do it yet.