22 Weeks and Feelin'… Grouchy
I had to call and apologize to my husband again this morning. If you read the blog pretty often, you probably picked up on the fact that he's the sweetest most amazing man ever, and I've been a grouchy punk one more than one occasion to him. I hate it :/ This morning, I was fast asleep and had just hit the snooze button to sleep 10 more minutes –no matter what time I *want* to wake up, I always hit snooze at least once- and he rolled over to give me a hug. With a groggy, squeaky voice I said, "Stop, you're smashing me." So rude.
In all fairness, he did this to me: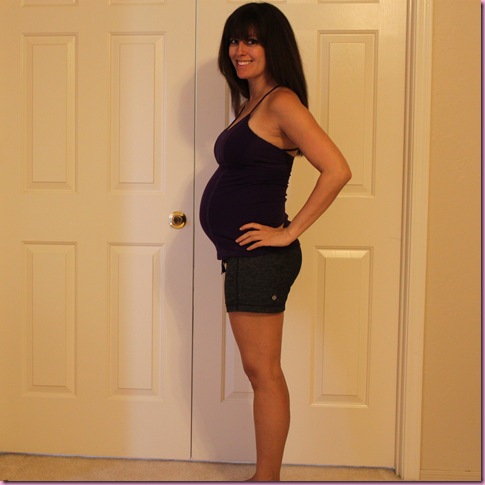 😉
Why does being preg make you (or me, rather -haha) grouchy? Maybe it's the lack of sleep –I can't get comfy to save my life- the hormones, or the extra work that everything takes, but it's kind of a bummer. I try to keep it under wraps most of the time, but sometimes the crankiness comes out. [I cried over a salad for goodness sake]
This week, the baby is the size of spaghetti squash (11 inches!) and I'm finally feeling real, legit kicks. They magically appeared about 2 days ago and I'm obsessed with them. Last night, I laid on the couch with my hand on my belly and felt the little nuggette kick away for a good half hour. Tom finally got to feel it, too, and while I think it weirded him out a little, I also think he really loved it 😉
Notes:
-Cravings and aversions have been pretty much the same (lots of fruit, salads, smoothies, spicy and cruncy), but I've added chicken back into the mix. It started to finally sound good to me again, which is interesting because my midwife said my iron levels were borderline low. I'm hoping that my 1-2 servings a week, along with the veggie sources of iron I usually eat (beans, quinoa, leafy greens, dried apricots) will keep me from having to take an iron supplement (which I've heard less than fab things about).
-Weight gained so far: 14 lbs
-I got to stop wearing my belly band for now! I originally started wearing it to hide my swimming pool bellybutton… however, my "innie" is well on its way to becoming a temporary "outie." To wear my pants and shorts, I've been rocking the hair tie trick (just loop a hair tie around the button hole and then around the button a few times).
-I'm starting to think of pregnancy like a triathlon, which is funny because I've never done one and I can't ride a bike or swim. But here's my philosophy:
Part 1, first trimester = the swim. Scary land of unknown, and you spend the entire time anxious for it to be over and praying you make it. [Especially if you can't swim, like me] First trimester was an apprehensive time for me. All of the what-ifs were constantly crossing my mind, and while I was so thankful and over-the-moon excited, I tried to be cautiously optimistic. I was glad for it to be over.
Part 2, second trimester: the bike ride. I'd imagine this would be the easiest part of a triathlon? Sandwich anything in between running and swimming (yodeling? haha) and I'd probably think it was "easier." 😉 I feel like I'm pretty much coasting through the second trimester. My energy is pretty good –I get tired earlier than normal and need to rest more, but I cooked for 50 people this weekend so I think that's a win- and I'm focused on enjoying this part of the ride as much as possible. We started our registry, the nursery and things are starting to fall into place.
Part 3, third trimester: the run. I'm guessing that third trimester is going to feel like a distance run: long, slow, heavy.. yet temporary. I'll probably be uncomfortable and starting to get anxious, but then it will be over and we'll be holding our little girl. Just like the triumph of a long race, it will be a thousand times more worth it.