Every night during my last time pumping before bed, I pin things on Pinterest and lurk Facebook. It's my "waste time on the computer" 20 minutes of the day, and while perusing around last night, I saw this.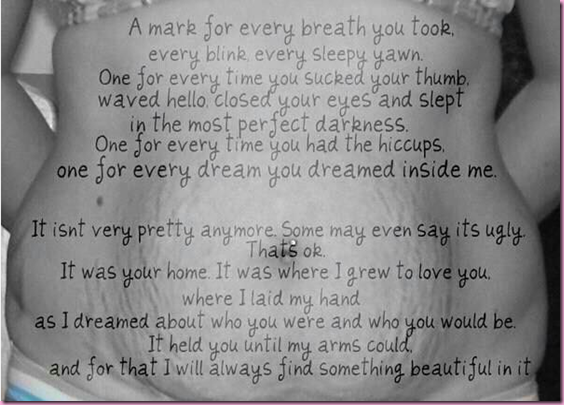 (It was on the "Sexually Deprived for Your Freedom!" page, to which I'm a proud "liker")
And the photo pretty much said everything I've felt.
This is my belly, a week after we got home from the hospital: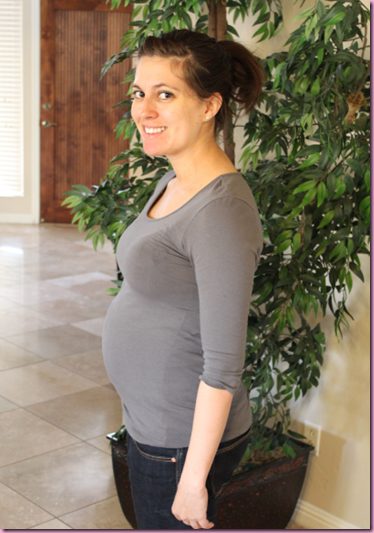 (and my first week in a very long time with less than a solid hour of sleep)
Underneath the shirt, it looked very much like the photo above.
When we first had Livi, getting my "body back" as they say, was pretty much the last thing on my mind. I just wanted to get to know my baby girl, instead of spending time with the gym equipment that I'm already familiar with 😉 I soaked up every second smelling her baby hair, feeling her breathe on me as she napped, paying special attention to never forget her soft coos and sighs, and took more time than I needed to get back into the gym. Like many other things, it just didn't seem that appealing. It was like my life flip-flopped, and everything else I used to care about so much suddenly didn't matter.
We spent every moment making sure Livi was fed, dry, burped and comfy. We didn't sleep at all, and it was seriously challenging and absolutely beautiful at the same time. It was the first time I saw my husband rock our baby to sleep, my first time singing lullabies and feeling her snore against me in the Moby, our first time all sleeping together as a family, and so many other moments that I'll never forget. It was also when I spent a lot of the time crying, had enough anxiety for 4 people, and felt sick, exhausted and discouraged with all of the breastfeeding problems. Needless to say, exercise was the last thing on my mind.. until I needed something to help me feel like myself again.
When I was recovered from birth, I took my time getting back into it, but found that I really needed some "me" time time during the day, even if it was just 20 minutes to pedal and read on the elliptical. When you're breastfeeding and changing diapers around the clock, it's easy to feel like a milk maid, and getting back to the gym helped me feel like I gained some of my identity back. The endorphins were missed and it felt good to shake my legs out a little.
Eventually, I got to the point where I felt like I could push up the intensity –and had to, since I'd soon be going back to work and wanted to be able to walk after my first week back- and I was excited to start focusing on bringing my body fat percentage back down. I still looked slightly pregnant, and I'm going to put it out there: when you teach fitness, you are judged by how you look. Is it fair? Of course not. Some of my favorite fitness instructors didn't look like fitness models and if you consider the fact that when you teach a LOT of classes, it's easy to overtrain, burn away muscle and look a little softer. However, most gym-goers don't think about this, and neither do all of the guests at work.
This would probably happen anywhere else, but I've had some distasteful things said to me ("Oh, you're pregnant! Thank goodness. I thought you were just getting fat!" For real) and even when I tried to brush it off, it would still sting a little, especially since I was overweight in the past.
So over the past month, I've worked a little harder during my few gym sessions each week, kept my calorie intake high, emphasizing protein and fats to promote a good milk supply, and stopped eating boatloads of cookies for "energy" and "because I'm breastfeeding." Portion control is back -if I want a cookie, I have a cookie, just not three of them- and I'm focusing on the fresh foods that I love. The amazing thing is that my milk supply is so much better when I get my calories from healthy foods –in the very beginning I was eating handfuls of chocolate-covered acai berries all day and my supply sucked- and I feel pretty good, or at least to the point where I hope I don't get rude comments while I'm teaching….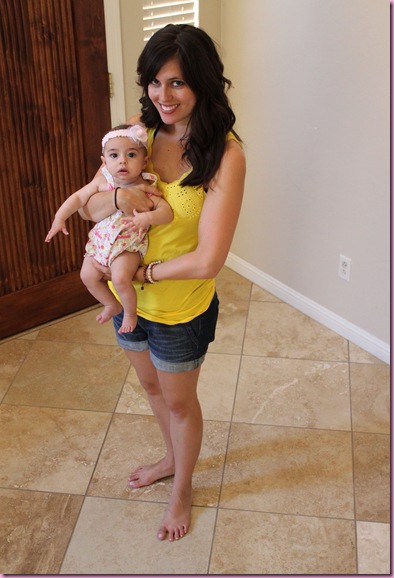 And here's where I'll most likely stay, until I'm no longer breastfeeding, and that's ok with me.
As far as I'm concerned, it's still not my body until Livi is weaned and I'm hoping to keep doing what we have been (breastfeed, pumped milk, formula) for the first year. We're going to focus on a day at a time, but even 6 months of breastfeeding is a victory to me, when I told myself in the beginning that I'd keep at it for just one more day.
After I'm done breastfeeding, I'll probably lose the last bit of body fat that my body will hang on to in order to produce milk.
Even though I ate well and exercised throughout pregnancy, gained an appropriate amount of weight (34 lbs)
and have lost the weight- most of which happened within the first couple of weeks, after that it was much slower-
but my body is different.
My stretch marks are fading and my belly is starting to firm back up – I'm using a combo of coconut oil and Jergen's Natural Glow firming lotion on my belly- but my muscle density and shape are different.
And I'm more happy than I've ever been.
I didn't have a baby so that I could go back to my pre-baby body as quickly as possible. I had a baby because we've been aching and praying to add another member to the family. And now that she's here…. well, I can't even explain how amazing it's been. How amazing she's been. I'm still in awe that my belly carried her for 40 weeks and now my body is what provides most of her nutrients. It's a pretty incredible thing and while I was definitely self-conscious in my jingly bellydance bra last night, I felt proud of what the two of us have been through together.
When Livi looks up and smiles at me, I know she's not judging how I look, or thinking "Mama, your body fat used to be 'X' percent. Sheesh." There's no reason why I should do that, either. It's so easy to pick yourself apart –and I did this before I had a baby, too- and it's not worth it. Life is short and when I'm old, I'm not going to remember that one really awesome weights session I had at the gym. I'm going to remember coming home and feeding our baby before bed – the glow of the fish tank in the nursery, her Jewel lullaby CD playing, and her happy sigh as soon as she's finished. At the same time, I hope that my dedication to health helps me live a longer life so I have even more of those beautiful moments to enjoy. It's all a balance.
So for now, I'm keeping on keeping on. I'm going to keep hitting the gym if I get the chance to workout during naps or at night because it's something I do and enjoy –plus, that's how I come up with workouts to share on the blog- and I'm going to try to be the best mama I can to our little one. When I take a little time for myself, feel like I have more to give to everyone else. 
xoxo
More:
-How my workouts changed in the first, second and third trimesters
–Changing eats and third trimester eats