Sometimes it feels so good to hang around the house in jammies and do nothing. Since the Pilot was off work yesterday, I was happy to celebrate a slow day with him 🙂 He let me sleep in and then I took care of Livi while he took a long morning nap. Around 12, we decided we should get dressed and go do something.
We wanted to go somewhere indoors since it was midday and crazy warm outside, so we met up with Kyle and Meg at the mall.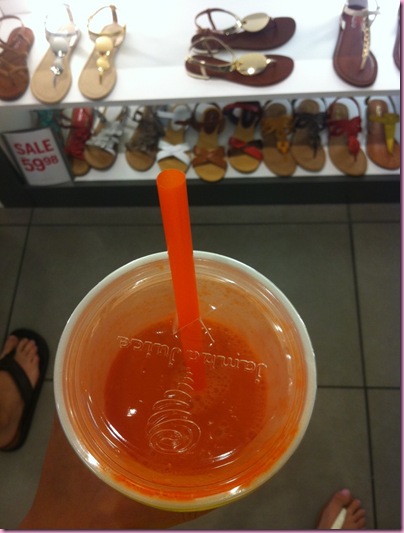 Jamba Juice send me a gift card a couple of months ago to try out their new fruit and veggie smoothies, since I was unable to travel to the launch event they were kind enough to invite me to. They have 3 flavors: Apple N Greens (which has spirulina in it! Kind of fun to see at a popular smoothie chain), Berry UpBEET and Orange Carrot Karma. I decided to try the Orange Carrot Karma (carrots, mango, banana and orange) and loved it! The carrot flavor was strong, but I love carrot juice, and it wasn't too sweet – very refreshing. I can't wait to try the other two flavors.
I tried on a couple of things –wasn't crazy about them- but the Pilot and Livi scored. The Pilot likes walking around the mall with us girls, but doesn't usually shop for himself. If I ask him if he likes something, he'll "meh" it, so it was a big deal that he picked up a few pairs of shorts and polos that he liked.
Still can't decide if I'm a fan of the peplum dresses: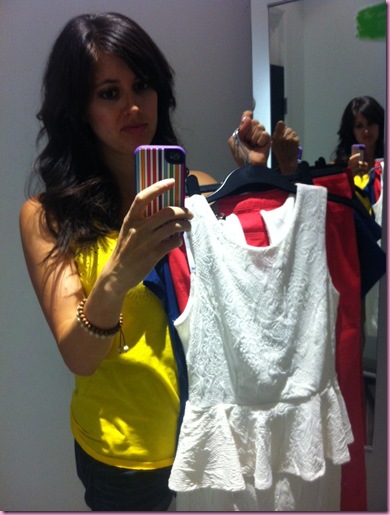 Meggie was also on the prowl for some graduation shoes… baby wildcat is all grown up! I'm so excited for her. It feels like it was just recently (instead of 5 years ago… oof) that I was graduating and throwing tortillas into the air. It's a tradition for the U of A, but you have to sneak the tortillas in since they pat you down before walking into the stadium. I managed to hide two dozen flat underneath my graduation dress and have bathroom pics with my friends and I holding our packs of smuggled tortillas.
Just to give you an idea:
Amazing. Haha.
Instead of showing you what we made for dinner, I could just show you this insane little face and you can probably see it in her eyes.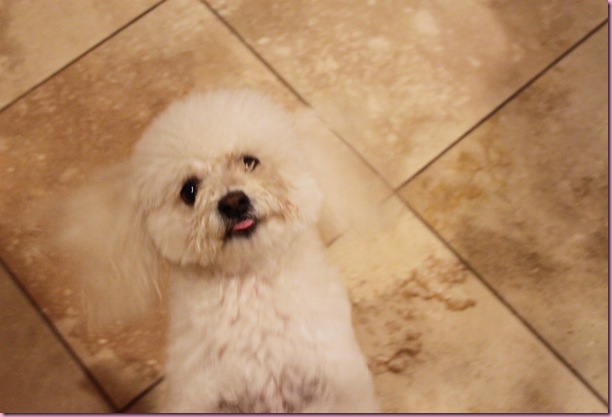 Her two favorite things: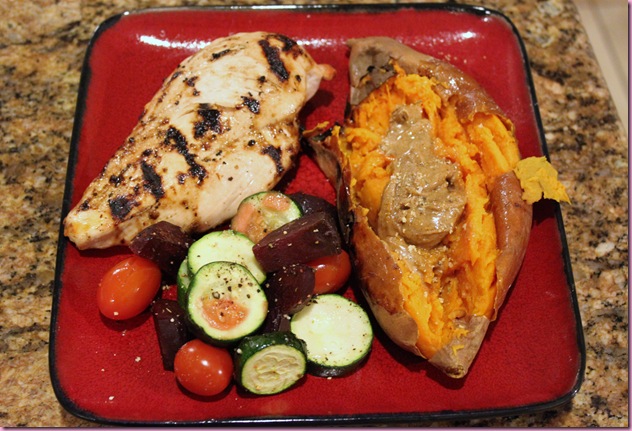 Of course she had her own little plate of chicken and sweet potato, chomped it down within 4 seconds and came to stare down the Pilot and myself while we ate our dinners. When it comes to chicken, she has no manners.
I spent the rest of the evening YouTubing Afro-Brazilian, Samba, Cumbia and Merengue dance moves. It's my first time teaching World Beat (the dance class with live drummers) this morning. A little nervous….
Hope you have a happy Saturday <3
xoxo
Gina
Congratulations to those of you who are graduating!! Sending lots of love and best wishes to you as you start a new chapter in your life.
Something to talk about: Does your alma mater have any fun graduation traditions? What's on the fitness agenda this weekend? I'm teaching 3 classes today (World Beat, Buff Booty and Zumba), so tomorrow will probably either be a relaxing yoga/stretch day.