4/16: Thoughts from the week
-I'm kind of addicted to the Babycenter forums. I discovered them a few months ago, but it's pretty amazing because you can check out the forums for the month your baby was born: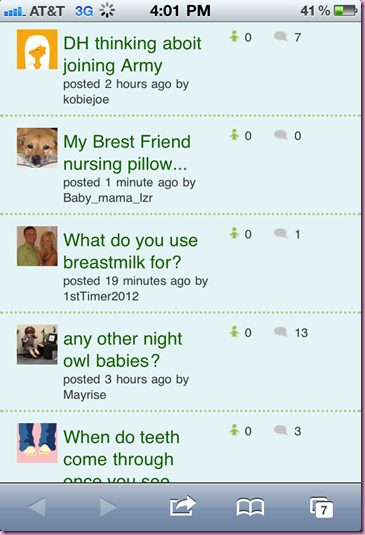 It's fun to see how other moms and babies are doing, and read advice and tips. I lurk it a few times everyday 🙂
-I told myself that I probably wouldn't co-sleep with Olivia –I was scared about rolling over onto her- and now it happens pretty much every morning. It feels like more of a half-sleep than anything because I'm aware that she's there,  but it's so nice to snuggle up and wake up slowly.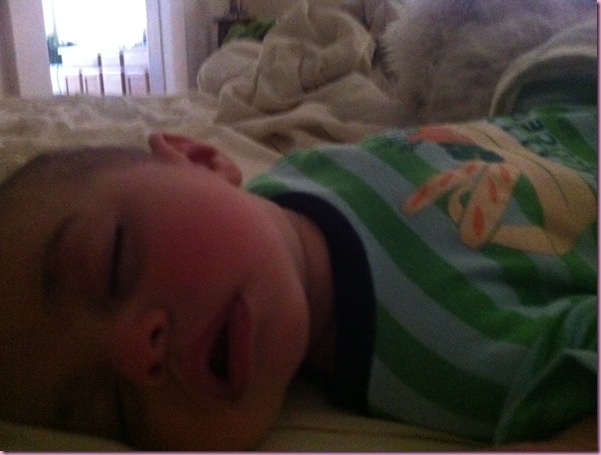 Sometimes she'll fall back asleep for another hour or so- I should have learned how to nurse on my side a lot sooner.
-Another thing I could have done earlier? Worn Livi in the carrier to grocery shop. Emily does this pretty often, but I was usually so worried about the time bomb ticking, I'd put her in the large part of the shopping cart in her carseat, and quickly fill up the the little portion with the few things we needed.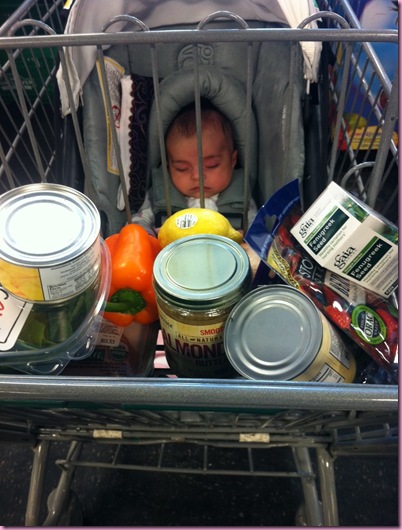 (At Sunflower Market, 8 weeks old)
Today, I put her in the Baby K'Tan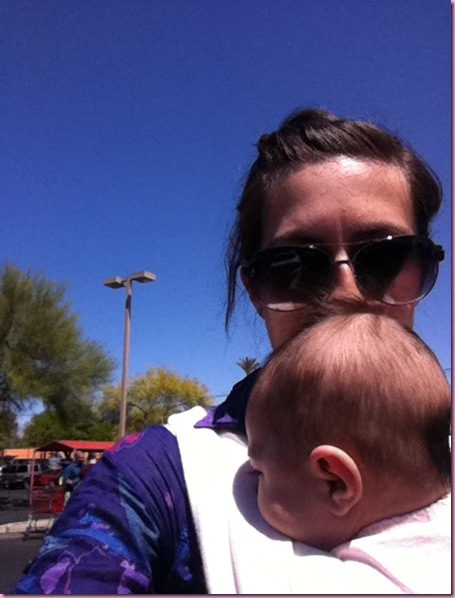 and actually got a full cart of groceries! It's like I discovered a magical secret 😉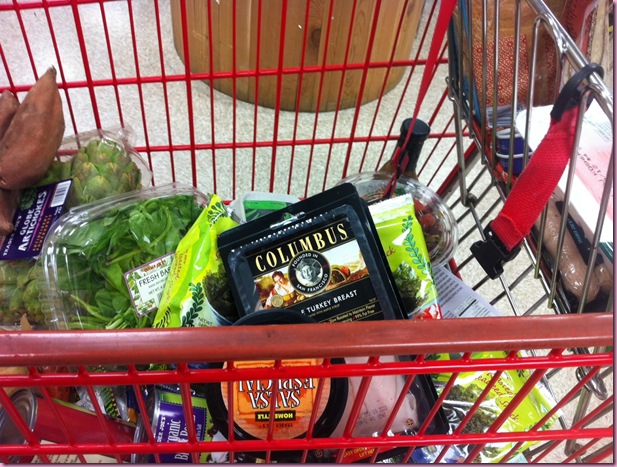 I had visions of leaving our entire basket full of stuff due to an epic meltdown, but she loved walking around and looking at everything.
-Speaking of epic meltdowns, Livi has a new scream. She's not crying, just testing her lung power, and makes the shrillest, high-pitched "AHHHHHHH!!!!" It's pretty hilarious.. she sounds like a baby vilociraptor.
-Today, the last of the cloth diaper supplies arrived…..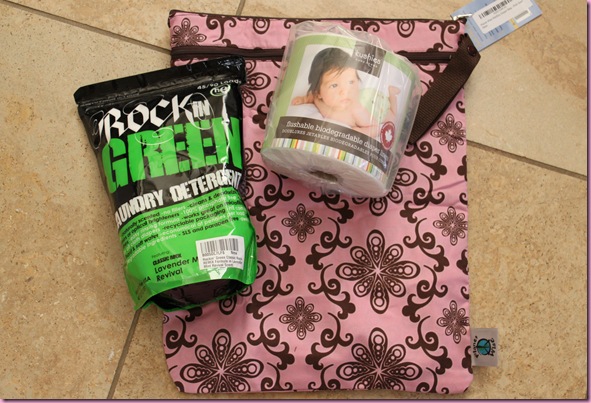 The Pilot opened it and was like, "what is this stuff for?"
"Cloth diapers"
"You have fun with that."
He was totally on board initially, but for now, he's loving the disposables. We'll see how all of this goes down… I'm going to wash all of the diapers tonight, and probably start tomorrow. Wish me luck 😉
-Even though I'm focusing on being more present, I can't help but think about certain things in the future. Increasing the deposits to Livi's college fund is one of the things that comes to mind. Before we knew she was on the way, just that we wanted kids, we started a savings account for our first one and began depositing money into it every month. Sometimes it was only $50, other times we had more to spare, but I'm glad we have something in her name. As far as college goes, they offer quite a few different savings plans (like the 529) but I'm also wondering if Tom's GI Bill can be transferred to her in case he leaves active duty before retirement. Definitely something to look into.
Any tips for college savings?
What's something you wish you would have done sooner, or thought you would "never" do?