I'd like to take a second and thank….
-our neighbors, who brought over the best enchiladas I've ever had. A bold, very true statement.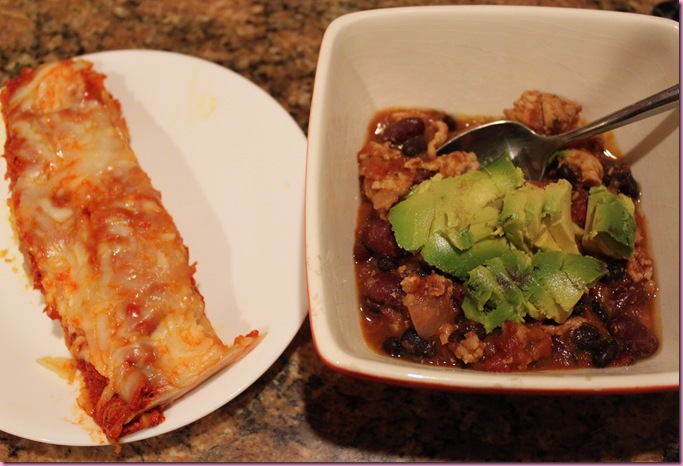 (Savored it- cheese and all. If someone makes the tortillas and sauce from scratch, you need to have the full experience. I wanted to curl up and live in that enchilada)
-the little chocolate map. It's really for the sake of other people because otherwise I'll pick the bottom off the chocolate and maybe put it back in the box. Sorry I'm not sorry 😉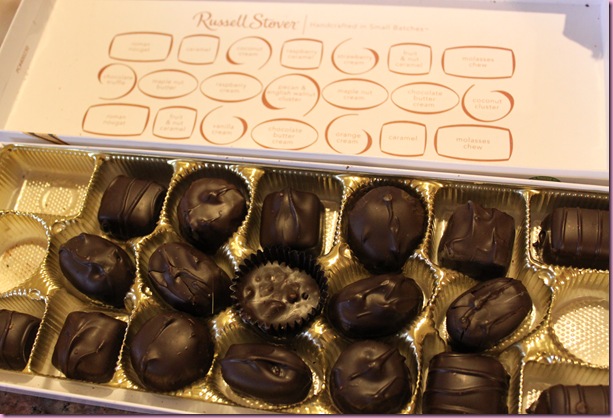 (Thank you, nana for our Easter chocolates!)
-Trader Joe's, for existing.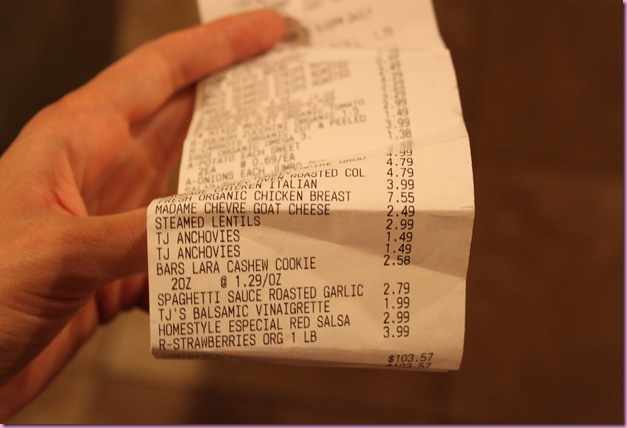 Livi and I went on a massive grocery shop, and the grand total at TJs never ceases to amaze me. If I got the same ingredients at Whole Paycheck Foods, it would easily be twice as much.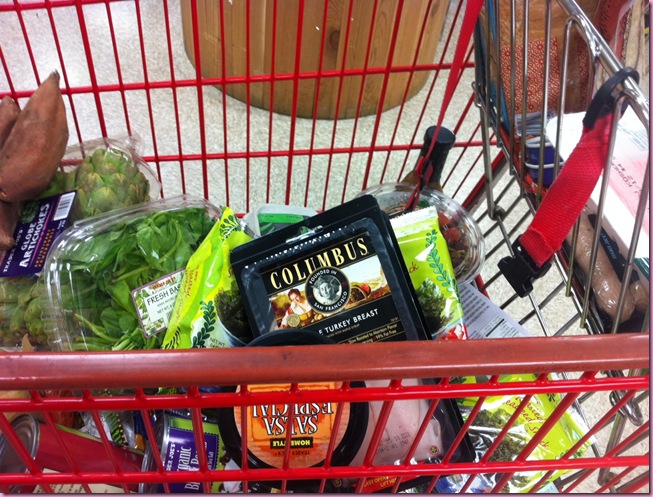 Since a few readers have asked what I usually get at the grocery store, here's what I picked up this week:
I'll plan out a few meal ideas for the week and get ingredients for those. This week, it's turkey chili in the slow cooker, spaghetti with zucchini noodles (pasta noodles for the hub) and chicken stir fry with broccoli slaw. As far as lunches, breakfasts and snacks go, I rotate between staples: mostly bars, fruit, smoothies, salad combos, oats, soup and wraps/sandwiches. For the Pilot, I'll pick up a couple of pre-made meals from the deli section (he loves the frozen burritos, enchiladas and the pasta dishes in the deli section) for lunches. We also always have cereal, sandwich stuff and eggs for him to snack on during the day.
Ingredients for the meals we planned:
Chili:
-kidney beans
-black beans
-salsa
-ground turkey
Spaghetti:
-artichokes (to eat with the spaghetti)
-basil (for salads and the spaghetti sauce)
-Italian chicken sausages
-marinara sauce (to spice up)
-zucchini
Stir fry:
-asparagus
-onion (1/2 for the spaghetti sauce; 1/2 for the stir fry)
-carrots
-chicken breasts
-broccoli slaw
Staples:
-strawberries
-brown rice tortillas
-potato bread
-seaweed snacks
-grape tomatoes
-Super Spinach salad
-kale salad
-deli meat (2)
-goat cheese
-steamed lentils
-anchovies (2)
-Larabars (2)
-sparkling water
-eggs
-sweet potatoes
On hand:
-salad greens (2)
-frozen organic fruits and veggies
-grains
-avocados
-apples
-almond butter
-almond milk and regular milk
-canned tomatoes
-soups
For everything we picked up: $103. Mostly organic- pretty amazing.
So we enjoyed last night's turkey chili dinner with the glorious enchiladas, watched The Voice and called it an early night.
The Pilot is flying today, and guess who has tax duty? You know what they say about waiting until the last minute… (it only takes a minute. Or hours. Haha)
Wish me luck!
xoxo
Gina
Where do you do most of your grocery shopping? In Valdosta, Wal-Mart was THE SPOT. They had such a great selection of organic produce and it was close to the house. Publix was a little farther, but I loved shopping there.
In Tucson, the Wal-Mart isn't quite the same as the one in Valdosta, but I'm so stoked we have Trader Joe's and Sunflower Market. Whole Foods is a fun special treat, too 🙂
Something to do: Take your workout outside! Here are some strength training moves you can do on a regular ol' park bench. Aim for 3 sets of 12-15 of each exercise. As a bonus, bust out a few moves in between running laps or sprint intervals.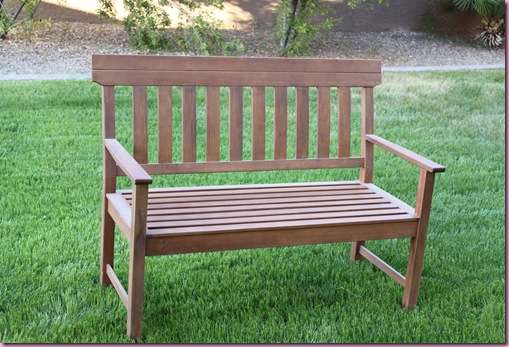 *As always, check with a doc before making any fitness changes. Honor your body and your injuries <3
[print_this]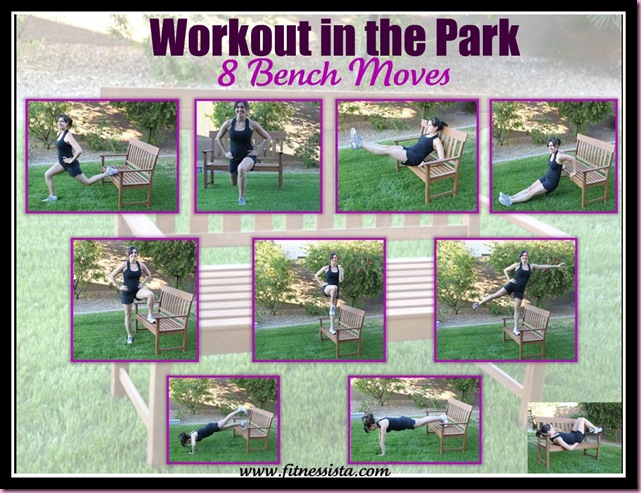 [/print_this]
Top row:
Pics 1 and 2: Split squat. Stand about 3 feet in front of the bench and place one leg on top. Go down into a lunge position, making sure your front knee doesn't extend past your toes. If it does, you may need to widen your stance.
Pic 3: Bench V-up. Using your arms for balance (fingertips pointing forward), bring both knees into your chest. Inhale as you extend both legs in front of you, either straight ahead or at a 45* angle.
Pic 4: Tricep dip. Fingertips facing forward on the front of the bench, bend your arms (you want an ideal 90* angle here) as your hips lower towards the floor. Bend your knees to make it a little easier
Middle row:
Pic 1: Step-up. One foot flat on the bench, bring your other foot to meet it and lightly tap the bench before lowering down- don't rest at the top. Quickly repeat, up and down.
Pic 2: Add a knee raise. Exhale and tighten your core as your knee comes up
Pic 3: Add a hip abduction. As you tap the bench, exhale and bring your leg out to the side, making sure your toes are pointing forward and the foot is flexed.
Bottom row:
Pic 1: Push-up. Try one leg to make things more exciting.
Pic 2: Plank. Hands underneath your shoulders, abs tight, and keep your hips in line with the rest of your body. You want to be a straight line from your ears to your ankles.
Pic 3: Take a nap 😉