5 casual everyday mom uniforms
Hi friends! How's the day going? I hope you're having a wonderful morning. Last night, I went to a super fun event at Creative Tribe with some girlfriends. We got to learn about tarot cards – don't worry, I won't be switching my online business lol- and embroidered a tarot card tote bag. Creative Tribe has so many unique crafting events, and it's BYOB,, so you can sip wine out of a Yeti cup. Not a bad way to spend the evening.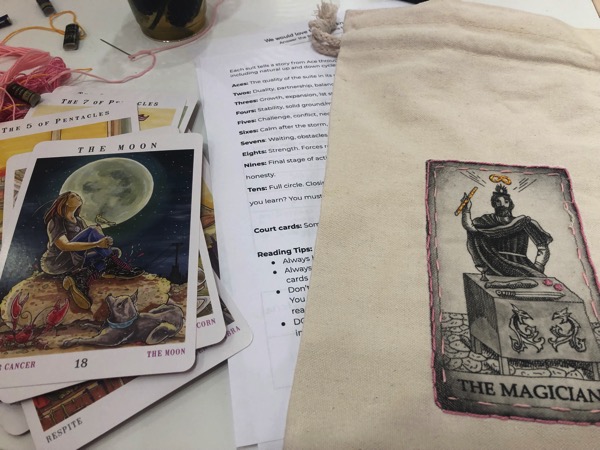 For today's post, I thought I'd share some of the casual mom uniforms I've been wearing lately. I love getting outfit ideas from friends, especially the type of clothes that I can wear everyday and look *put together* for all of the things I do during the day: chase the girls around, work, run errands, play dolls on the living room floor, or kick a soccer ball outside with the kids. I would love to live in lulu 100% of the time, but I find that I feel better and am more productive when I take a little time to get dressed in non-athletic clothes. (This post totally includes one athletic outfit because #reallife)
Here are 5 outfits I've been loving for every day: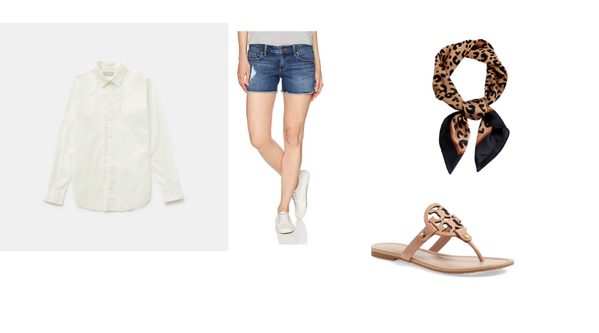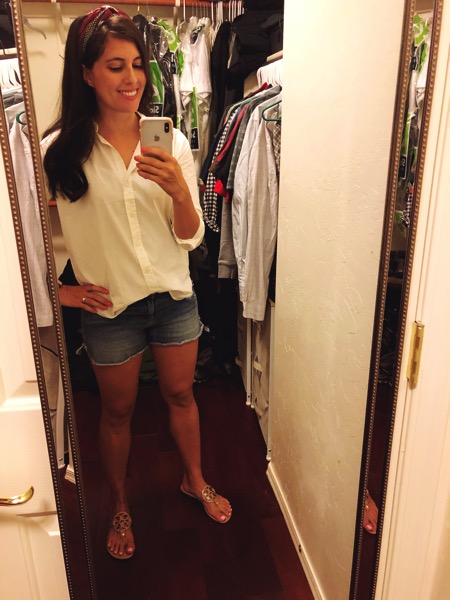 (with these sandals)
I got this headband idea from Jess and it's fun trendy detail and way to hide the fact that my hair needs a wash. This shirt was my first time ordering from Everlane and I'll definitely be trying out more of their pieces. (I wasn't sure about sizing and am usually between a 2 and 4 for tops. I ordered a 2 and it worked perfectly. I might try a 4 if it's something that's more fitted) It's the perfect everyday white button-down: lightweight, not too see-through, and washes well.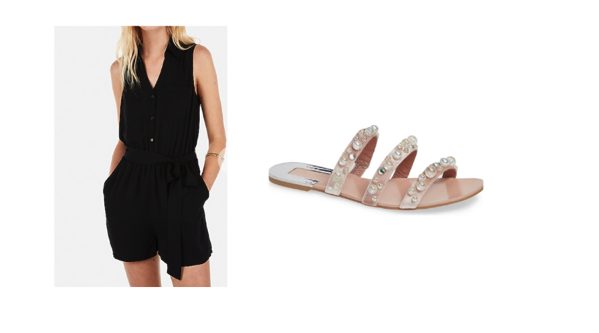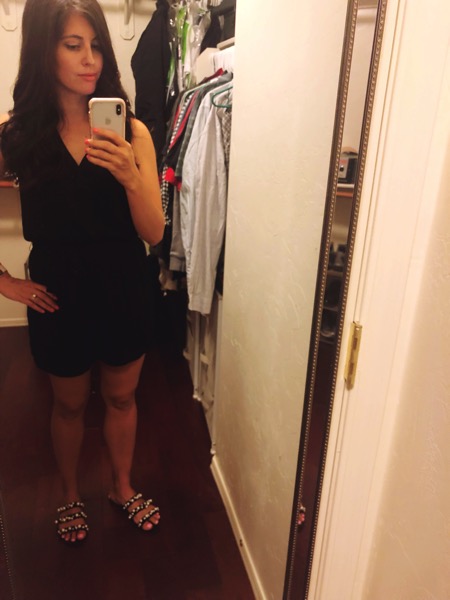 This romper made me understand how easy it is to just wear black all the time. Before, I could never understand why people had entirely black closets and I totally get it now. Simple, classy, versatile, boom. These sandals are my go-tos. They match so many things and I always get compliments on them.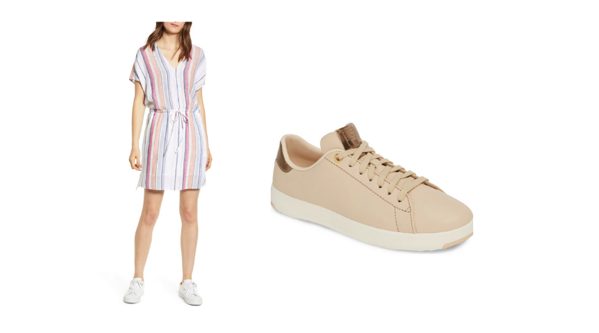 3) Rails dress with low-top sneakers (<— part of the Anniversary Sale! They're down to $85 from $130 and public access starts tomorrow)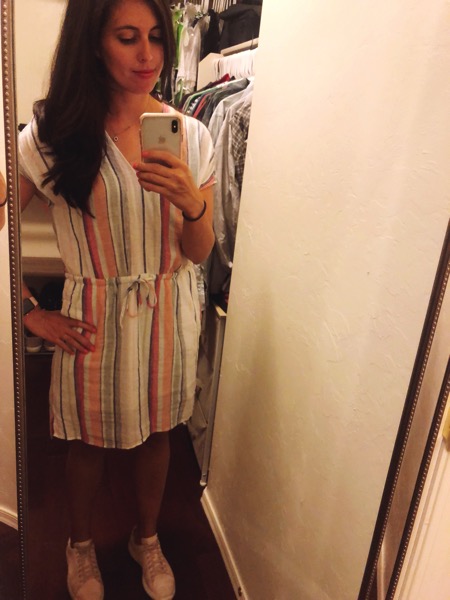 This is my favorite dress right now! It came in a recent Trunk Club shipment and while it was a bit pricey, I've worn it a ton already. (Heads up that it runs a bit big, so if you're in between sizes, size down.)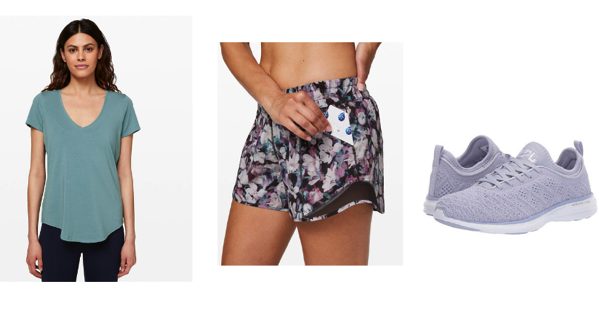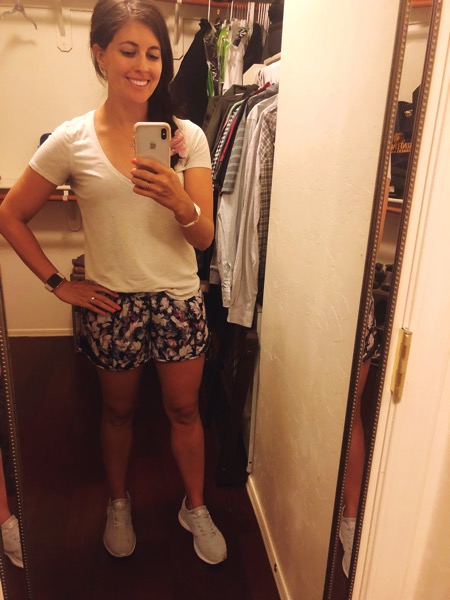 I needed a couple of new pairs of lulu shorts because… my butt has grown haha. So I found these floral ones and really like the print.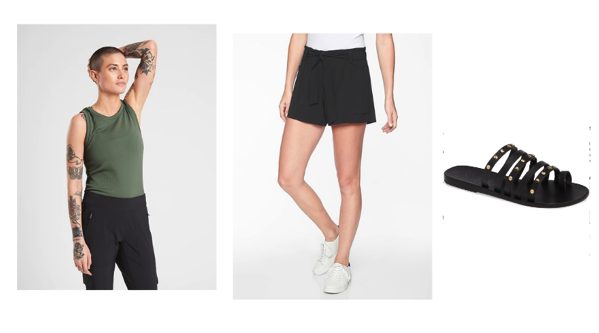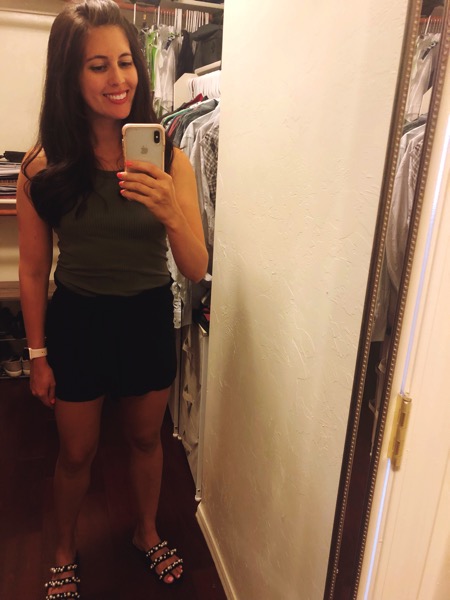 (These ones are in the graphic above since the ones I usually wear are out of stock in black)
It was my first time trying Athleta's non-athletic clothes and I'm a huge fan. The fabric is light and breathable – a must for Tucson summer – and flattering. I've heard their jeans are a dream, too.
I also feel like I'm in an awkward phase of life fashion-wise. So often, I find that styles are too young or too mature. I need something in between a mumu and a crop top with a high-waist skirt (<— super cute but would undoubtedly get some raised eyebrows at preschool drop-off).
Where do you get your everyday outfits? Where's your favorite place to shop? Lately I've been ordering everything from Nordstrom for the most part, just because they have so many different things and an awesome return policy. I'm also a huge fan of Trunk Club; many of the outfits above came from those shipments. If you have any favorite stores or online resources for everyday clothes, please let me know!
(Also, do you like these types or posts or nah?)
Hope you have a wonderful day and I'll see ya in the morning!
xo
Gina