Today I had my last "monthly" midwife appointment- from here on out, they're every two weeks.
My appointment was with the first midwife I met at the practice, and I adore her. She walks into the room, sits in her chair and looks at me, ready to answer questions and takes all the sweet time in the world. It's pretty much amazing. I asked her about some concerns I had [what happens if my baby is breech? What are the policies on induction? Does what I eat for breakfast affect my gestational diabetes test results? Etc. Etc] and we listened to the baby and she measured my belly.
I can't get over how STRONG the heartbeat sounds. Every time I hear it, it makes me a little emotional, and so happy to hear her heart galloping away in there.
And then the kicker of the day: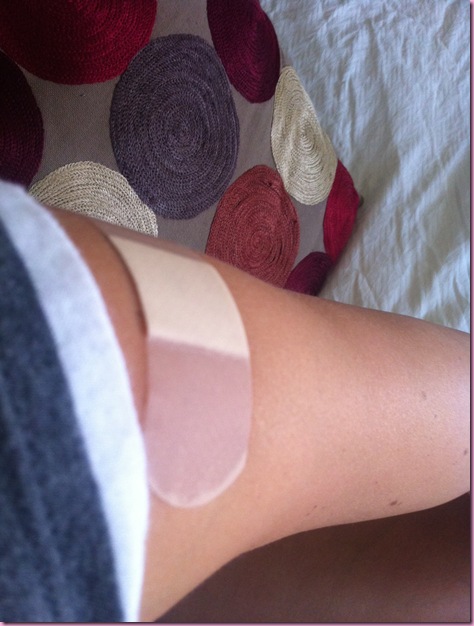 I had to get a flu shot :/
Usually I avoid needles like the plague, but since getting knocked up, everyone wants to inject me with something or take my blood. I haven't had a flu shot in at least 4 years, mostly because I seem to *knock on wood* avoid the flu and prefer not to inject something into my bloodstream that I wouldn't ingest (like gelatin). The midwife told me the flu wasn't something to mess around with –she said that viruses can cause brain damage in a growing fetus- so I went for it.
The nurse who gave me the shot was an absolutely lovely lady from Australia. I was asking her about where she was from, her family, if she enjoyed Gurrumul, and she was telling me that Australian's like to make short words long and long words short. For example, mosquito = mozzie. Costume = cozzie. She said that they always used to say "What's smaller than an ant's pants? A mozzie's cozzie."
So I learned something new as she gave me the shot, which didn't hurt nearly as much as I remembered it hurting 😉 I've be sure to drink lots of juice and rest today, just in case I don't get a little blah from the shot.
In two weeks I have the dreaded gestational diabetes test. I'm actually not too worried about it. The midwife said to have a high protein diet (no simple sugars, cereals or juices), like an omelet or peanut butter toast, and she thinks I'll be fine. They'll give me the 50g of sugar drink to drink in 5 minutes (bzzzzzz) and I'll wait an hour, then they'll take my blood. The only bonus is that I have another midwife appointment after the test and will get to hear the baby's heartbeat again 🙂
I'm done with ultrasounds [I had the initial one, nuchal translucency test, and 20 week], unless there's a reason later to check the fluid levels or the baby's size. It's so crazy to think that the next time I *see* her, will be in person instead of on a screen <3