Hi friends 😀 How was your Friday? Hope you had a wonderful day.
After my doc appointment this morning, I stopped at Whole Paycheck to get supplies for tomorrow night and to my shock and amazement, we have a FULL UP hot bar now! It was a very exciting moment. Before, all we had was a cold bar and soups, and now… we have all of my favorites. I may have to head back sometime soon to make a lunchtime treat, but for today, I already had this on my mind: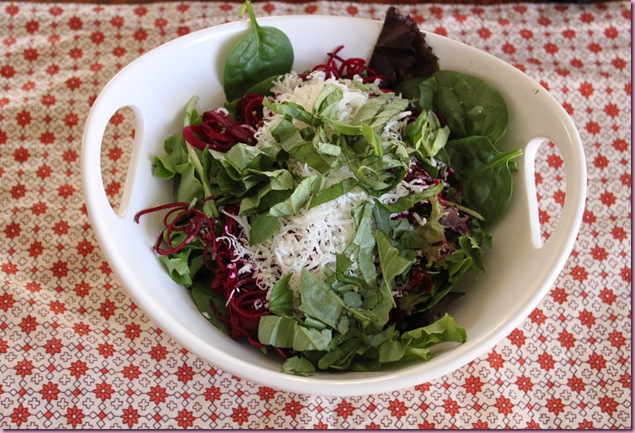 A beet beast!
This salad is very similar to one in Natalia Rose's books, and includes a mix of greens, spiralized beet [I use *this spiralizer*], basil, tomatoes (which I forgot to add to mine) and goat cheese (I rolled with goat gouda). I also added a hefty sprinkle of oregano, sea salt, and drizzled with balsamic vinegar and walnut oil.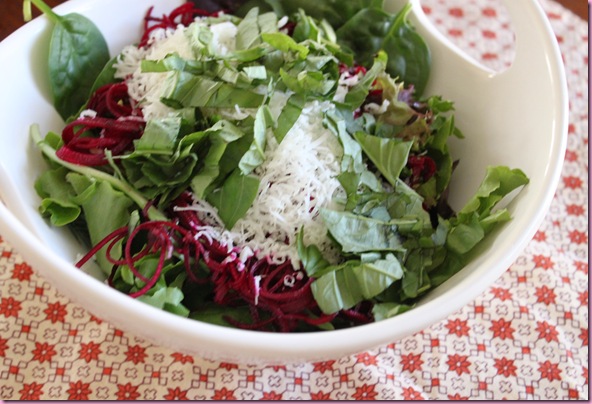 I have to say, even better than hot bar salad.
Also while I was at Whole Paycheck –still seeing falafel and miso salad dancing in my brain- a crazy thing happened: I ran into my best friend from elementary school, whom I haven't seen since high school, with her baby. We've always had a ridiculous amount of things in common: same birthday month of the same year (we always had joint parties growing up), our brothers are the same age and their birthdays are days apart, and her baby is exactly the same amount of weeks old as I am pregnant. Weird, huh?
I came back to the casa to get the marinara simmering away: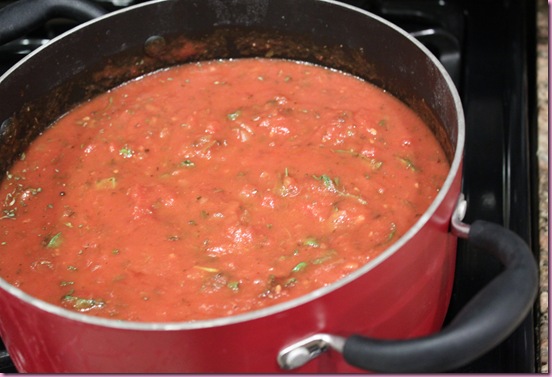 [No real recipe to share, I just throw things in and it tastes the same every time- whole tomatoes, tomato paste, diced tomatoes, onion, shallot, garlic, balsamic, basil, oregano, parsley, salt, pepper]
and am about to make the lasagna so all I have to do it put it in the oven tomorrow.
Here's what the feast will look like:
-Hummus, carrots, baby heirloom tomatoes
-Artichoke dip, Mary's crack and pita chips
-Cheese plate with fig paste, bleu cheese, herbed goat cheese, cheddar
-Autumn salad with: arugula and spinach, green apples, toasted rosemary pecans, dried cranberries, goat cheese and balsamic
-Lasagna: butternut squash and goat cheese [GF], meat
-Pizookies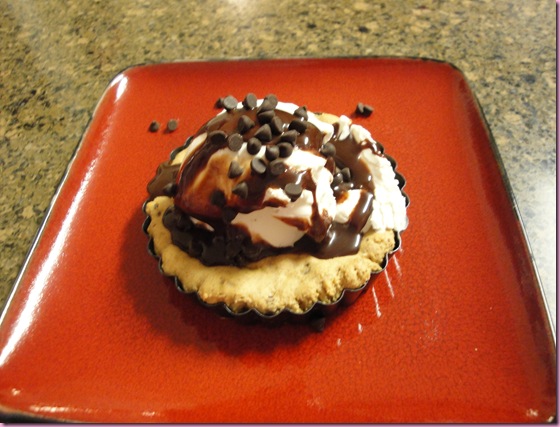 -Sparkling lemon water with cucumber (for the preggies), beer and vino
Time to start lasagna-making!
See ya in the morning.
xoxo
Gina
Something to talk about:When was the last time you saw someone for the first time in years? Yes, it happens on Facebook every day, but real life > Facebook.
Something to do: How about a Friday night Leg Burner?

[Always check with a doc before making any fitness changes]

-Jog in place 1 minute

-Booty kicks 30 seconds

-High knees 30 seconds

-Plie squat- 1 minute

-Pulse plie squat- 25 reps

-Lift right heel off the floor and stay in the plie squat, Pulse- 25 reps

-Lift left heel off the floor and stay in the plie squat. Pulse- 25 reps

-[If you can] lift both heels off the floor and stay in the plie squat. Pulse- 25 reps

-Squats- 30 seconds

-Jump squats- 1 minute

-Calf raises: 25 slow, 25 fast
If you try it, please let me know what you [and your legs] think 🙂