Hi friends 🙂 It's Friday! Thank goodness. What are you up to this weekend?
On Thursdays, since it's my long day at work, we usually have 3 choices for dinner:
1) Take-out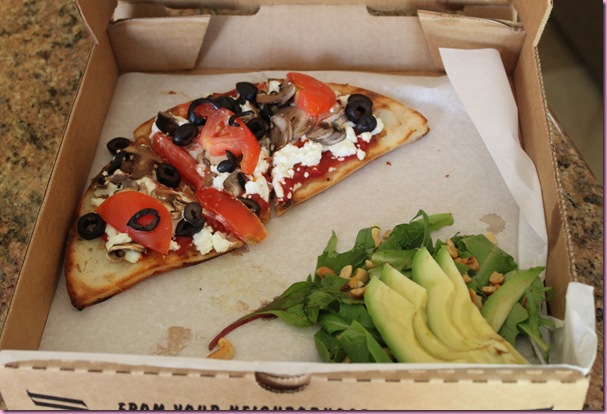 2) Slow cooker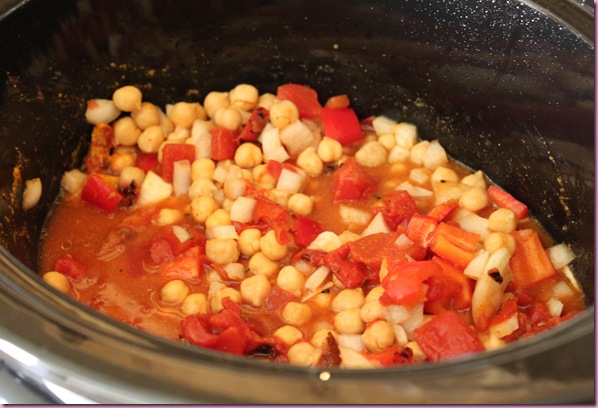 3) Scrounge for something random.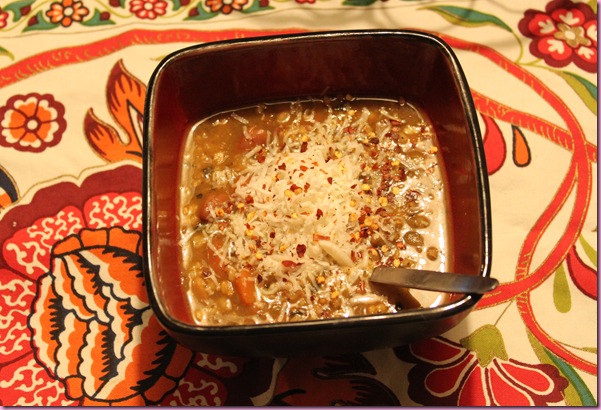 [Soup = the world's least photogenic food]
Last night was #3- some Amy's soup and salad for me, and meat pasta for the Pilot.
No matter what ends up happening for Thursday night dinner, there's one thing we can always count on: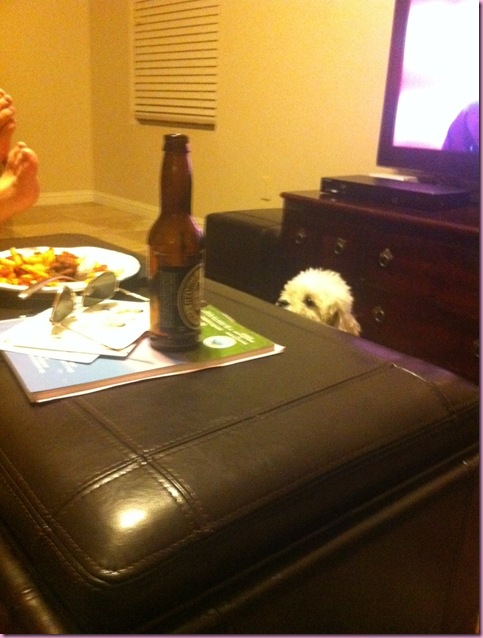 Bella's shameless begging ways.
Thank you so much for those of you who left comments yesterday about your experiences with rattlesnake bites, training and the vaccine. Every time we go outside, we've been checking the yard for snakes –I did snake patrol at 10:30 last night with a flashlight- but I'm going to call the vet today to see what she suggests. If a vaccine would be effective, we'll probably go that route. The good news is that Bell is an awesome listener- she knows "come" and "leave it" like a pro, so even when she starts to chase a huge lizard in the backyard and I say "Leave it! Get over here" she comes running back to me.
So since it's the end of September, I thought it would be a good time to re-evaluate the 10 Ways to Make September Stellar that I posted the beginning of this month.
1) Exercise… your brain! I did "ok" with this one. I focused on reading more non-baby books than I have been and even busted out a few Sodoku puzzles. My speed is no where near where it used to be, but I'm excited to keep this one up.

2) Pick some apples, or another type of local, seasonal produce. We didn't make it out to the apple farm, but I have a feeling a visit to the pumpkin patch will be happening in October. I want to have a pumpkin carving party at the casa, so we'll probably head there to pick our supplies.

3) Find some hawt fall leggings. No new leggings for me (yet), but I did rock the Wunder Under crops on more than one occasion. My fall uniform is on the way back 😉

4) Host a girl's night. No girl's night this month, but we're having a dinner party tomorrow.

5) Rock sparkly nailpolish. Had no prob with this one- I love fall/winter new sparkly nail polish shades.

6) Commit to a regular form of outdoor exercise. We've done really well by increasing our outdoor cardio along with the nicer weather. The Pilot, Bell and I have gone on a long walk outside almost every night after dinner. Bella gets exercise, and the Pilot and I get to talk about life and catch up, so I look forward to it everyday.

7) Make pizza from scratch. I posted this one for those who might be intimidated by homemade pizza. Did anyone give it a whirl?

8) Volunteer : one day, one place or cause of your choice. Fail on the volunteer front, once again. Yes, I'm busy but not too busy to get out there and help an organization, even for one day. October, I will make it happen.

9) Master a yoga pose. Fellow yoga lovers, how did this one go? I took a few classes this past month, but am not at the point where I can be working on "mastering" a new pose. Maybe I can just work on mastering the art of modifications? 🙂

10) Download a power playlist. Did this one! I have some awesome new songs lined up for the October workouts and playlist.
So how was September for you? What goals did you accomplish? Anything on the list?
I'm off to the doc and then to get ingredients for tomorrow's soiree.
Have a fabulous Friday!
xoxo
Gina