This commercial made me cry.
And then moments later, I checked my Facebook and had received a friend request from a recently born baby girl. Her parents set up an account for her so that distance friends and family could keep up with what she's up to. I thought it was an awesome idea, since the parents would be posting info to the baby's Facebook page instead of their own, but at the same time, it made me wonder how much is a good idea to put *out there* before the child has a say in it. Or when they're finally old enough to use Facebook, having their entire life already on their profile, which mom and dad wrote out for them.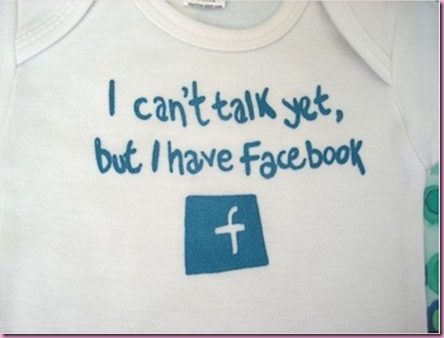 Source
I've been thinking a lot about babies/kids and technology lately. We already decided that our baby won't become the focus of the blog –it works for many people, but I don't feel comfortable posting a lot of pictures of someone without their permission or knowledge of what's going on- so we'll most likely only post occasional pictures of her. Instead, I'll be using events and adventures to inspire topics on the family page, as I have this entire time. As far as other aspects of social media go, it's a challenging line to walk.
As weird as it is to see status updates from kids that obviously can't type or read yet, it also bums me out to read updates from friends that are entirely about their babies or children. Yes, children become a HUGE part of your life, and everyone wants to hear the deets on the day they were born, first word, first time they slept through the night, pictures of the baby, etc., but the contents of their diaper for the day? Notsomuch.
So here's what I'm thinking may work:
-Wait until she can actually use Facebook to allow her to set up an account – and apply the super-lockdown privacy settings
-Post occasional updates on our own personal Facebook pages, while trying not to go overboard [I can see how this would be difficult]
What do you think about babies/kids and social media? Set up their own accounts, or leave it to the parents until they're old enough? What do you think the line is between informing the family of milestones and information overload?
Of course, different things work best for different families but I'd love to hear what you think.