Heyyyy <3 How was your Monday? Hope you had a wonderful day!
After catching up on blogs, news (sending lots of love to Giuliana Rancic, whom I've always admired), and waking the Pilot up (he didn't have to go in super early this morning), I made breakfast using two new-to-me ingredients.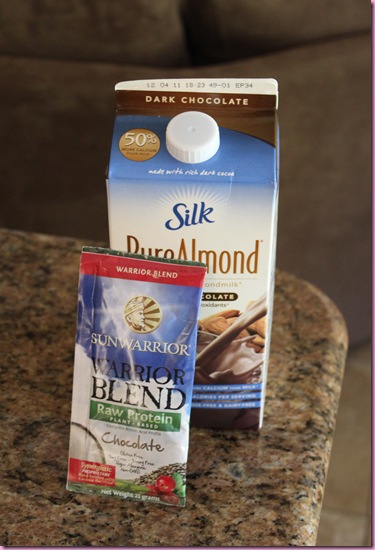 DARK CHOCOLATE almond milk (! <—x 1000) and the new Sun Warrior blend.
The almond milk was an impulse buy at Target, which tends to happen sometimes all the time at that store. I went in to get containers to pack the baby meal in, and came out with chocolate almond milk, a maternity dress (which I'm taking back – I didn't get to try it on and it's a disaster), said containers, and a toy for Bella.
As far as the Sun Warrior goes, I've been dying to try their new blend since I'm a Sun Warrior fanatic. I love the fact that it has similar nutritional stats, but is based on different types of plant proteins (pea, cranberry and hemp) than the original rice version. It also has a complete amino acid profile. OpenSky sent me a few packs to try, which will last me until the giant bag of vanilla I ordered shows up on the doorstep.
I added the chocolate almond milk and new warrior blend into a little smoothie: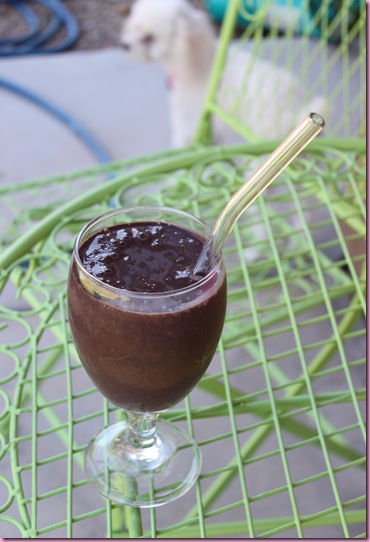 -3/4 C chocolate almond milk
-3/4 C regular almond milk
-1 pack Sun Warrior chocolate Warrior Blend
-handful of spinach
-1/2 frozen banana
-1 C TJs Very Cherry Berry blend
The verdict?
I loved it. I was a little scared with the different types of protein in there –sometimes hemp tastes like biting into a tree branch- but the flavor was extremely mild. Very similar to the original Sun Warrior, but slightly earthier.
This afternoon, I met up with a friend for lunch in between errands. We went to Renee's Organic Oven, which is always amazing, and the fact that they were out of gluten-free pizza dough forced us to order something different.
Snacks: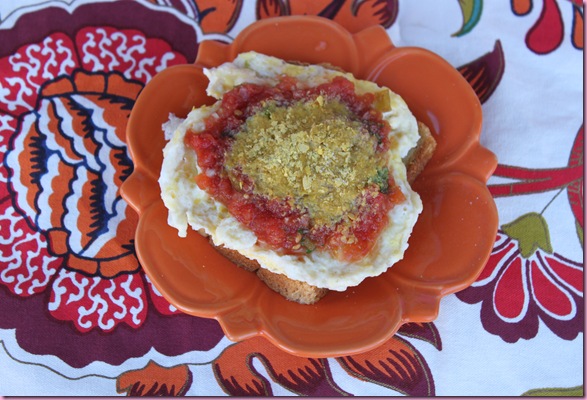 Toast with egg, nutritional yeast and fresh salsa
Funky-shaped apple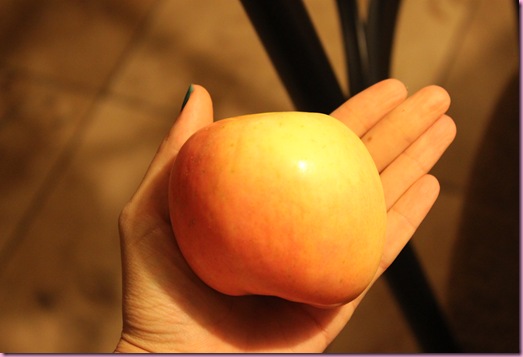 I just got home from a walk around the base track, diving into this book: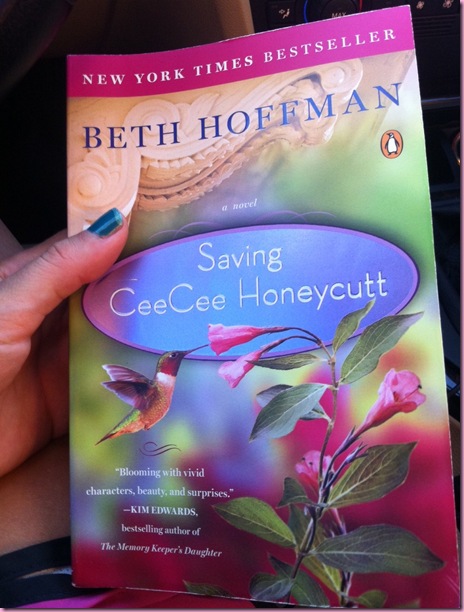 as far as books go, it was just what I needed.
I always like to be reading one *substance* book and one *fluff* book. I've been reading a lot of substance stuff lately –baby books get pretty intense and textbooky- and have been struggling to find a fluff book that I enjoy and holds my attention. I started Bossypants a while ago on the Kindle, and couldn't get into it. I love Tina Fey, but she wasn't as funny to me in the book as she is on TV and in movies.
After talking with a work friend, who is always reading something, too, and comparing books we've read (American Wife, Glass Castle, The Help, Kite Runner, Water for Elephants, etc), she said "Have you read Saving CeeCee Honeycutt?"
I forgot about it until I saw the book on my mom's table the other night. She said she finished it in a day and I could borrow it [in my family, we rotate books- my mom will read something, give it to my nana, who will give it to my aunt, and so on- I had kind of been kicked out of the club since I started using my Kindle so much]. I'm already sucked in- it was just what I was looking for.
It's dinner time over here and then we're talking Bell on her nightly walk.
See ya in the morning!
xoxo
Gina
Something to do: This treadmill workout! It's short, sweet and sweaty 🙂