There are so many moments in your baby's life that will shock you and fill you with happiness that you didn't know existed.
Just a few on the very long list:
How dang cute they look in those little hooded towels..
the first real word, "mama," "dada" or in our case: "eye"
when they smile because they're happy, not just being they're filling their diaper at that moment
and a big one:
the first clue that they understand you and the conversation becomes two-sided. 
I'm not sure about you, but there's something about talking to someone all day, but feeling like you're talking to yourself (but in a higher-pitched voice) that can make you feel a little nutty by the end of the afternoon. Just like when sleep becomes consistent and life gets a lot more fun, the same goes for communication. When it becomes a two-way street, it's exponentially easier to determine the baby's needs.
Liv is quite a little talker, but even though she uses so many words on a daily basis, some have been difficult for her to say. The words that she can't physically pronounce, like "more" and "help," she can easily sign at the appropriate times.
I read that babies' visual area develops before their auditory area, so they can determine what is seen more quickly than what is heard. Even though they may want to verbally communicate with you, it can be tricky and they can become frustrated and cry. This where baby signing comes in.
My aunt hooked me up with a lot of baby signing resources while I was pregnant. She's an educator for deaf children (in addition to running marathons, teaching fitness and raising my little cousins.. basically a rock star), and at first, it seemed a little overwhelming to me. There were SO many signs, and I tend to get confused enough with two languages running around in my brain. So instead of trying to learn all of them, I found the signs I thought would be the most important for us to know, and focused on those. Also, we've been sticking with one at a time and when Liv masters the current sign, I'll add a new one in the mix. This way it gives time for her (and me!) to learn.
Our favorite books so far:
this book
is well-organized and thorough, with a great selection of applicable signs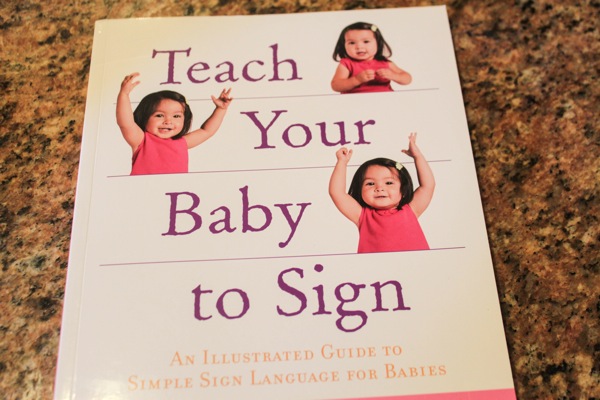 and this one
, which is fun to read together and do the signs as we read.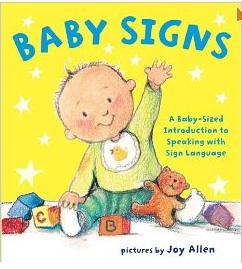 There are a ton of free resources available online, too: 
The signs we've focused on:
-More
-Water
-Hungry
-Diaper
-Help
"Help" has been a HUGE one for us. Since Livi is constantly on the move and wanted to open and use different things, she'll often get frustrated that she can't do whatever she's trying to do (like open the baby gate downstairs). It was turning into a quick recipe for constant tantrums, and then I taught her "help." I'd ask her if she needed help, would do the sign, and as I helped her, I'd sign it again and say "see, I'm happy to help you. Just ask." Now, whenever she needs help, she'll look at me and sign it instead of crying. Just this morning, she started to scream when she wanted her baby off the counter, stopped screaming and signed "help" while saying "baby? baby?". Rejoice.
Baby signing has been a lifesaver for us, even though at first, I wasn't quite sure how long it would take to get the hang of it. If you're just getting started, just be consistent with it and say the word while you sign it each time. I'm definitely not a pro by any means, but "more" seems to be a popular and useful first sign for babies to learn. It took Liv a little while to get it, but once she did, it was pretty incredible and it's been much easier to teach her new words from there.
Do you sign with your baby or family members? Any unique ones that your baby has learned?