Of course we're savoring the moments over here -because as I was crying to Tom the other night, before we know it she'll be going to prom- but a large majority of the time has been focused on necessities: eating, sleeping, growing, bathing, diapering. Livi and I get to play in short bursts in between- I'll have her follow a rattle with her eyes, we'll sing songs, read books and do tummy time, but Tom and I are so excited for when we'll get to take her to the zoo, Disneyland, the park, children's museum, and do fun activities that she'll love.
Yesterday, I read this article on Huff Post parents, which includes bucket list ideas to do with your child before they leave for college.
Some of the ideas on the list:
-Visit the Grand Canyon
-Find a book that makes them love reading
-Research our family tree
It also included a link to the Bloggess' Pinterest board on "Stuff I should do with my kid before she's old"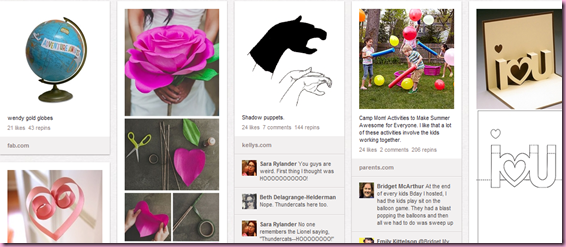 Source
I used Pinterest for nursery inspiration, but can't believe how many fun activities, baking projects and arts and crafts are on there… very exciting.
Some of the things I can't wait to share with Livi:
-Blowing bubbles for the first time
-Making a headband out of flowers- mom used to do this with me at my nana's house on Sundays
-Licking the beaters after making cupcakes
-Mud pies – Kyle and I used to make them ALL the time, and bake them on the wall. So gross, and so fun
-Slip n' slide in the backyard
-Camping in the living room- tent, sleeping bags, s'mores
-Disneyland, the beach, road trips
-Math 🙂
What's one of your vivid memories from when you were little?
I remember busting out of the crib for the first time on my own. I was in there playing with the toys that were attached to the rails of the crib, and thought to myself "maybe I'll try to get out." I climbed over, and plopped out, then walked into the kitchen. My mom was on the phone, cooking oatmeal, and "I Love Lucy" was on the TV- needless to say, she was a little shocked to see me.