Oh hello, Monday. Definitely back into the swing of life over here!
After having a house hustling and bustling all weekend, back to just the girls: myself, Bell and Liv.
I caught Bella eating a piece of ice cream sandwich in the backyard this morning.. this worries me for two reasons: 1) we haven't had ice cream sandwiches over here lately, or ever (I wonder if one of the neighbor kids threw it over here?) and 2) it was chocolate-flavored. You can't take your eyes off that pup for a second- if it's people food, she'll eat it. The vet said she should be fine, but to watch her for any signs that her stomach is upset. She's walking around like her normal Bella self for now …*fingers crossed*
Haven't seen this bfast in a while:
Breakfast cookie dough cereal!
I just made the usual mix, with more oats and almond butter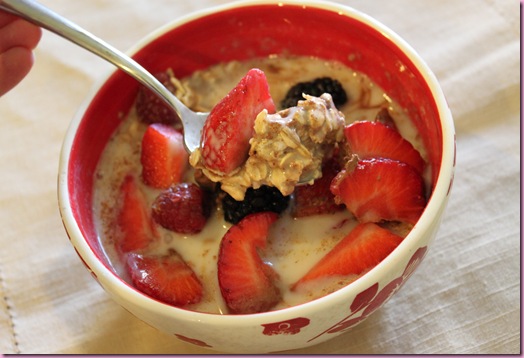 heated it up for a minute
and "borrowed" the berries from the leftover dessert tart.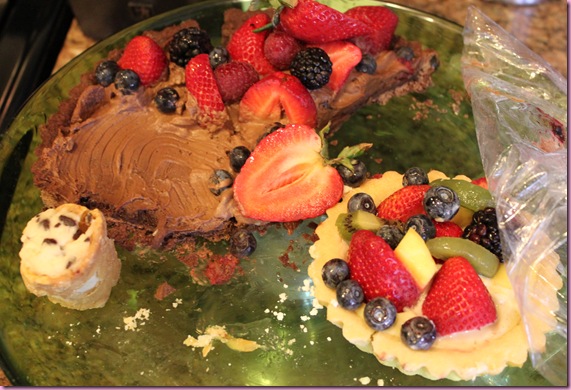 (I'm glad the Pilot likes the crust part better than the berries and filling. Another reason why we're soul mates)
No crazy plans for the day today, but I'm treating it as a Sunday to get groceries and meal plan for the week. Also hoping to get in a little workout since mom and nana will be over for a while- maybe a return to Turbofire??
Hope you're having a happy Monday!
xoxo
Gina
Something to talk about: Favorite ab moves! I'm excited to be able to work out my core again, since it takes some time to heal after pregnancy/childbirth. Here are some of my current favorite ab exercises:
The inchworm
Stability ball roll out
and a reader's request post on Fab Abs.