Hi friends! Hope you're having a happy Monday. I'd love to hear about your weekend! Ours was filled with fun events, but I didn't end up taking a ton of pictures. It was nice to enjoy some extra time unplugging, and I was in the pool for about 70% of the weekend, so there ya go. I just realized almost this entire blog post consists of my hand holding different types of food. At least it's good stuff? lol.
We met up with friends for margaritas and swimming on Friday night, and then on Saturday, I headed to an early Orangetheory class. We had plans for the entire day, so it felt nice to check the workout box before the day officially began.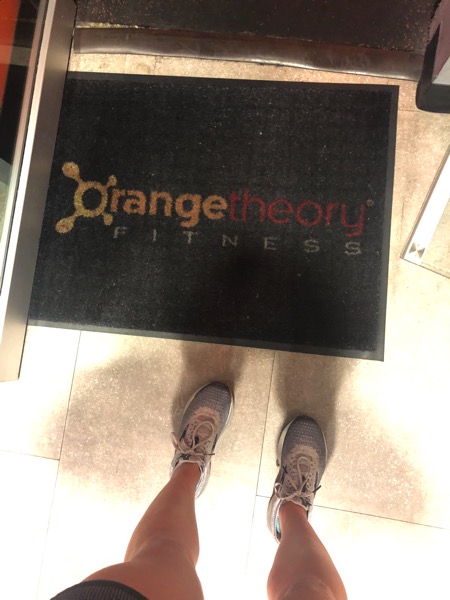 After class, Liv went to her friend's house to swim, while I took P to a playdate for her school. It was a very cute set-up; all of the kids from class were there, their parents, and even their teachers. We were asked to bring a dish to share, so I made these rice crispy treats which are always a huge hit.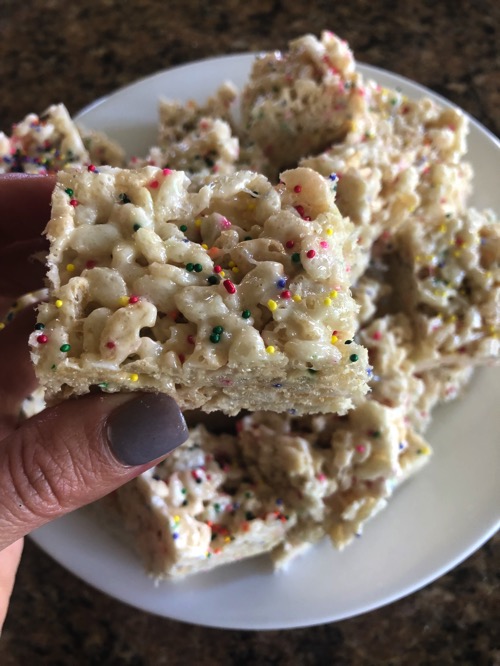 After the playdate, I picked up Liv, and then we headed to Reid Park for the Cystic Fibrosis walk. Originally the kiddos were going to walk with us, but in the end, P's friend's dad watched them all play on the playground while the ladies did our strenuous 3k walk, chatting the whole time. After the walk, the Pilot met us at the park and we headed to Oregano's for dinner. We haven't had Oregano's in forever, and I'd forgotten how much I love the Oregano's favorite salad. Plus, it's the size of my head!! It's one of those salads you can eat for 20 years and it doesn't look like you've made a dent in it.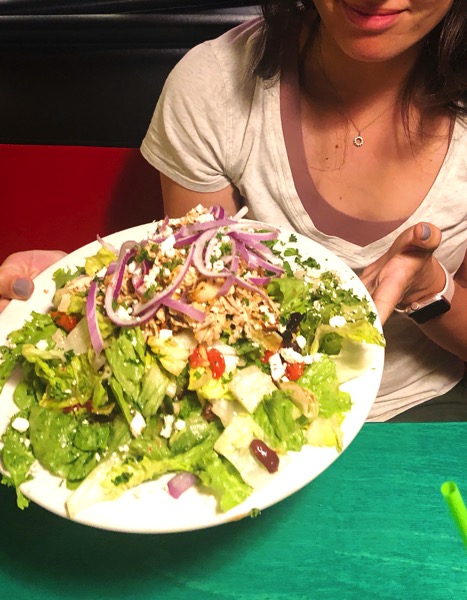 I stayed up way too late reading Radium Girls and had some seriously crazy dreams. It still blows my mind that this actually happened, and while I feel heartbroken that these girls had to encounter horrible health problems, I feel thankful to them for standing up to a safer workplace environment. Needless to say, reading it before bed makes for some pretty bizarre dream situations.
Sunday was crepes at the market – we met the fam there and some friends –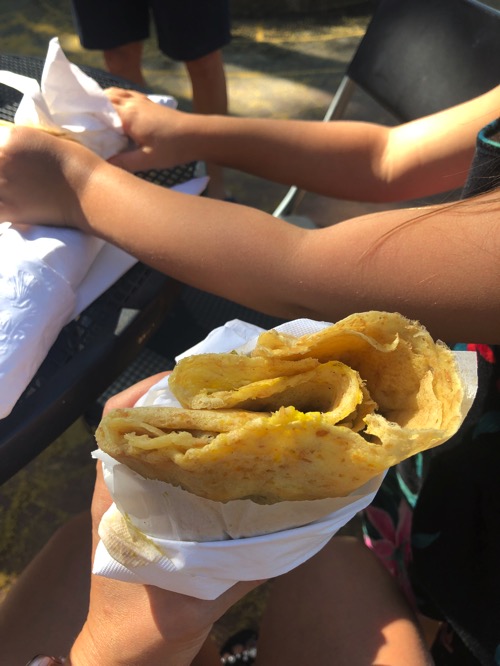 followed by a ride on the Peloton, and the rest of the afternoon in the pool.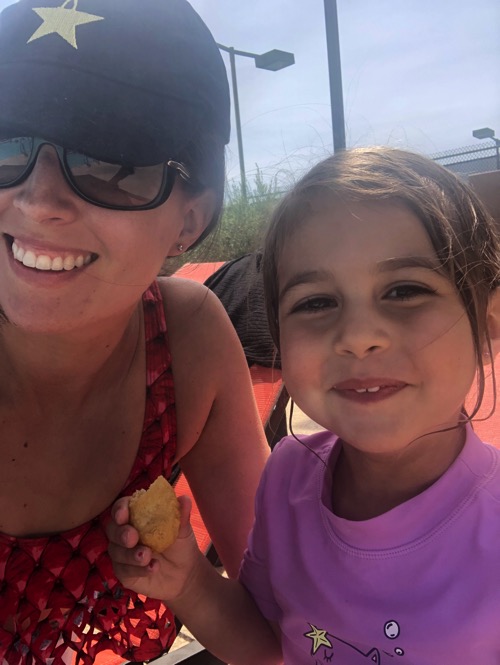 (Quick pic during a fruit and mini corn dog break)
For lunch, I enjoyed a Daily Harvest smoothie. They use ingredients I don't usually have at home, and the flavor combos are amazing. I love their soups and bowls, but the smoothies and overnight oats are my very fave. Here's my referral link if you'd like to try it out! You get 3 free cups. I'll usually add protein powder and/or collagen to amp up the protein content.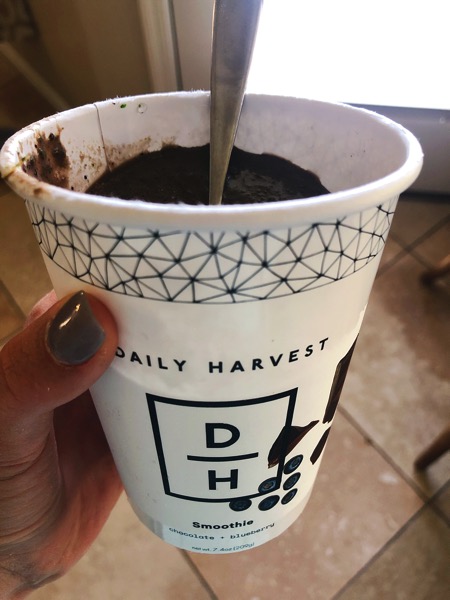 Dinner was one of the ol' go-tos: grilled chicken, sweet potato with nut butter, and lemon and garlic asparagus. It's one of those meals I know I can make in about 20 minutes (I love using the Instant Pot for the sweet potatoes! Just add a couple inches of water, place them in the little metal basket thing, and set on manual for 20 minutes) and the girls love it.
After dinner, the Pilot took over the bedtime routine while I met up with madre to see Cats. I love all of the classic musicals that came to Tucson this year – this was the last show of the season – and hadn't seen Cats since middle school. Please don't throw anything at me, but it's not my fave musical ever. The dancing is incredible and "Memory" was one of Andrew Lloyd Webber's greatest home runs, but it's slow moving and a lot of the lyrics are…nonsense. (I'm totally yay for art and not everything needs to be spelled out for me, but I feel like some of this one was a bit of a reach. I also know I'm in the minority here because it was one of the longest-running shows on Broadway!) The cast members each do their own makeup, so it's fun to see how they design their cat faces. 🙂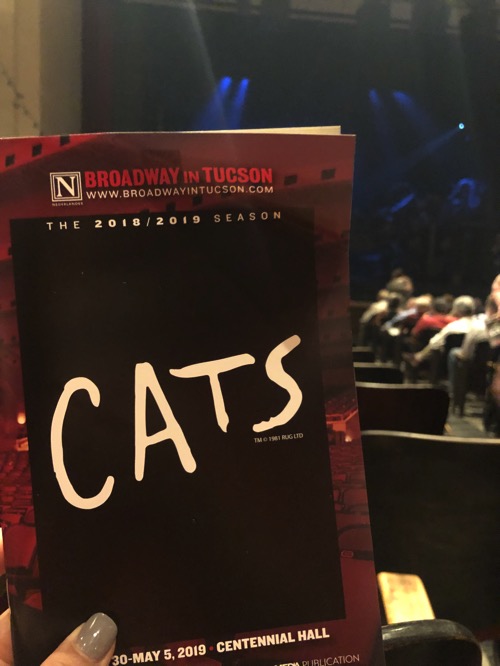 This week, I have quite a few meetings on the agenda (something fun is coming, friends), and the usual activities with the girls mixed in with work stuff. I'm not teaching any classes this week, so I'm looking forward to trying out some new online classes, meeting up with a friend for barre, and my standard strength workouts.
I hope you have a happy Monday and I'll see ya soon! Thanks so much for stopping by the blog today.
xo
Gina