Red and green quinoa lentil salad
Along with having the fam here, one of the best things about being back in Tucson is being able to see our amazing friends, many of whom we've known forever.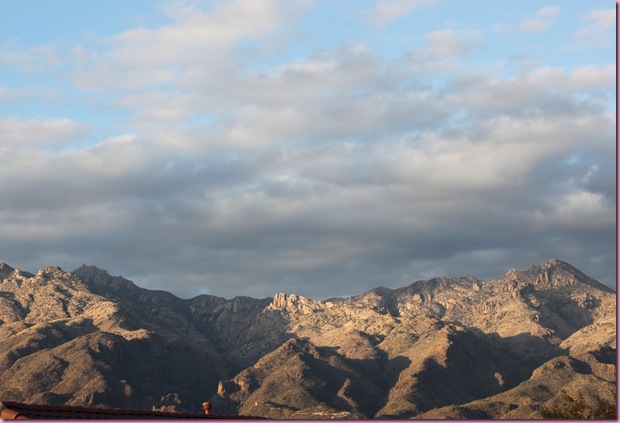 (the scenery is a bonus, too)
My friend Marisa and I have been dancing together since way back in the day.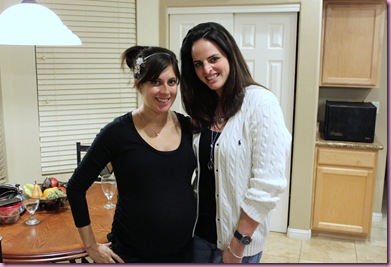 I asked her if she wanted to chill tonight, since the Pilot was supposed to fly all night again, but his flight ended up being canceled. Instead, the three of us stayed here and the Pilot grilled up some turkey burgers.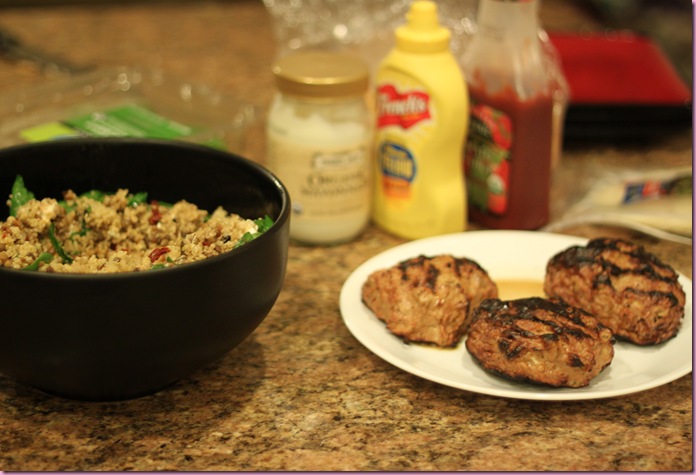 The Pilot is a master of burgers- he adds chopped jalapeno with spices, and cooks them perfectly.
We enjoyed the burgers with a quinoa lentil salad I made earlier in the day (recipe at the end of this post), along with sweet potato fries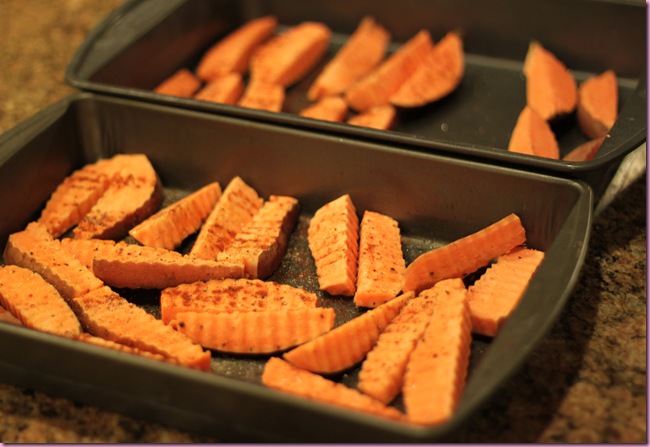 (cut with the crinkle cutter, then seasoned with olive oil, sea salt, pepper, garlic powder and paprika- we left some plain for Bella. Baked at 375* for 50 minutes)
My plate: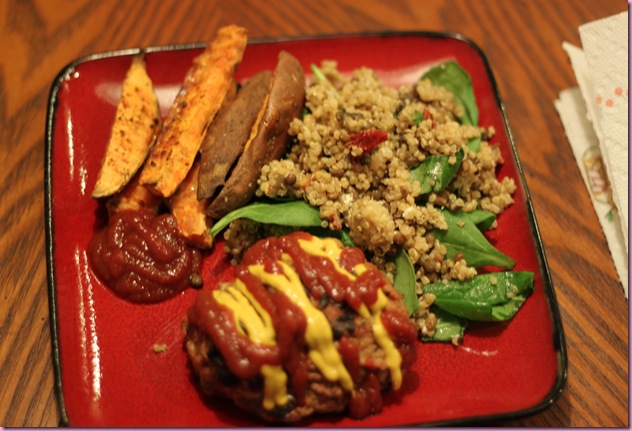 Pretty much amazing.
We chilled and chatted, drank tea/cocoa and watched Ocean's Eleven. Oh hey, George Clooney (the Pilot understands)
A wonderful night <3
Off to bed!
xoxo
Gina
Something to do: Make this salad for meals throughout the week –the flavors intensify as it sits- or to take to a holiday party. It's packed with protein and the red and green colors are fabulously festive.
Red and Green Quinoa Lentil Salad

Vegetarian, gluten-free

Makes 6ish servings

-6 servings of quinoa, rinsed and cooked

-1 package of pre-steamed lentils

(if you don't have a Trader Joe's near you, just add 2 cups of boiled lentils instead. The packaged ones are nice for the convenience factor, but you could cook lentils at the same time the quinoa is cooking)

-4 oz sundried tomatoes in olive oil, drained

-3 oz crumbled goat cheese

-2 C chopped or chiffonade-cut fresh spinach

-to flavor: squeeze of lemon juice, hefty amount of balsamic vinegar, sea salt, pepper, garlic powder, oregano

1.) In a large bowl, combine the quinoa, lentils, sundried tomatoes and goat cheese.

2.) Season to taste with balsamic vinegar, lemon juice, sea salt, pepper, garlic powder, and oregano

3.) Gently stir in the spinach. Store in the fridge, or feast 🙂

I enjoyed two bowls for lunch, and it was a fun switch-up from my usual salad rotation:

Let me know if you give it a try!

Enjoy <3