Hey friends! <3
How's your day going?? Hope it's been fabuloso.
After the great breakfast debate, eggs won in the end.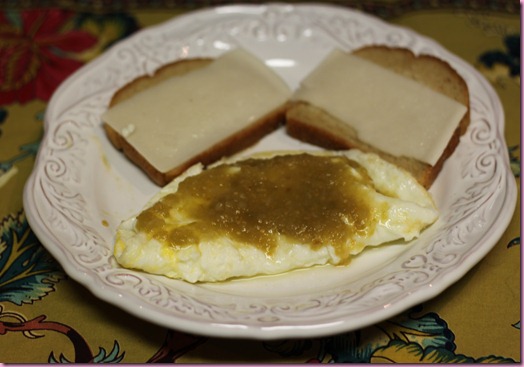 I munched 2 pieces of brown rice toast with sliced goat cheese, 3 egg whites with salsa verde. Hit. The. Spot.
After b-fast, catching up on blogs, and planning out my day, I packed up lunch and snacks: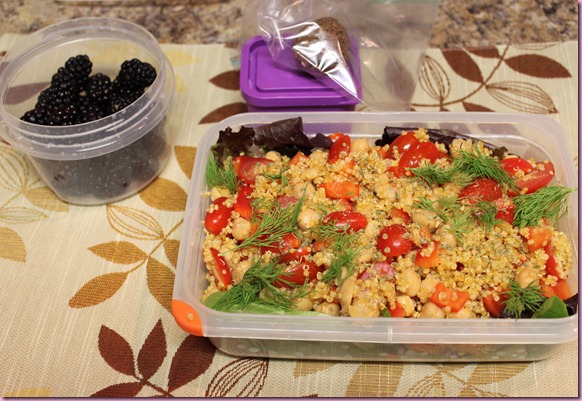 The tower o' goodness: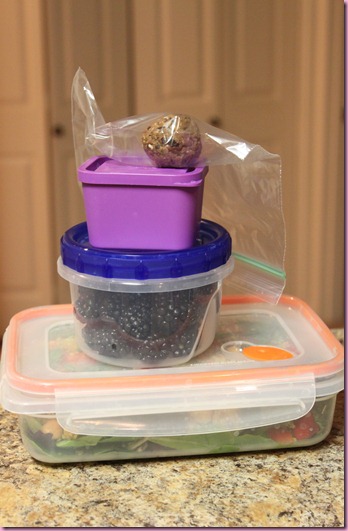 A salad beast with quinoa (from yesterday), mixed with chickpeas, red bell pepper, grape tomatoes, oregano and fresh dill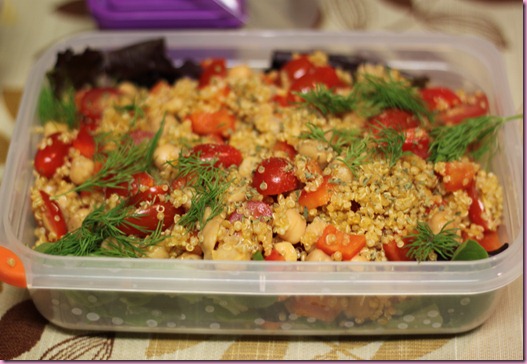 Balsamic on the side, blackberries and an amazeball for snackage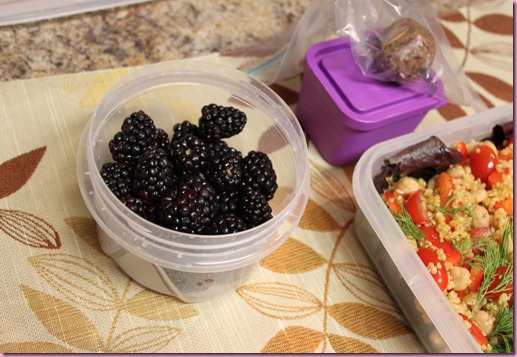 That amazeball didn't stand a chance- I ate it in the car an hour later

So as you guys know, I've been seeing a homeopathic doc to help with some hormone irregularities. When we first started working together, he sent me an eating plan that I kind of blew off. It was boring and I didn't feel like eating that way (or making you guys read about it). As the last stage of my treatment, he sent me a box of new supplements, along with THIS: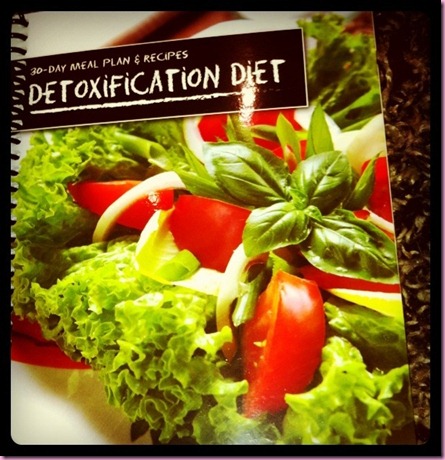 That's right friends, it's detox time.
I've never done a detox, so I'm interested to see how it goes. It's a 30-day plan, with the first 10 days being entirely vegan, the next 10 adding in fish, and the last 10 days adding in chicken and fermented dairy (I'll be using goat's dairy, per usual).
Detoxes have a bad rap because they're often associated with unhealthy weight loss strategies (PS. If you detox to lose weight, you will gain it back—the best way to get to a healthy weight is through healthy eating and moderate exercise), and I really believe that the body is an intelligent machine and can take the *trash out* on its own.
However, I think that it can be a good idea to give your body a rest every now and again by giving it easily-digestible whole foods, which is why I'm going to roll with it. I'll be altering the plan because I'm super active and will be making sure to get enough fuel to support my lifestyle. I'll base my meals on the ones the doctor gave me, in addition to recipes from Crazy Sexy Diet and Dextox for Women.  I'm really thinking of it as 30 days of squeaky clean eating more than a *detox*.
Since I have the rest of this week's food to get through, I'm going to wait and start next week after I plan my eats, grocery shop, and then it's go time.
Have you done a detox before?
My friend Ashley is doing her own detox thang and blogging it. I'll share tidbits as I go along with my own experience, but will be writing about the usual stuff too- not too much will change around here

Well I'm back to work!
See ya in the morning <3
xoxo
Gina