Hi friends! How was the weekend? Hope you had a wonderful one. To be honest, we spent a LOT of ours buried beneath boxes from Valdosta. I'm happy it all arrived but at the same time, I feel like since we lived without it for 9 months, maybe we don't really need it? Then I'll be sorting through something and find an important document or treasure and am glad we're taking the time to go through everything. We sorted through boxes for hours this weekend and I feel like we've hardly made a dent. The Pilot has made so many trips to Goodwill and recycling, and I've been working hard at selling and donating the things we don't need. I'm excited to hopefully be able to park our cars in the garage again this week! #thelittlethings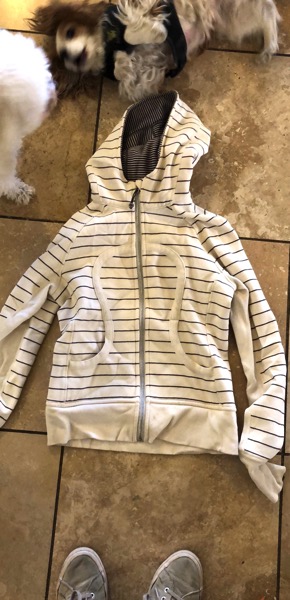 (Bell and Caro helped immensely with my Poshmark photos.)
I'm so thankful for our new playset for keeping the girls entertained while we were putting stuff away! It was a lifesaver and they had a blast together, enjoying this gorgeous weather. Even though we were in major productivity and purge mode, we still escaped for some fun. 🙂
We made a stop downtown for the 4th ave street fair. As usual, it was absolutely packed with people and vendors. There were lots of artisan-crafted goods: clothing, candles, gifts, food, etc. We rode the streetcar downtown for the first time, and it made transportation so much easier than trying to find a parking spot close to 4th ave. We parked by campus, hopped on the streetcar, and were a short walk away from the festivities.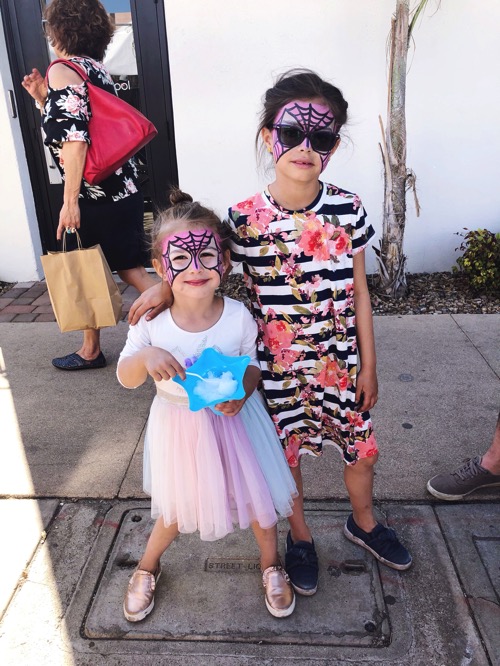 We got there just in time for lunch: tacos, nachos, and fruit cup from a Mexican food stand.
If you haven't had fresh fruit with lime juice and Tajin spice on top, you haven't liiiiived. It's one of my favorite summer treats and the Tajin reminds me of my childhood.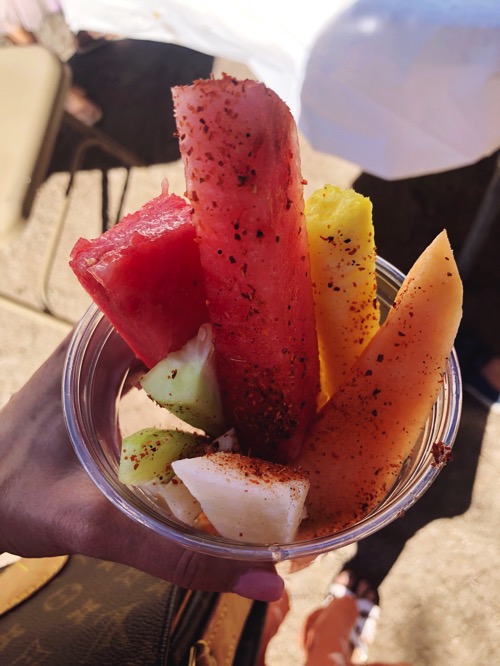 After we were fueled up, we walked the length of the fair, checking out all of the booths. We didn't end up making any large purchases, but picked up a puppy toy for Liv and a Batman cape for P.
Dinner was at the date night spot: P.F. Chang's! It's hard to believe that almost 14 years have passed since the Pilot and I had our first date here. I remember so many vivid details about that night: what I wore (it took a lot of deliberation at Forever21), how nice he smelled (Armani Code), how we chatted for 3 hours without stopping, the fact that he ordered lettuce wraps to share (the messiest first date food ever), and how I had to keep saying, "no, thank you" to his offers to get a bottle of wine at least three times before I told him I was only 20. 😉 After the date, we walked a few doors down to Starbucks and talked for another two hours before calling it a night. After I left (to a hug and a kiss on the cheek), I immediately drove to where my best friend was babysitting – we were all friends with the family who she was sitting for, so it wasn't weird- and told her I was going to marry him.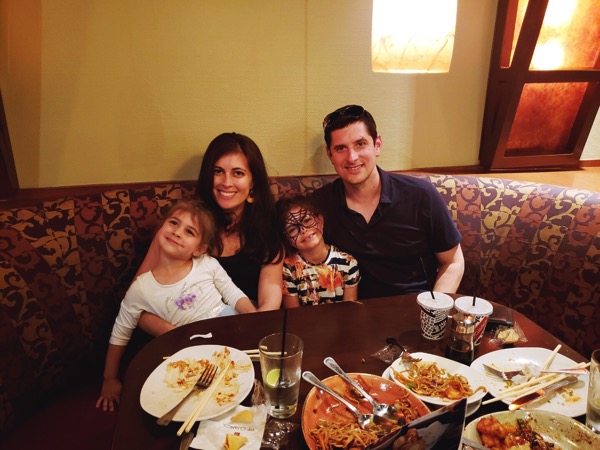 It was pretty magical to take the girls back to where it all began. In my mind I saw myself sitting in the booth, silently crying at the beauty of it all, but in reality I had to convince the girls that chopsticks weren't for sword fighting or to be used as drumsticks. 😉 (They've eaten with chopsticks before and are usually super chill at restaurants, but I guess they were feeling a little wild after our street fair adventures.) We share a family-sized bowl of egg drop soup that the girls LOVED, chicken lettuce wraps, spicy chicken, orange peel shrimp, and the girls shared chicken lo mein. It had been years since I'd been to P.F. Chang's and it was really good. I was bloated and parched from all the sodium, but sometimes you just need that in your life.
Sunday morning, it was more unpacking (wah) while the girls played outside, and I caught a 45-minute Live DJ Peloton class. Later that evening, our sitter came over and the Pilot and I headed to The Event at La Encantada.
The Event is an annual fundraiser for the Boys & Girls Club of Tucson, with over 50 local participating restaurants. Each restaurant provided tasting plates, along with wine, beer, and cocktails.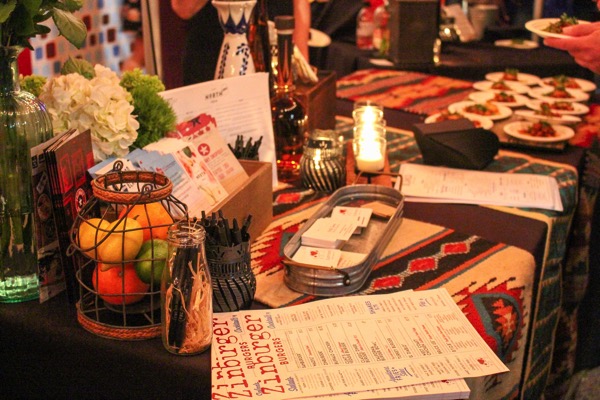 They also had raffles – oh I love a good raffle haha – and the best live country music.
Of course we had to see what Kyle was cooking up, along with the amazing Prep & Pastry and Commoner & Co. crew.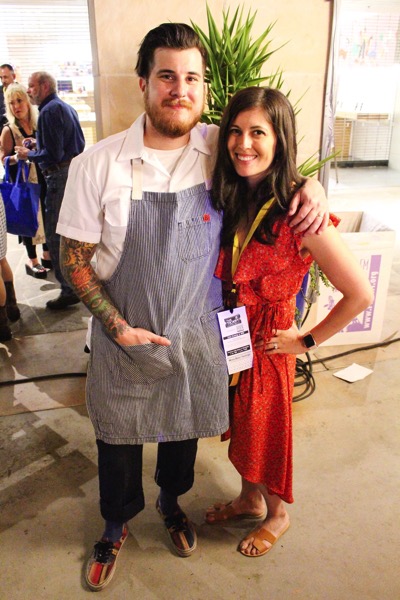 (Outfit repeater from last weekend + these sandals)
Some more pics of the food and event: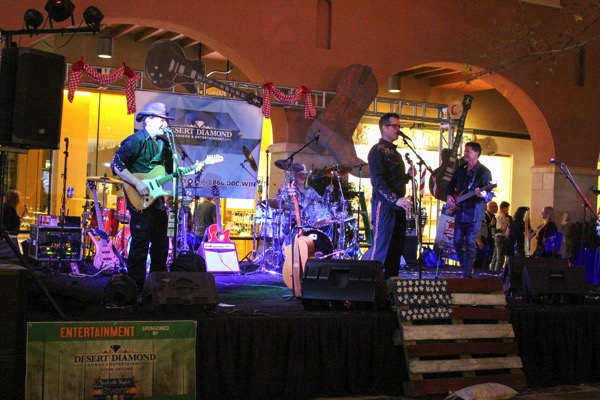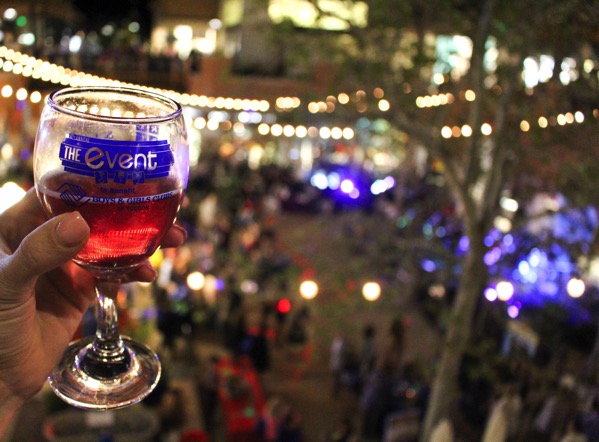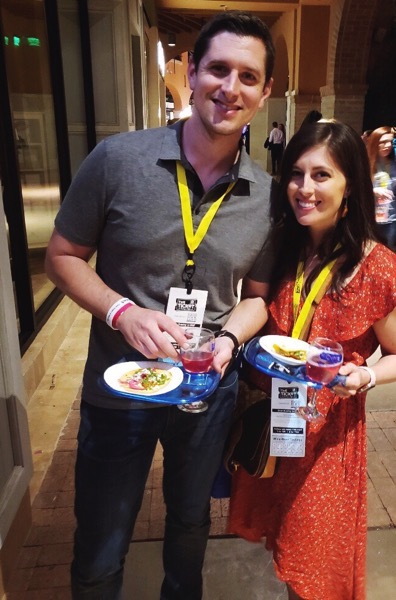 (Note: it should be mandatory for all plates to have a wine holder)
We thoroughly enjoyed walking around, snacking and wine-ing our faces off, and running into friends and family while we were there. We'll definitely be back next year! All of the food was incredible, and it amazed me how high the quality of the food was for the scale and how many plates each vendor had to prepare. There were easily over a thousand people. Some of the standouts were the ramen from Culinary Dropout (I need to go there ASAP), the grilled cheese with tomato bisque from Prep & Pasty (YUM), and the steak and mashed potatoes from Fleming's. SO good.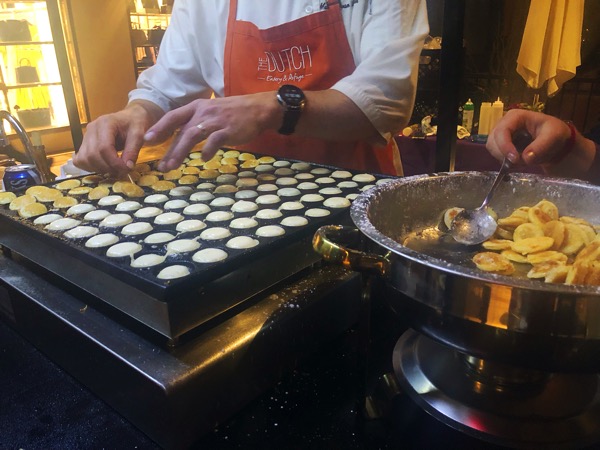 (Dessert-wise, we both went crazy for these Poffertjes, like tiny pancakes with powdered sugar, from The Dutch)
Starting today, the girls are on spring break and I'm so happy they're home. We'll probably enjoy a slow morning in our jammies before we get ready to head out for some fun.
I hope you have a happy Monday and I'll see you soon!
xo
Gina
Looking for a workout? Check this one out! I'll have an all-new one up in the morning, too. <3