I'm not sure about you, but I can't remember very many toys from when I was young.
Of course, there are the really special ones that come to mind (like the talking Julie doll I wanted so badly when I was about 3 and Santa brought it), my Ninja Turtles (I loved those things) and the stuffed tiger my uncle gave me the year he passed. I remember events and memories so much more vividly than toys, which is something I remind myself when I'm out shopping with Liv.
There are SO many baby toys out there and many of them are pretty expensive for what they are. Also, Liv seems to get sick of them pretty quickly. I started rotating out toys the same way I do with Bell- hide half and after a few weeks, switch. I've also heard about a Netflix-for-toys type option that a few friends use- you rent the toys, send them back and the company sanitizes everything. You can pick age-appropriate boxes, too, which is pretty cool.
There are a few toys Liv's nanas have bought her that she still loves, and she adores baby dolls (she kisses her babies each time she picks them up, which makes my heart melt into a sappy love puddle), but we enjoy singing, playing and reading together — the toys just seem to be optional.
The packaging, however… she has a blast with that.
Little Miss loves boxes, tags, crinkly paper, and any non-toy "toys." One of the easiest ways to entertain her while I pack up lunch snacks, the diaper bag and fill the water bottle before we leave the house is to put a few tupperwares on the floor, give her the Vitamix pusher-thingy (I can't remember what it's called haha) and let her bang on it like a drum. She goes crazy for it.
She also LOVES plastic water bottles.
So, at the suggestion of my friend Lisa, who has worked with kids her entire life, I made her a toy using a bottle.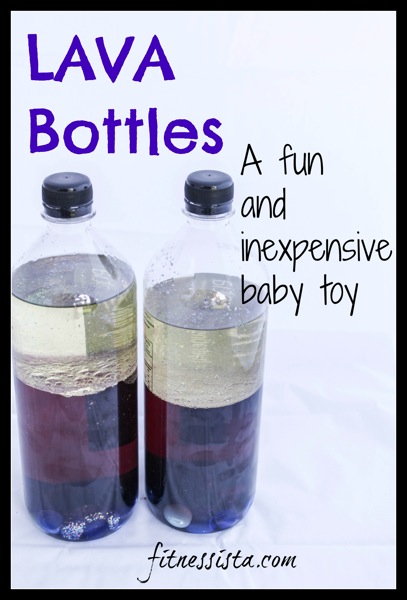 We went to Michael's so Oliv could choose some fun colored rocks to put at the bottom of the bottle. She also got a kick out of the feather boas, so I got a pack of pink feathers to use for another project in the future.
After we had our rocks, plus some glitter,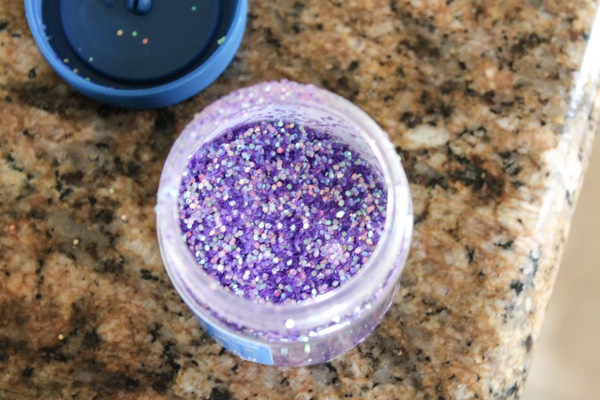 I grabbed some purple food coloring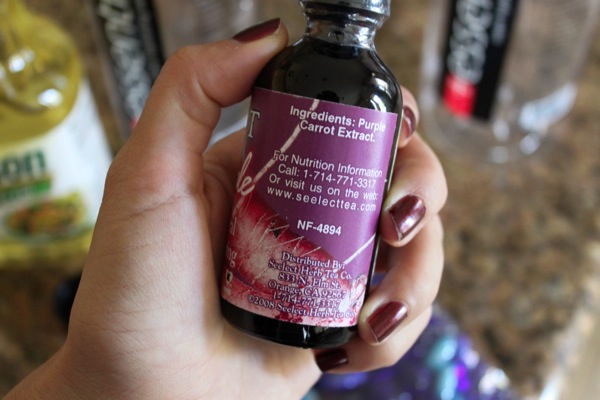 (made with purple carrot extract, so a purple birthday cake might be in the future)
and the water bottles. Since I knew she'd be chewing on it a ton, it was important for me to find a BPA-free bottle. Whole Foods had a few options, so I picked up some Essentia: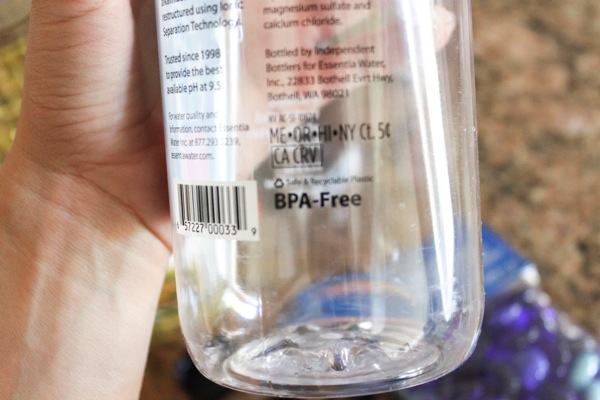 Plus oil, to make things even more exciting.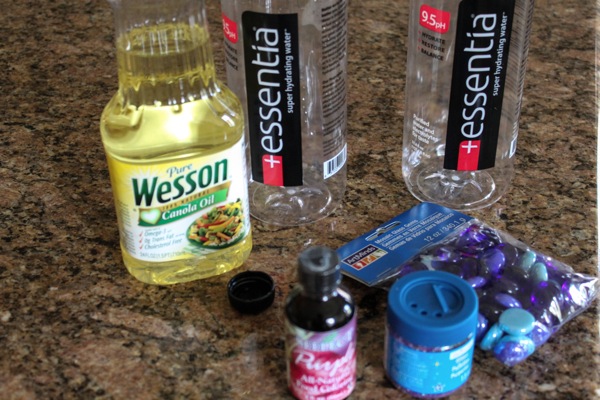 Step 1: Drink the water and save the bottles 😉
Step 2: Put rocks/pepples/beads/buttons/something with weight or texture into the bottle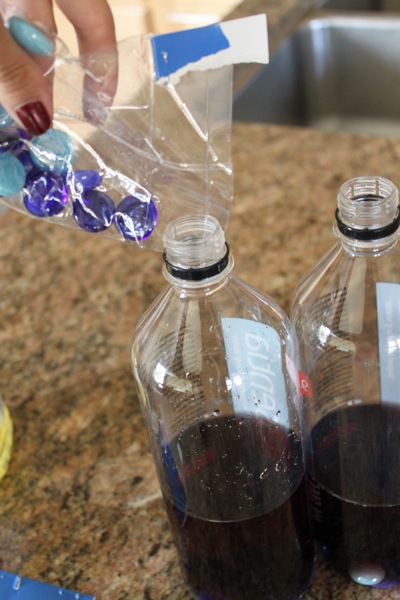 Step 3: Fill halfway with water, and add the food coloring.
Step 4: Pour in the oil and add glitter if you like.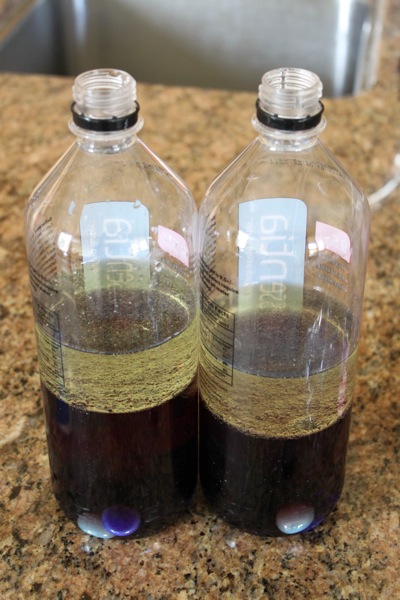 (I ended up entirely filling the bottles with colored water and oil)
The oil makes the bottle almost like a little lava lamp– grooooovy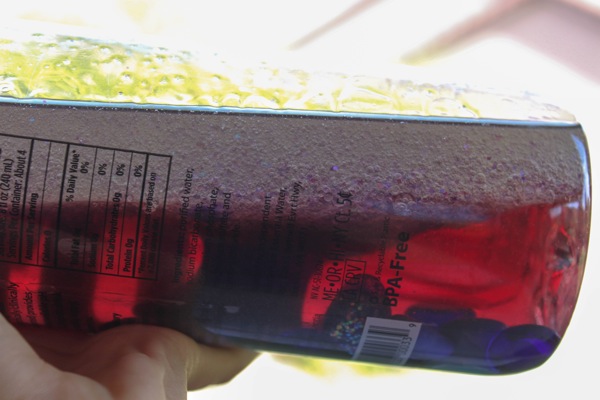 Step 5: Hot glue gun or crazy glue the top on and peel the label off.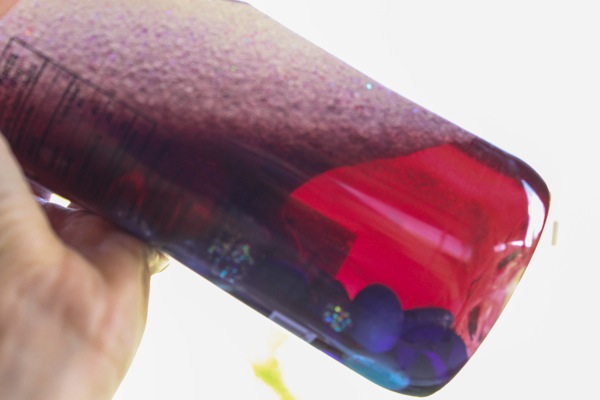 Step 6: Watch your little one have a blast playing with it. Liv loves to roll it around, shake it and of course, try to eat it. We made an extra one to share with one of our baby friends, too.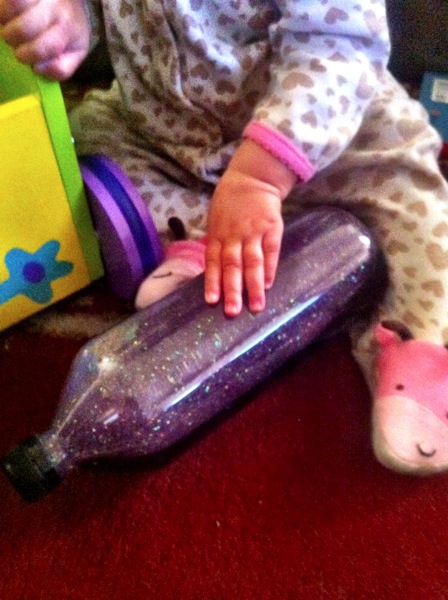 Hope your baby enjoys this inexpensive and fun DIY toy! <3
For more play, try mess-free finger painting.