Aka the only way I keep our house from looking like a [total] train wreck.
Hey hey friends! Sorry about the later posting today! The time I'd spend writing a blog post last night was eaten by a spider. All of the panic is up on my IG stories. It a nutshell, I was driving home from Target and I saw a creepy crawly out of the corner of my eye. Turns out, it was an enormous spider! I made it to our driveway and the Pilot came out to take it outside…and it crawled under my passenger seat. It took him quite a while to find and destroy it. RIP spider. (I'm not usually afraid of bugs, but I was FREAKING OUT.) *shudders* Oh Georgia and your enormous insects.
So today, let's talk about cleaning! When I mentioned that I follow a cleaning schedule during last week's post, a few people wanted to know the details. This is something I started doing years ago, because I realized that it's SO much easier to do small blocks each day than let it pile up to an unsurmountable mess. For the most part, there are chores I do every day no matter what. Then each day also has a focus, and I'll only working on cleaning that one extra thing each day. The extra thing usually takes 30 minutes or less, and this way our house stays pretty clean for the most part.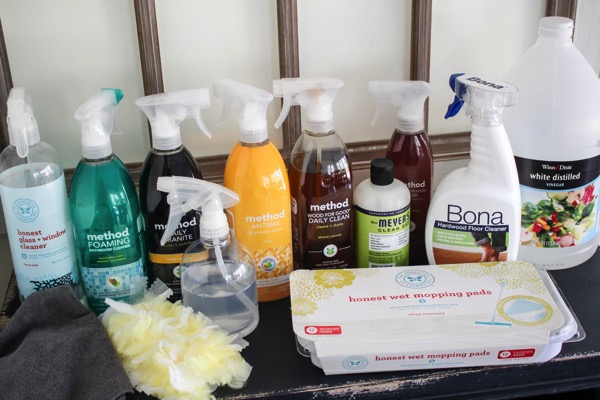 Here's what my weekly cleaning schedule looks like: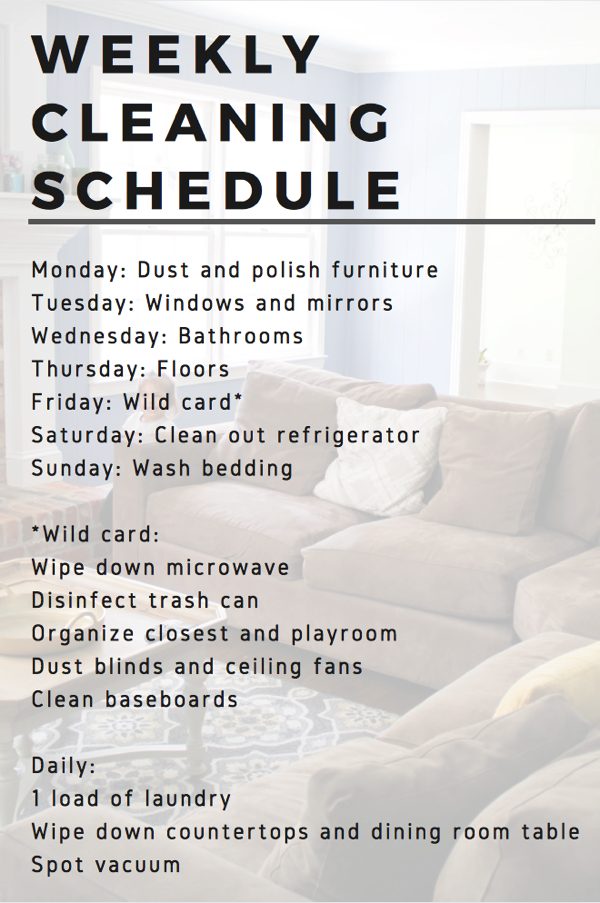 For the wild card day, I just do whatever needs to be done. This is usually a day when I'm caught up on blog stuff for the week, so I'll spend P's naptime getting in a quick workout and cleaning.
Some notes:
-We have professional cleaners that come every two weeks. It's some of the best money I could spend because they do a lot of the nitty gritty deep cleaning. It also makes it so much easier to maintain when it starts out spotless.
-We try to use nontoxic products whenever possible, but there have also been some duds in there. (Sometimes natural means "doesn't work." Thankfully, I discovered the Method and Honest products and LOVE them.)
Here are some of my faves:
Method granite, antibacterial multi-pupose and daily shower spray
Wood floors: Bona spray (not nontoxic but makes them so shiny and pretty) and Honest mopping pads (to use more on a regular basis)
All Method bathroom-cleaning products
Method wood cleaning spray and wood polish (it smells amazing)
Meyer's cream cleaner (perfect for stoves; it gets all the grime out) and cleaning powder (for sinks and tubs)
Homemade spray: a mix of pure Castille soap, vinegar, and lavender essential oil. I keep a bottle of this in the bathrooms and under the counter top for quick clean-up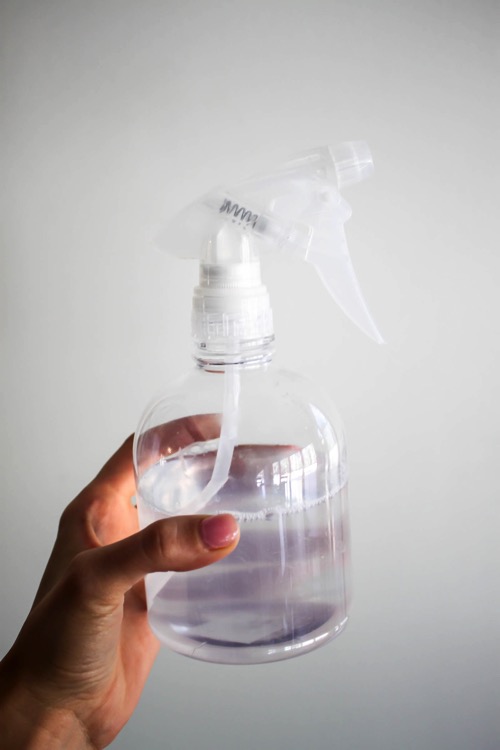 Soap and water! I use pure castille soap and water a LOT. It's perfect for scrubbing base boards and stainless steel. This is the only thing I've found to get stainless steel streak-free. Clean with soap and water, rinse, and dry.
Reusable cleaning towels. I love these ones from Amazon. These ones are the best I've found and they're really inexpensive.
Tools:
Dyson cordless for everyday
Shark Navigator (for floor day. This gets up EVERYTHING)
Shark steam mop (for bathroom tiles)
Swiffer with mopping pad for wood floors or this thing with Bona spray depending on how I'm feeling
Swiffer dusters for dusting and blinds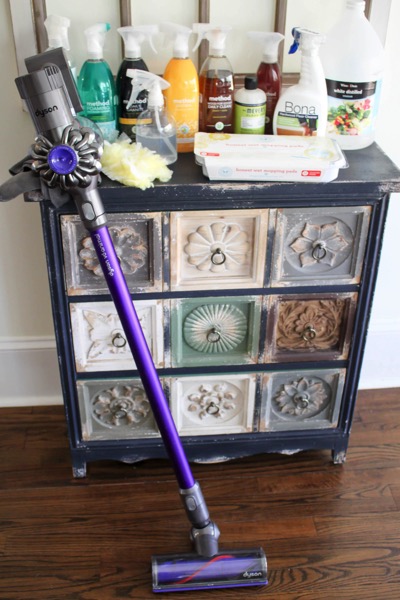 I think that's pretty much it! A little bit each day makes such a huge difference.
So, tell me friends: do you follow a cleaning schedule? What are some cleaning hacks/products you use and love?
xo
Gina