Hi friends 🙂 How has your Friday been? Loved reading your comments on the discussion and fashion posts today <3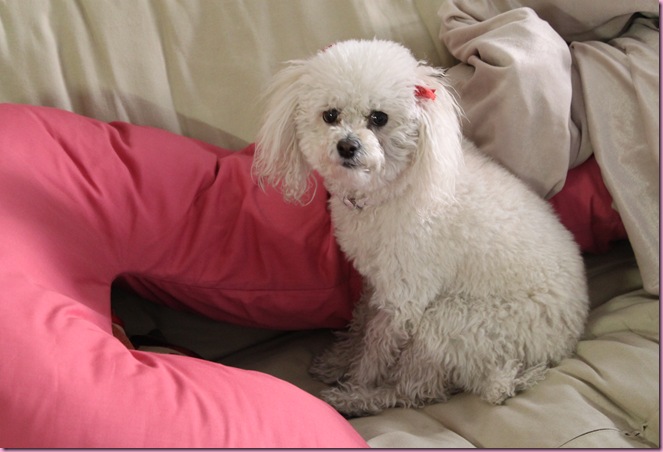 I think Bella enjoys my Snoogle pillow as much as I do 😉
Today was an exciting day. We opened escrow on our house –a short sale that has taken quite a while but is WAY worth the wait!- and should close end of July. There's a light at the end of the tunnel! We have inspections next Friday 😀
Also, I ate vegetables. And I liked it.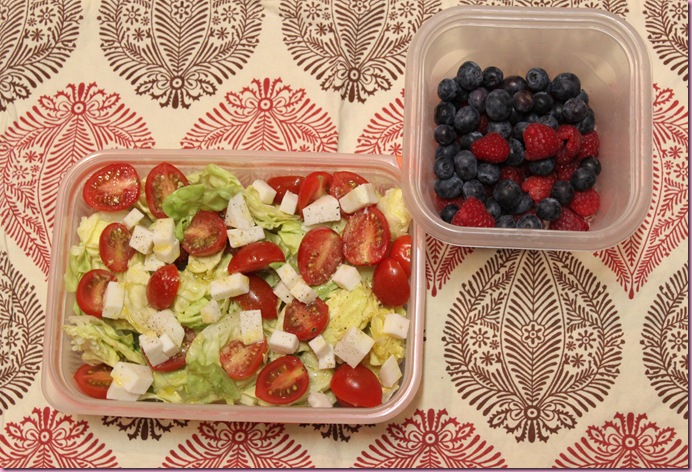 (butter lettuce with goat gouda, local tomatoes and a homemade lemon vinaigrette; container of organic berries)
As you guys know, it's been one chocolate pickle salt and vinger lovefest over here lately, but I've really been missing my veggies. Even though they don't sound good to me at all, if you hand me a plate of them, I enjoy them just as much as I did to before the little nugget decided to take residence in my belly 🙂 Earlier this week, we went to an amazing BBQ at a friend's house and I ate an entire plate of grilled peppers, onions, fresh tomato, maple-pecan glazed salmon.. because I didn't have to make it.
I was talking to a work friend who has had a baby (and still has a six pack), and asked her how she managed to eat clean during her pregnancy.
"I wanted to eat clean, so I did. It wasn't a big deal. I knew what I wanted, I focused on it and made it happen. Just like you do if you want something to happen- you focus and do it."
"But my normal, favorite clean eats sound horrible to me. Especially vegetables."
"Just eat the f*%#ing vegetables." 🙂
"Wow. Ok."
She didn't say it in a mean way at all, just like "hey if you want it to happen, do it." It was a nice reality check because it's not like I don't enjoy eating my usual favorite things.. the act of preparing them makes me gag and die.
But today I manned up…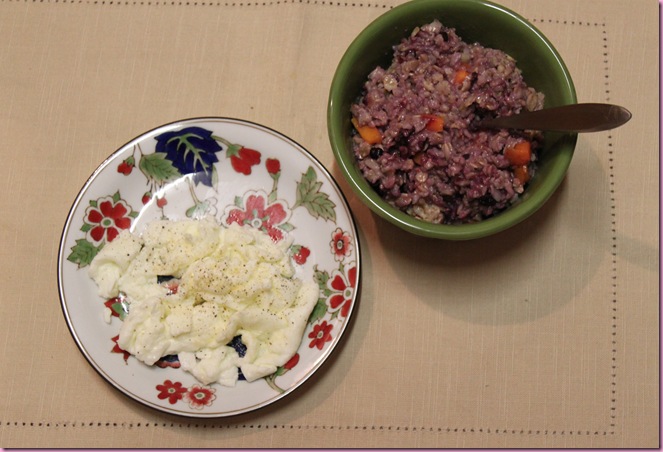 (apricot and blueberry gluten-free oats with butter, egg whites)
prepped the food myself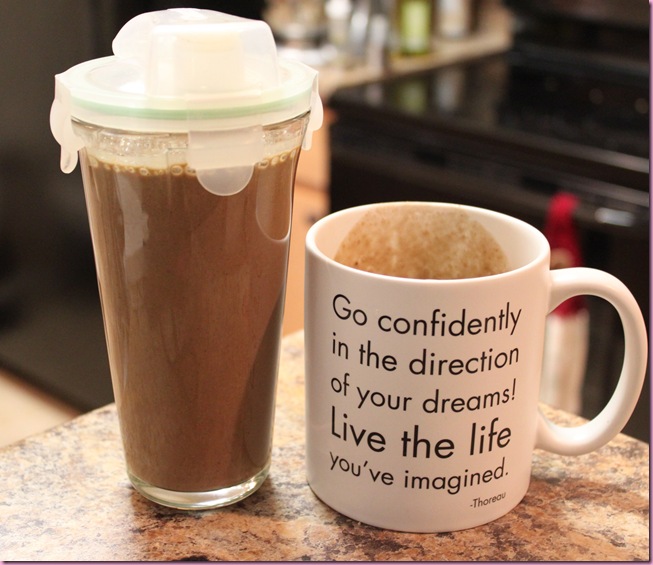 (smoothie with banana, spinach, almond milk, protein powder, frozen strawberries, raw cacao powder, coconut oil and honey)
and loved it <3
It seriously felt SO good to get some real nutrients today. I wasn't nearly as tired as I have been, which was a definite bonus.
This isn't to say that I'm not going to be indulging what my body is telling me it wants –today it wanted a gluten-free donut so I ate one.. a chocolate one- but it's a crucial time to get some healthy things in there too 🙂
It was a good day at work and now the Pilot is home, so we're gonna hang out and take Bella to the park. She's been home all day, so she'll love shaking her legs out and seeing some other dog friends.
Have a great night and I'll see ya in the morning <3
xoxo
Gina
Something to talk about: Is there a vegetable or fruit that you don't like? I love it all.. except raw celery. Never have been a fan, probably never will be haha.