15 week belly shot: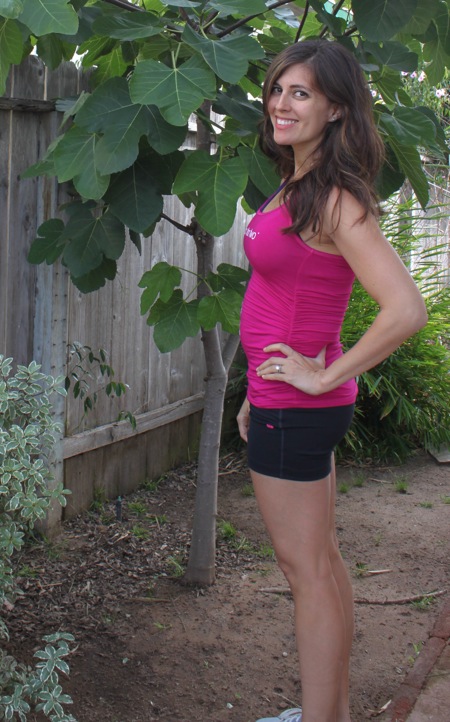 (Shirt from my friends at For Two Fitness // shorts via Pink Lotus)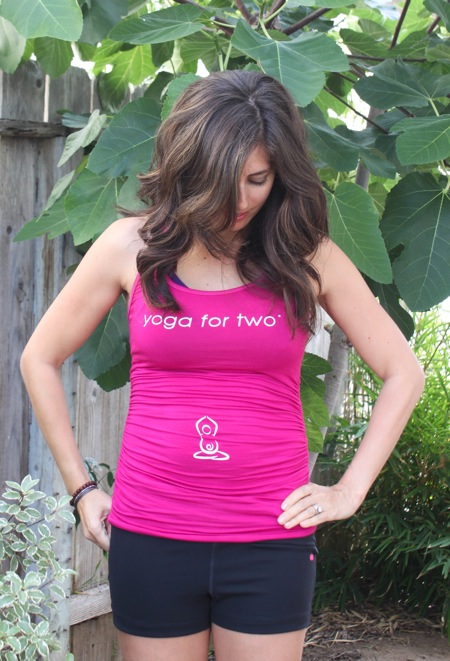 Some random thoughts/ things I've noticed:
Round ligament pain is REAL. I don't have much cramping in my abdomen, but my hips have been aching. I have to be careful about standing up too quickly, or it's like a spasm and I'm bent-over trying to catch my breath, and regretting my decision to get off the couch.
I said this before (and I'll probably say it again haha) but things definitely happen must faster the second time around. It's funny because I already feel like the belly is large and in charge, but I'll look back when it's officially massive and be like nope. It makes me laugh to think that when I was superpreg with Liv (towards the end) and I didn't think my belly was "that big." It was a torpedo. 🙂 
40 weeks: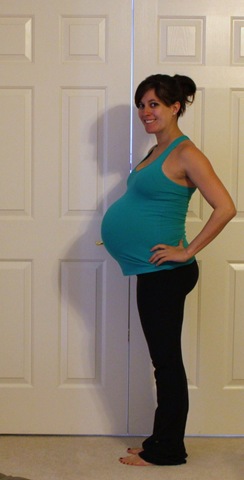 Most of my clothes still fit me for now, but I've definitely still been rocking looser-fitting pieces. I'm stoked that Stitch Fix has been sending 1-2 maternity pieces in my fixes, along with outfits that will grow with me over the course of the pregnancy.
It's nice to feel a little bit more like myself as far as energy levels go! I'm not totally zonked by mid afternoon anymore, and my aversions have lightened up. Oh hi vegetables, nice to want you again. 
Excitement is officially starting to set in. This happened last time, but I spent the first part of the pregnancy thrilled and thankful, but overly cautious and kind of afraid at the same time. It's almost like I'm trying not to become too attached if something were to happen (which I know wouldn't work and I'd be devastated regardless). Now that we're out of the first trimester, I feel like I've been able to relax and connect more with the baby. During my meditation, it feels so good to put my hand on my belly and spend a couple minutes thinking about the baby and sending loving energy to him/her.
Cravings:
-Same: pizza, sandwiches, acai bowls and smoothies. Basically if it's cold or wrapped in some type of bread, I want it. 
-Turkey bacon. Give me that salty goodness.
-Chia pudding. I love it with berries and cinnamon for a midmorning snack. 
-Cheese. Goat cheddar and manchego have always been my favorites, and I've been going through a block a week. Now if only I could wine to go with it… 😉
-Soup. It's funny that something that sounded so awful now sounds SO good. Chicken tortilla, hearty veggie, and tomato soups all sound particularly fantastic. 
-Chinese food aka salt and carbs. 
-Speaking of salt and carbs, while I'm writing this, all I can think about is goat cheese and veggie lasagna. Guess what's on the menu next week? 
Aversions:
-Indian food. Wahhhhh.
-Scallops. Just typing that made me shudder a little. 
-Raw meat. I can't look at it, or smell it. If Tom grills, I'll definitely eat it, but I've been eating a lot more veggie meals lately.
Belly button status: it is not long for this world.
Baby-related purchases:
–A nursing cover infinity scarf. I picked this one up at a cute boutique in Arkansas, and figured that if breastfeeding doesn't work out this time, I can still use it as a scarf. 😉 I'm trying to make breastfeeding as pressure-free as possible this time and going to use every possible resource, but I'm not doing the "try to breastfeed, pump, give a pumped bottle, give formula, repeat" circus again. The midwife told me that she's seen woman have supply issues the first time and successfully do it a second time, so I'm hopeful, but not going to beat myself up about it if it doesn't work.
-We still plan on using a lot of our baby gear from last time (our pack n' play, crib, bouncer seat, high chair, stroller, baby carriers and wraps are all good to go), but there are some things that will initially need to be replaced, like burp cloths, jammies (even though many of Liv's jammies were unisex, they get gross fast!), and diapers/wipes/necessities. On the non-necessities front, I do want to get some new moccasins. The denim leather is unisex and adorable. 🙂
Looking forward to:
-Feeling REAL kicks and punches- the best. I've been feeling flutters now for a few weeks (the ultrasound tech said this is because my placenta is posterior), but can't wait for Tom and Liv to be able to feel any kick and roll around.
-Finding out the official sex of the baby! Our last ultrasound tech made a guess, and to my medically-untrained eyes it looked pretty accurate, but I'm really excited to know for sure. We've started talking about names, and just like last time, we agreed on a girl's name instantly, and boys names are still up in the air. (Why are boys names so hard?! Also, I tend to like the really unique boy names, while the Pilot likes the more traditional route.) 
Is there a story or special meaning behind your name? Gina is my nickname. My mom joked to my grandfather that she was going to name me after him, because he was giving her a hard time about picking a name for me. His name is Gene, so she actually did it. 🙂
Fellow parents: when or how did you decide your baby's/babies' names? Did you go with something unique or more traditional?
xoxo
Gina