2nd pregnancy updates so far: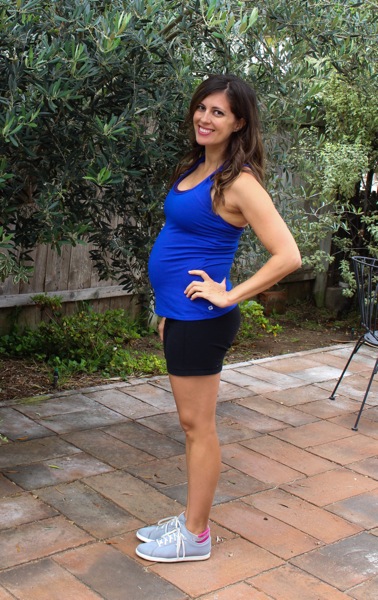 Now, we're at 23 weeks! It's hard to believe that next week I'll be 6 months pregnant. 
Random thoughts and things that I noticed:
Baby punches me when it's time to eat. If it's been a while since my last meal or snack, a dance party instantly begins in my stomach. 
I miss orangetheory. I was trying to figure out what it was about OTF that made me bummed about missing it, because I get plenty of activity through teaching barre, Zumba, BODYPUMP, and spin. I realized what it was: almost all of my official workouts are classes that I teach. OTF was my one class that I did for me, because I loved it so much. It was a chance to completely zone out, get in an awesome workout, and enjoy that team atmosphere from our studio. While it's obviously worth missing it for a few months to make sure everything is ok with the placenta situation, I will be pretty stoked when I finally get to take another class. 
Why did I wait so long to wear maternity jeans? I'm still wearing some of my usual jeans and jean shorts (using the hair tie trick around the button loop), but Stitch Fix sent me these white jeans (on sale now!) and these skinny jeans. They feel like heaven. I'm finally convinced to buy new sports bras since my current ones are cutting off my circulation.
While my energy levels are back to normal and I'm enjoying the second trimester honeymoon period (before third trimester kicks in, you feel like you're waddling around everywhere, and beyond ready to meet the little one after waiting for so long!), I don't feel as productive. Part of me just wants to sit on the couch, balance a mug of cereal on my belly and watching Kardashians. The urge is strong.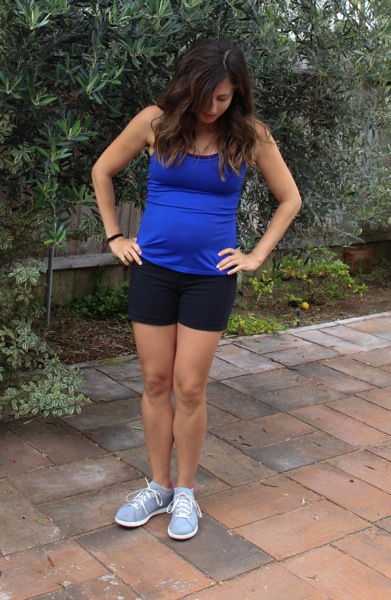 (Hello in there!)
Awkward pregnancy moments:
Having to use the ladies' room the entire time I'm teaching Zumba. I went right before class started, and still had to go the entire time. Merengue with a full bladder is no fiesta. 
I'm writing this post at a coffee house in PB and I have NO CLUE where I parked the car. When I leave, I'll be wandering around aimlessly and praying for a sign that leads me to it. Pregnancy brain is real, friends.
Cravings:
-PIE. I can't even type that without salivating. I'm a cake, cookie, or brownie girl. Pie has never really been my thing, unless it's the Costco apple or pumpkin pie, and I only eat the insides, with a fork, standing in front of the fridge. When the Pilot opens the fridge door to serve himself a piece, a sad crust stares back at him. Currently, I want ALL THE PIE. We went to a pie shop in Maui (Leoda's! you must go if you ever visit), and it was everything in my power not to go every day. I had banana cream pie with a graham crust that made me weep tears of joy. If anyone knows an awesome pie shop in San Diego, please let me know!
-Turkey bacon. I've never been a huge bacon person either, and now I picture wrapping everything in turkey bacon before eating it. Like, 'This pizza is good, but it would be even better wrapped in turkey bacon."
-Soup! I'm still on a major soup kick and have been enjoying a bowl in the afternoon most days of the week. 
Aversions:
Bell peppers. I can eat them, but I don't enjoy them as much as I used to. 
Weight gain: Not sure. At my last appointment a couple of weeks ago, I was up 14 lbs. My guess is 16-17.
Workout changes:
Everything is pretty much the same with teaching, and for my own workouts, I've been enjoying TRX, Barre, yoga and lots of walking. I'm trying to walk the dogs outside each day, even if it's just for 15 minutes. I went for a run last week that felt great, so hoping to get in another short beach run this week. I'll be doing a 2nd trimester recap post with all of the changes I've made this trimester (similar to this one), but so far, I'm thankful that for the most part I've been able to stick with my routine (minus OTF).
Looking forward to:
-Our next ultrasound. We have another one coming up to see if my placenta has moved. I'm staying hopeful that is has -the last midwife I saw said they almost always migrate north- but either way, we get to see that sweet baby. I can't wait!
-My fitness director is throwing a get-together for me and another girl who works at the club and is expecting in September. I didn't really want any showers or "sprinkles," but thought it would be fun to do something small to celebrate the beeb, so this is absolutely perfect. I'm so thankful to her for thinking of me.
Baby purchases:
An "ALOHA" onesie in Hawai
Looking at ordering a Solly Baby wrap, which would be a good complement to the K'Tan in the newborn phase. I'm a huge fan of babywearing, and last time, I stuck with the more structured carriers like the K'Tan, Ergo and Babyhawk. I would love any suggestions for a woven wrap for beginners. There are 3927394 types and every time I start looking, I get a little overwhelmed. 
Keep on growing, baby! We already love you so much. <3