Hi friends! How's the day going? Ready for the weekend? I'm heading to LA for an event, we have an afternoon of SUP planned with friends, and we're taking Liv to see Inside Out. (Confession: I think I want to see it just as much as she does.) If you're over the Hawaii recaps (our adventures/hotel are here and the delightful food is here!), this is the final one: the Old Lahaina Luau.
We knew that we wanted to attend at least one luau for the full Hawaii experience, and to enjoy some traditional dance, music and food during our stay. When I put the call out for Maui recommendations, the Old Lahaina Luau was the most frequent luau suggestion, as many of you have visited and claimed that it was the best. I checked out a LOT of reviews online and immediately decided that this would be the one; it has a reputation for being the most authentic luau, with the best food and entertainment. Needless to say, we were thrilled when Old Lahaina offered to host our luau experience since we were planning on attending anyway.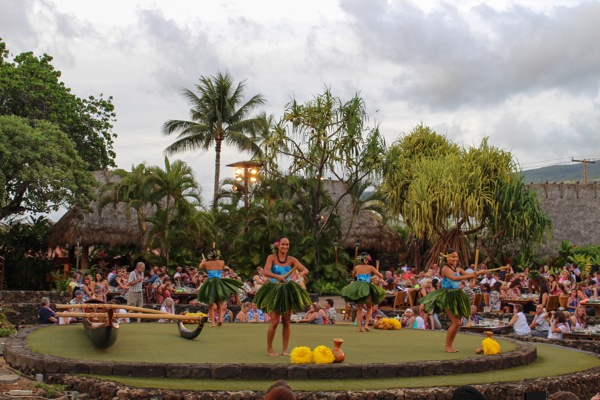 We arrived at the venue, where we were immediately greeted with fresh flower leis and drinks. (I got a virgin Mai Tai, the Pilot got the real deal. Drinks were bottomless all night, and they had a full drink menu. All of the beverages could be made without alcohol, so Livi and I shared a couple of virgin Lava Flows <— dessert in liquid form.)
Right away, I was surprised by the vast property. We had a luau at our hotel, which is also supposed to be very good, but it was in a much smaller space (a stage with surrounding dinner tables). At Old Lahaina Luau, the property includes sprawling areas of lush greens with the ocean and exquisite sunset in the background.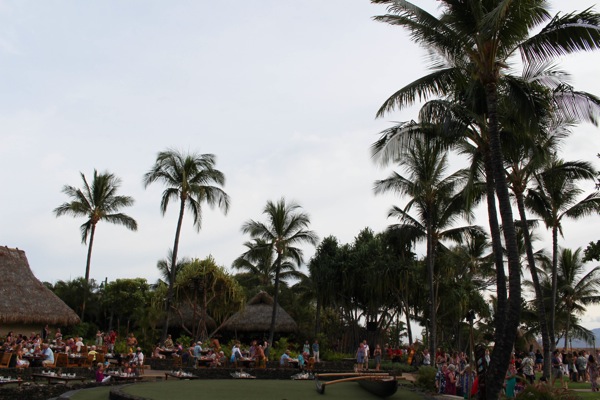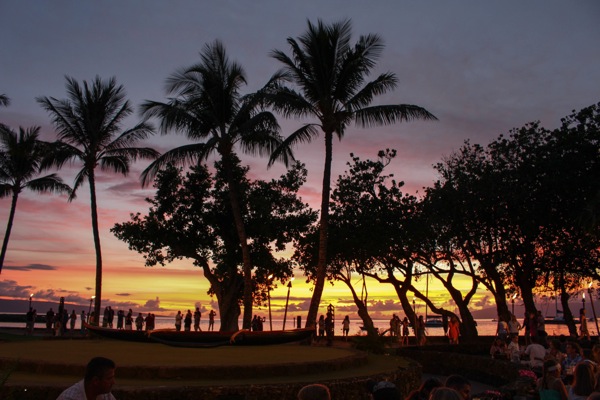 They have two seating options: dining tables (8 to a table, so you may be sitting by people you don't know), and traditional-style seating with low tables and pillow seats on the ground. We had a front dining table with a perfect view of the entertainment. Immediately the mood was set with live musicians,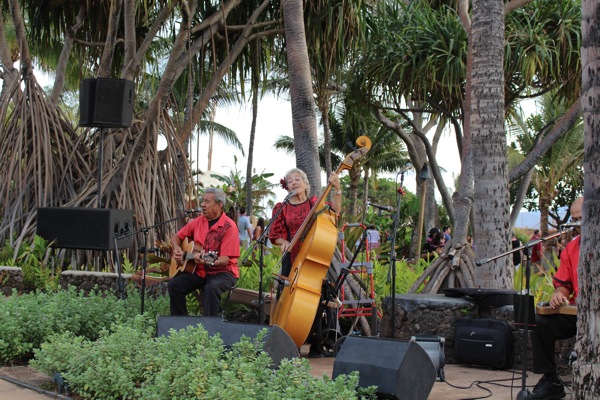 traditional dancers,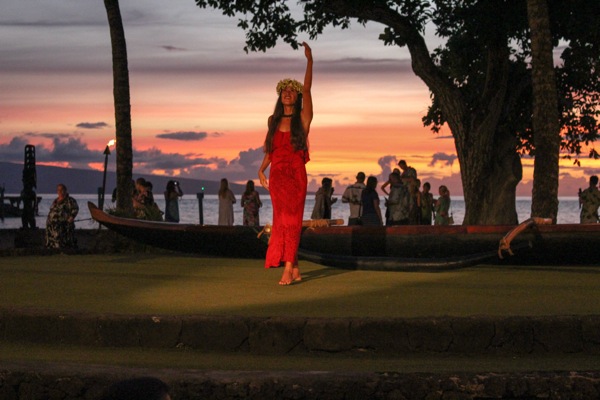 and stations throughout the property for photo ops (they had photographers on site) and to check out traditional crafts.
We learned about the instruments,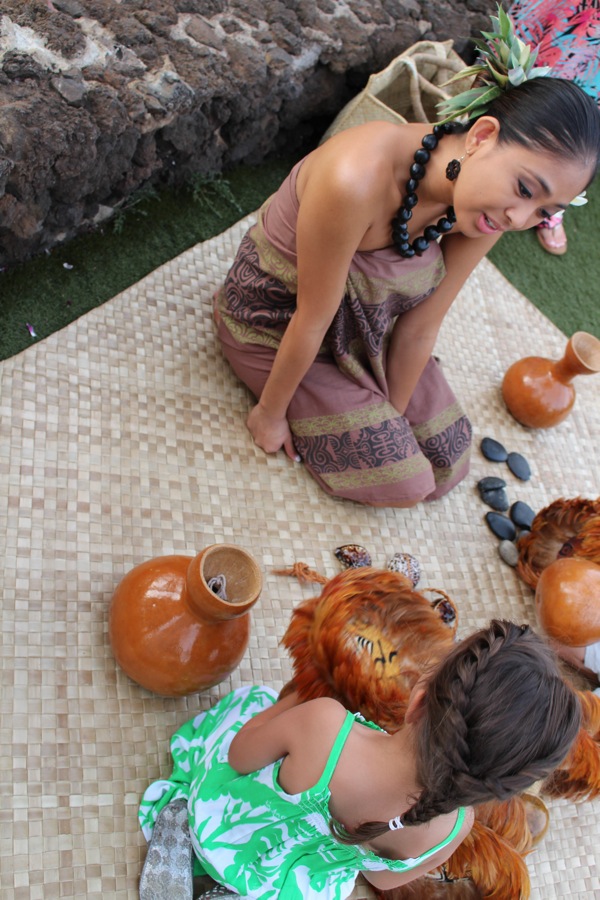 how printed fabric is made (using seed pods and dyes from plants and berries),
and walked past the area where the pig was cooking in the underground grill.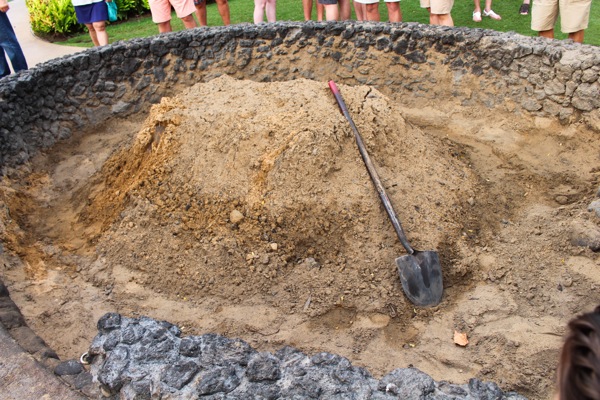 Liv was very interested to hear about how the pig was removed, and this guy kindly showed her the tool they use and explained that the pig is very heavy (250 lbs of meat).
(Don't worry, no pig pictures to follow.)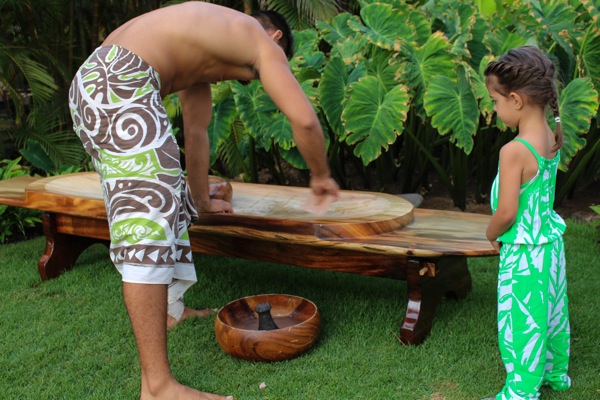 We headed back to our table, where we met the families seated near us (a husband and wife from Phoenix, and a dad with two daughters who were so sweet and lovely to Liv), and our server, Randy. Each table was called up to the buffet to avoid pure food chaos (the whole process was seamless) and I tried to get little bits of everything (minus the pork and red meat) to taste.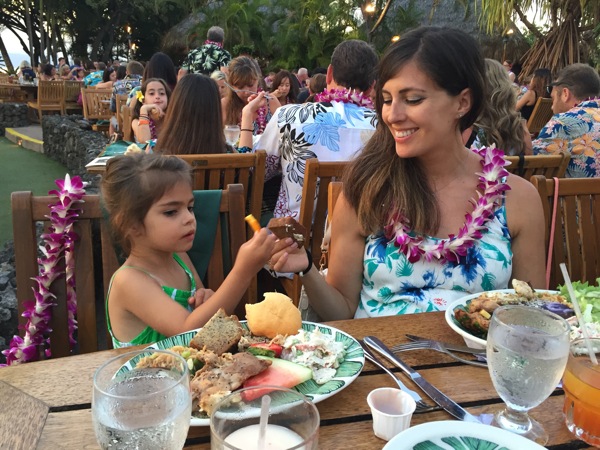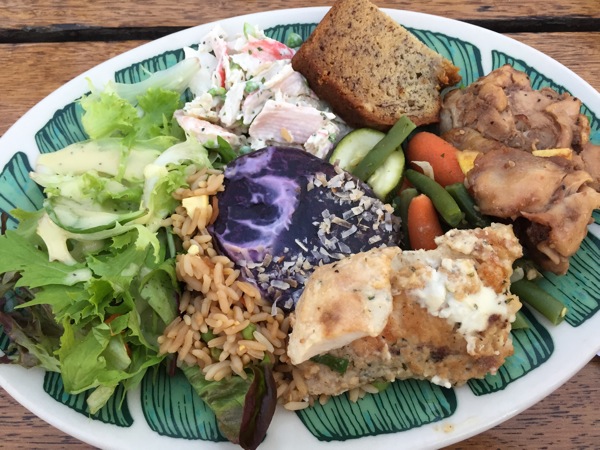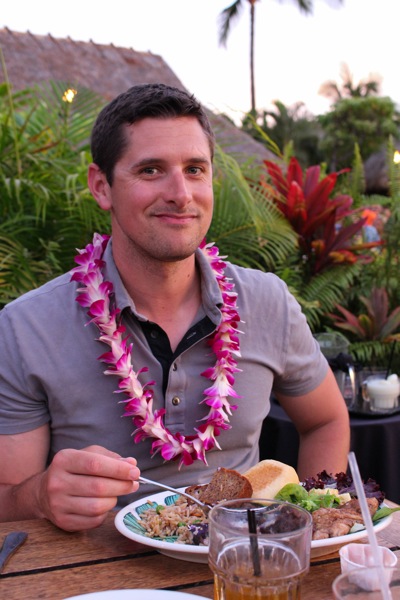 I wish I would have snapped a pic of the full spread, but here's a list of the menu:
Kalua Pua?a

Pork roasted in our beachside Imu; the Hawaiian underground oven

Laulau: Pork wrapped in L??au leaf steamed to perfection

Maui Style Mahi-Mahi Chef's Special Preparation

Pulehu Steak Tenderloin style steak, grilled to perfection

Chicken Long Rice: Shredded chicken, Maui onions, ginger and rice bean noodles in broth

Island Style Chicken: Chicken marinated with guava sauce garnished with fresh pineapples and toasted sesame seeds

Stir Fry Vegetables: Zucchini, Maui onions, carrots, broccoli, sugar snap peas, and baby corn

Local-Style Fried Rice: Fried rice with green onions, peas, and sesame oil

Sweet Potato: Warm sliced Big Island sweet potatoes

Island Crab Salad: Crab, shrimp and water chestnuts

Taro Salad: Taro and spinach folded in coconut sauce

Pohole Salad: Fern shoots, Maui onions and tomatoes served in a vinaigrette sauce

Lomi-Lomi Salmon: Tomatoes, Maui onions, and salted salmon

Ahi Poke: Fresh raw ahi (yellow fin tuna) with green onions and Maui onions

Poi: Made from boiling and mashing the root of the taro plant

Fresh Island Fruit & Banana Bread

Assorted Island Desserts: Passion Fruit Cake, Upcountry Lavender Lemon Shortbread Cookies, Hawaiian Chocolate Chili Pepper Brownie, and Haupia
I loved EVERYTHING, but the stars of the show (to me!) were the crab salad, mahi-mahi, banana bread, and the haupia (which is like a coconut pudding. If anyone has a recipe, please send my way!)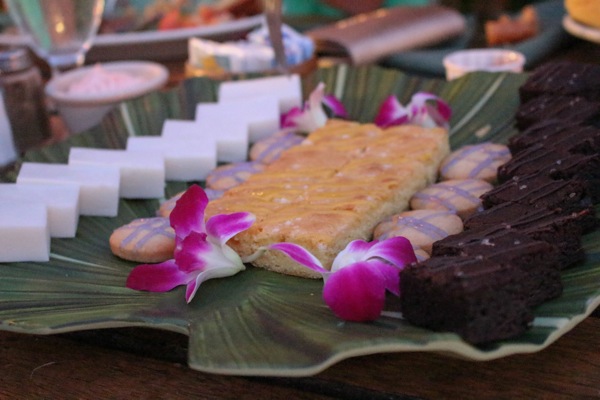 While we were feasting to our hearts' delight, the show began, which included live music, chanting, singing, dancing, and an enchanting narration of the history of Hawaii.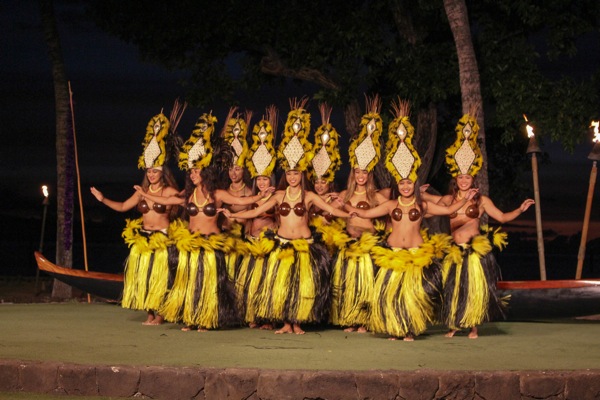 Livi soaked in every second. I spent half of the show watching her, and the entranced look on her face.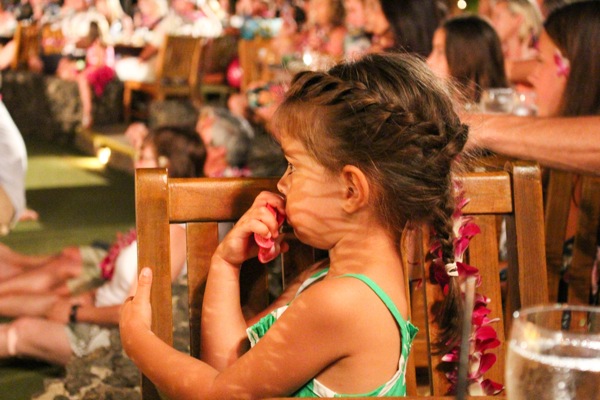 Hula dreams do come true.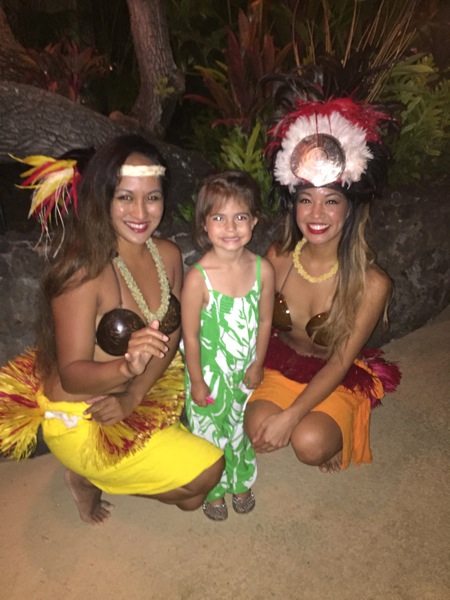 Thank you again to Old Lahaina Luau for making our last night in Maui so magical <3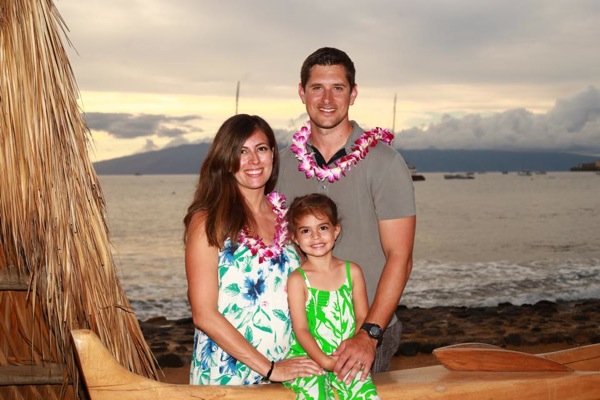 xoxo