Hi friends! Don't forget to enter the Bitsy's Brainfood giveaway here. 🙂 All baby #2 updates are organized by trimester on the Family page tab above. <3
Big things poppin'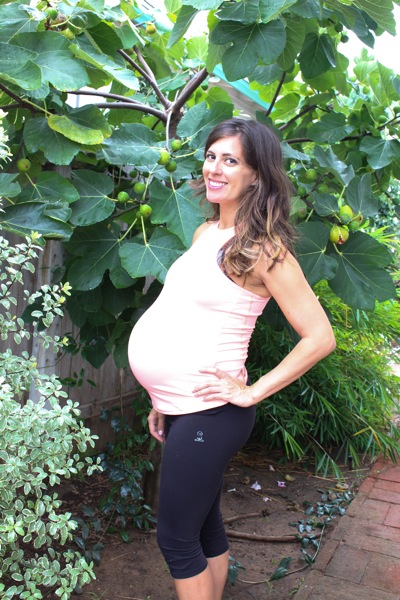 (33 Weeks)
Random thoughts/things that I noticed:
-The #1 most notable thing about this week was our fetal echocardiogram. I'm still over the moon with the good news, and while I'm still praying that everything will go as smoothly as possible and she'll be healthy, this was something that has certainly been on our minds. It was a sigh of relief, and removed some of the sadness/worry that I've experienced over the past few weeks. We have one more ultrasound just to make sure everything is bueno, and then she'll be HERE shortly thereafter. I'm definitely starting to get excited for her arrival, but I want her to be fully-cooked before she makes her debut.
-Our ultrasound tech estimated that she's measuring 35 1/2 weeks; two and a half weeks ahead! She said she's already 5 lb 6 oz, but to be honest, I take these measurements with a grain of salt. I have friends who were told they were going to have GIANT babies, and were even induced to prevent it, and ended up with perfectly normal-sized babies and/or a cascade of interventions from the induction. I feel like nature knows what it's doing, and the chance that it will produce a baby so huge that it's impossible to deliver is unlikely, unless the mother has Gestational Diabetes or another health concern. At the same time, if little miss is 10-lbs at birth, I have a bit of fear haha.
-Since we got good results from the echo, I was transferred back to the birth center for delivery. I would have been totally happy anywhere with our awesome medical team, but it's nice to know that I'm no longer considered "at risk" or need to be consistently monitored during labor.
-I finally went to Pea in the Pod and got some maternity stuff… at 33 weeks pregnant. I know. Things that don't make sense. I have dresses and maxi skirts that I've been wearing, but it's been way too hot to wear my maternity jeans. For shorts, I'd just been wearing my normal Joe's with the belly band. The past couple of weeks, they've started to seriously cut into my skin, so I bought a couple of cute pairs on sale at Pea in the Pod with three neutral tops. It's my end of pregnancy capsule wardrobe haha since I'll be mix-and-matching between the 5 pieces from now on.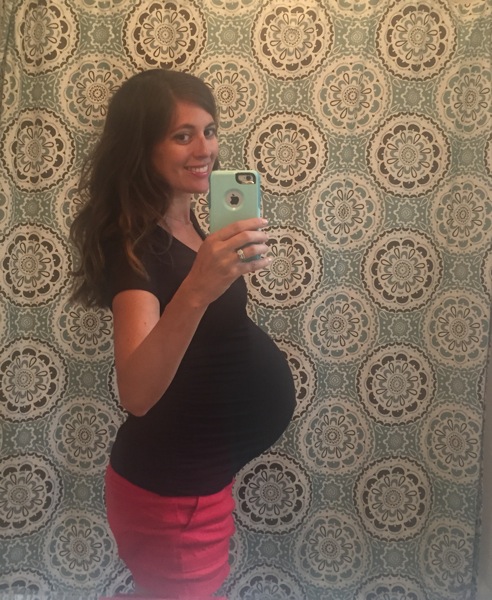 (Basic tee and red shorts)
The waistband on the shorts was like a hug from an angel.
-I've been really focusing on enjoying as much quality time as I can with Liv before her sister arrives. Liv knows how special she is to us, but I've heard that the transition from one to two can be challenging, because you feel badly for not being able to give the first child as much attention, and it's a transition for everyone. Everything balances out eventually, but for now, I'm enjoying spending some extra time with just the two of us.
-Decoration is still underway, but I wanted to show you guys this adorable mermaid print that arrived from Etsy:
And a comment last week pointed out that I haven't given any hints about her name! Here are two letters that are in her name: L and E 🙂 Feel free to leave any guesses in the comments section!
-Sleep is finally starting to get rocky. Liv comes into our bed each night, and I'll usually wake up for a second before crashing back out. Lately, I've tossed and turned quite a bit trying to get comfortable to fall back asleep. It's all in preparation for those middle-of-the-night feeding parties.
Weight gain: 31 lbs! 6 lbs more than I was around this time last time. #piedontlie
Cravings:
-PIE. Writing this, I just thought that maybe Costco has pumpkin pies already?!? Looks like we'll be headed there tomorrow.
-Eggplant parm. I need to make this again, stat.
-Soft pretzels. This is definitely the top preg craving. The salt and carb combo is everything I've been wanting.
-EGGS, but this is normal life craving. The day hasn't really started until I've had two eggs.
-Sparkling water.
-Giant salads
-Fresh fruit bowls and goat's Greek yogurt
Aversions:
-Super spicy food. I usually enjoy food that burns my face off, so this is a weird one. I'll put a little sriracha on my eggs, but other than that, spicy Mexican and Indian food doesn't sound as great as usual
-Cooking. I think it's just because it's so hot/humid right now and being in a sweltering kitchen sounds terrible. One night while I made dinner a couple of weeks ago, I had a wet dish towel around my neck and another one around my head.
Workouts:
Belly button status: Poking out, and you can kind of see it through my shirt.
Books:
Finished Ina May's Natural Guide to Childbirth. I think this is the third time I've read it? I was starting to feel anxious about the birth, and this book put my anxiety at ease. I feel like there can be so much fear surrounding the birth experience and the unknown, and this book makes birth feel like an intuitive, natural experience. It's very informative and reassuring at the same time.
Some of my favorite takeaways from this one, which I'll keep with me on Labor Day:
-"Birth with your monkey." This means to not be afraid to go primal, and seriously, unleash your inner monkey while you are giving birth. During birth, monkeys don't care about what sounds they make, what body functions occur, or what others think about them. It's up to you to throw self-consciousness and caution to the wild, and act like a primate. I moo'ed like a cow during Liv's birth, so this one isn't too far off for me. 😉
-"Think about all of the women giving birth at the same time as you are, all over the world." I thought of this last time, and even though I obviously had no idea who these women are (EXCEPT BEYONCE HAD HER BABY THE SAME DAY. I knew Queen Bey was in my shoes haha), it was comforting to know that I had an invisible tribe around me, experiencing something similar.
-"Remember that the contractions are working FOR you, and they are not hurting you." I really fought the contractions last time, and they overtook my entire body. It felt like an earthquake from the inside out, and I fought and wriggled through the pain. I really like the idea that the contractions are working to help you birth the baby, and they are not intended to cause you harm. I'll try to remember that this time around.
Re-skimming Your Best Birth. This book is packed with information on possible scenarios and ideas to minimize intervention.
Re-reading Natural Childbirth the Bradley Way. We took Bradley Method courses last time, and I'm using this book to refresh my memory. I remember quite a bit of it, but there is SO much that I've forgotten. It's nice to have a bit of a refresher!
Looking forward to:
Her being here with us. It could still be a while away, but I'm starting to get really excited. <3 Oh, and that post-birth glass of red is going to taste realllll nice.
xoxo
Gina