Raw lemon blueberry scones
Hey hey hey 😀 How are ya?
When I saw that my dear friend Heaby made her own coconut butter yesterday, I couldn't wait to get in on the action.
As we all know, I have no luck whatsoever making "butters" of any type. Patience is not my virtue when it comes to nut butters –I want to open the jar and eat it. Not make it- but I was hoping I would be a little better with this attempt. I was a little wary after my smoking Vitamix incident.
I put the shredded coconut in the Vitamixalicious: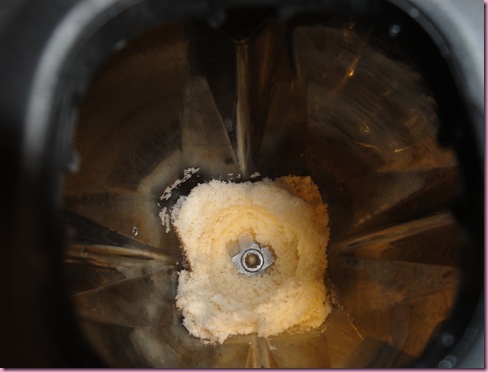 And within 20 minutes, it had transformed into dreamy coconut butter.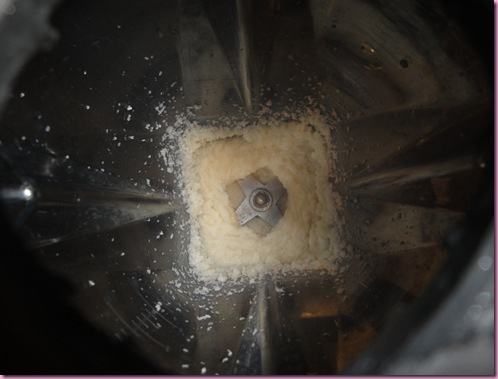 I put it into a mug and started to think of things that I could "frost" with coconut butter: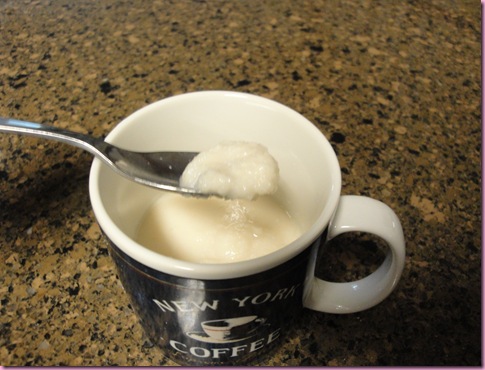 (Side note: Did anyone else have a mug of bacon fat in the fridge growing up?? The madre used to use it for crack pancakes. I like to think the coconut butter in a mug is a healthy replacement, and still makes me feel nostalgic)
When I got the following tweet, I knew it was raw scone time.

I conjured the following recipe out of my brain: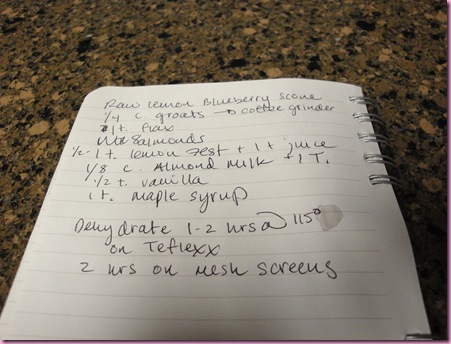 And got crackalackin' 😀
Raw Lemon Blueberry Scones

Makes 1 Gina-hungry scone, or 2 smaller ones

1/4 C Oat groats (processed into fine flour in a coffee grinder)

1 t ground flax

8 raw almonds

pinch sea salt

1/2-1 t lemon zest, 1 t lemon juice

1/8 C + 1 T fresh almond milk

1/2 t vanilla

1 t maple syrup (add more if you like it sweeter.. this was more of a fruity biscuit)

1/2 C organic blueberries

1. Grind the oats into fine flour.

2. Add the oats to a food processor, with the remaining ingredients (except for the blueberries). Mix well.

3. Transfer dough to a bowl:

4. Gently fold in blueberries (reserve some for garnish)

5. Make into a scone shape of choice (I rolled with the triangle) and place onto a Teflexx sheet to dehydrate 1-2 hours at 115*

6. Flip onto mesh screen and continue dehydrating for an additional 2-4 hours, until scone reaches desired texture.

7. Top with coconut butter, more blueberries and prepare for foodgasms.

8. Feast

© 2010 The Fitnessista

 
Well I'm off to pilates (gonna take it easy) and to tell my Zumbies that there's no class tonight 🙁
Have a wonderful evening <3
xoxo,
Gina
Something to talk about: What was your biggest kitchen disaster?? Mine definitely was mistaking cumin for cinnamon in a pear-ginger crumble (I grabbed the wrong spice because the containers look the exact same). Let's just say, it tasted like death.