Heyyy 😀 It's almost Friday! Thank goodness, no?
B-fast this morning was two parts…
One (before yoga):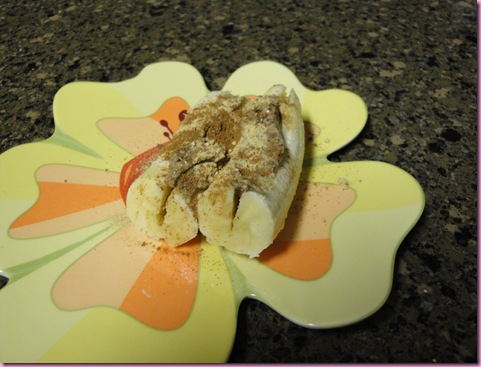 (Banana with almond butter, mesquite and cinnamon)
Then I went up to the yoga room which was heated to 90* to see what I could do with my post half mary knee situation.
I put in this DVD: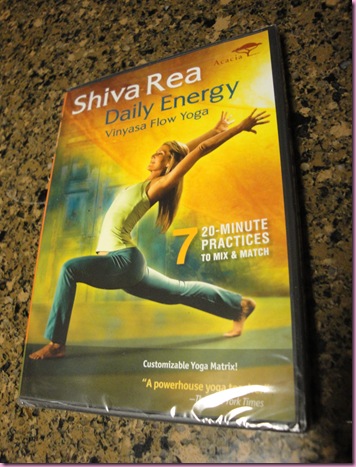 But kept getting distracted by this guy staring me down: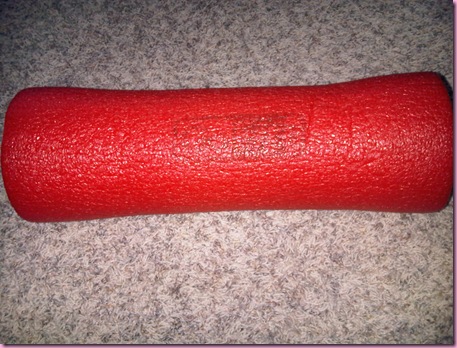 The foam roller.
Shiva lost the battle. I turned the DVD off within 20 minutes because I couldn't do a lot of the poses comfortably and instead rolled around on the foam roller. It felt extremely bueno and now I'm icing the ol' knee.
Not gonna lie to you guys, the knee situation is seriously bumming me out. The weather has been GORGEOUS lately (perfect dog-walking and running weather. Thank goodness it's pouring today so I don't feel like I'm missing out) and when I couldn't teach Zumba last night, it made me sad. Even after Pilates (which I could only do about half of), I really wanted to grab a magazine and chill on the elliptical. When I don't get my sweat on for the day, I'm antsy and kinda cranky. Poor pilot 😉
The thing is, I'm making myself take my own advice. So many of ya'll have sent me emails about dealing with injuries, and I don't have a lot of experience with them –last time I was injured was when I tore my ACL freshman year of college in dance (doing 16 fouettes and then landing in the splits). I was foolish and kept dancing the rest of the year and even did recital knowing that I could seriously hurt myself.
I always tell you guys to REST. Take time off and let your body heal, so that you can recover and get back in the game more quickly. The more you tear you body down, the longer it will take to heal and the longer you'll miss out on the active things you love.
Sometimes it's hard to take your own advice. I'm working on it, but it's not fun. So today, instead of going for a run, I'm getting a massage on my leg and IT band. Hopefully it will help the ol' leggie and knee out.
*speech ovah*
After my foam rolling sesh, I had the second half of bfast: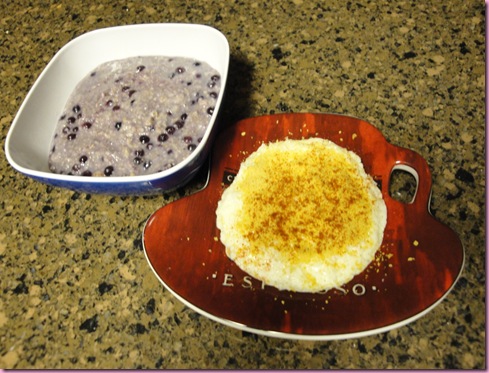 Blueberry oats (oat bran with organic blueberrries, cinnamon and vanilla)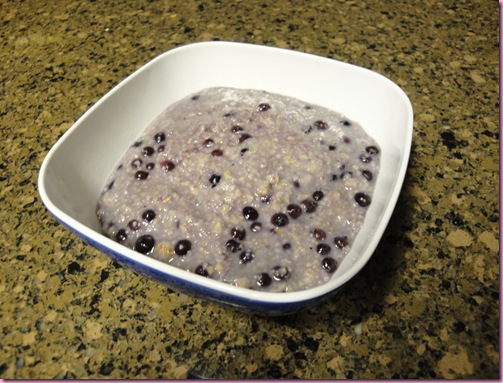 And a 3 egg white puff with nutritional yeast and cayenne: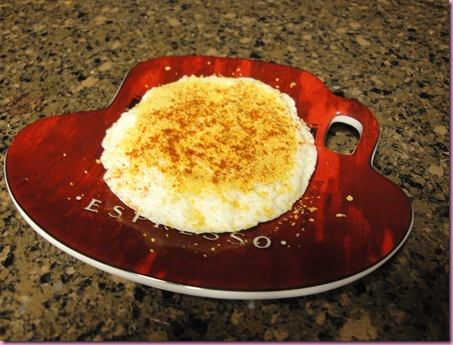 With a vitamin: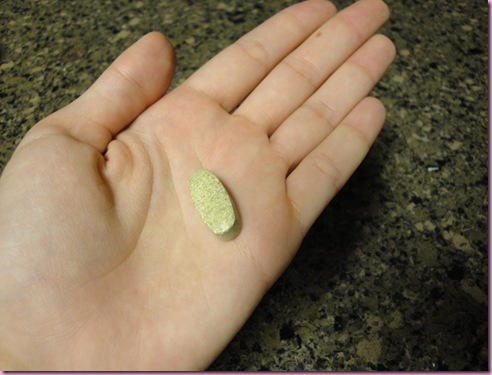 I'm off to work for a little while, having a conference call, then it's massahhhhhhhge time 🙂
xoxo,
G$