Festival 520 + all that acai
Hi friends! How's your night going? Hope you've had a great day. <3
Mine included a lovely walk with these two nuggets,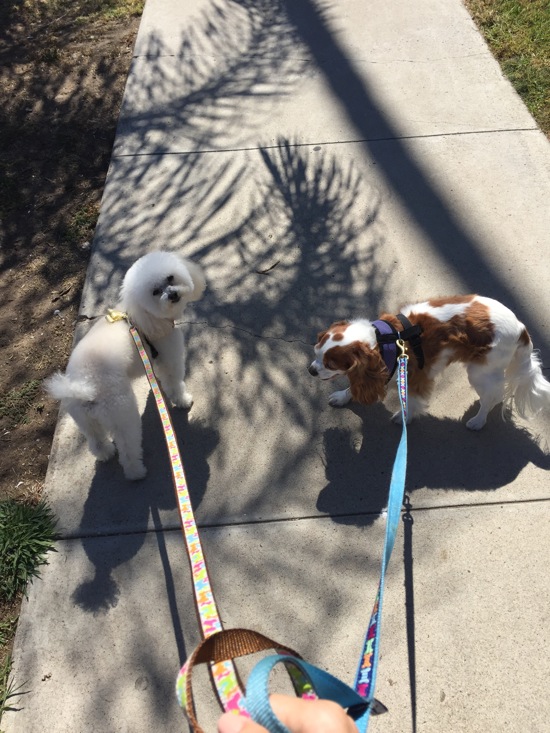 and meeting Shaina at Tiki Port. The 420 bowl with peanut butter….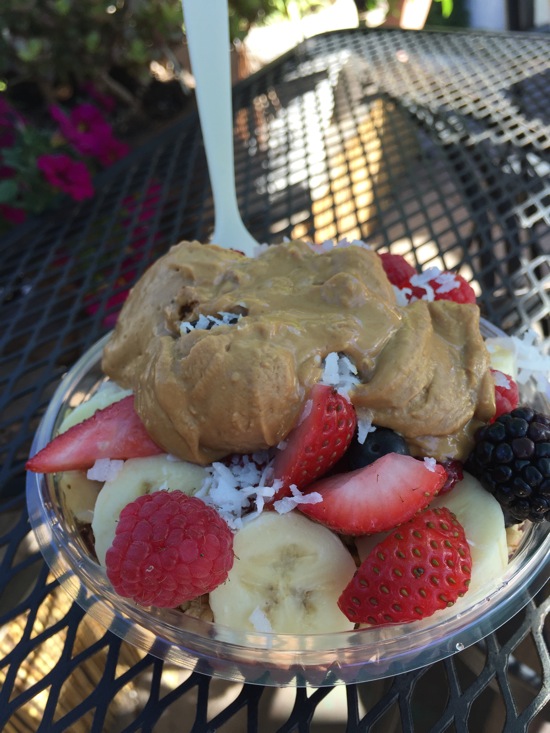 No words can describe it. (If you don't have an acai spot near you, here's the recipe to make one, and just cover in a blanket of peanut butter!)
Workout-wise, it was an easier day with 30 minutes of treadmill walking and 10 minutes of rowing.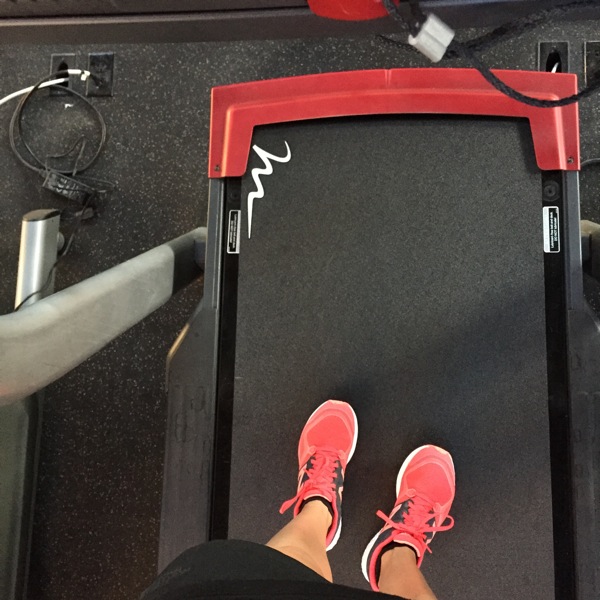 It always feels good to take a day off or an easy day after my Monday teaching double-dipper.
I can't believe I haven't told you about Festival 520 yet!
It just so happened that we were in Tucson for this magical event this past weekend, put on by my lulu friends at La Encantada. They had a packed schedule with fitness activities and fun events, including classes, massages, snacks, flash tattoos, and DJ pm yoga. Right before Liv's nap, the fam dropped me off to enjoy some classes and shopping while she snoozed at my mom's house. It was perfection, and I was so excited to see quite a few of my Tucson fitness friends. I ran down to say hi to Kate from barre3, and then went to take a class from this lovely lady: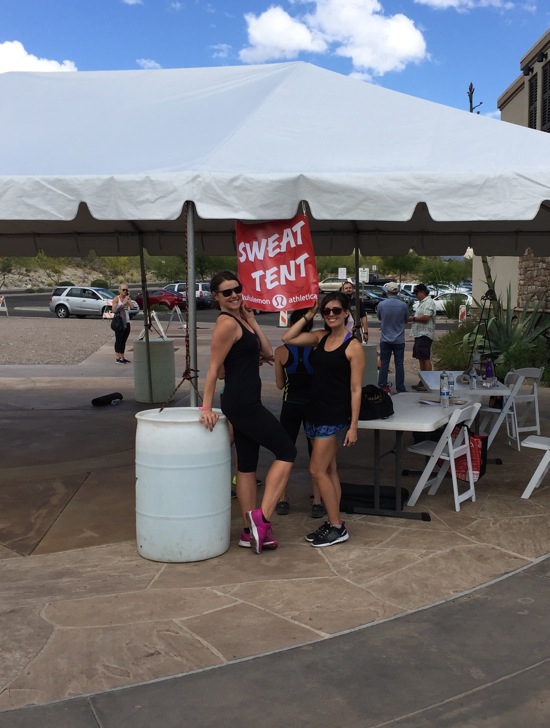 (Sasha! She has been exploring Australia, holding baby koalas and traveling around for the past year, and I missed her so.)
I took her bootcamp class, which was perfect- very sweaty and fun- and after class, I won a lululemon tank top of my choice! Worth the trip alone. 😉 (I picked this one in coral and navy.)
After class and grabbing a snack from the assortment they had upstairs, I jumped into Zumba for a few songs. It was led by Melissa from Steps Dance & Fitness (highly recommend it if you're local!) and was a blast.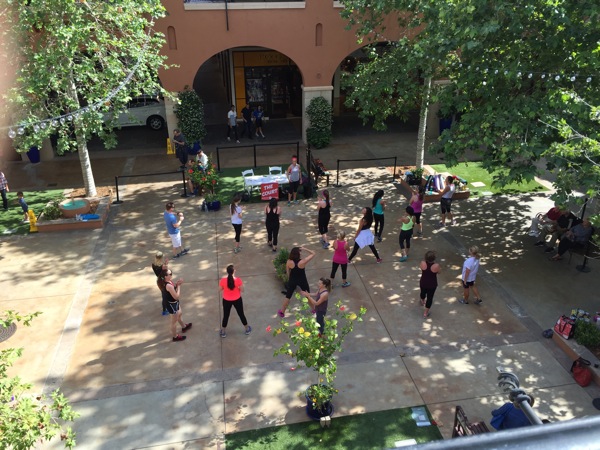 I'm still in a bit of a Zumba rut, so it was inspiring to see some new choreo and hear new songs. I walked around La Encantada for a little while -it felt so weird and peaceful to shop there alone haha- and then went to see my friends Brianna and Vanessa from Pure Barre.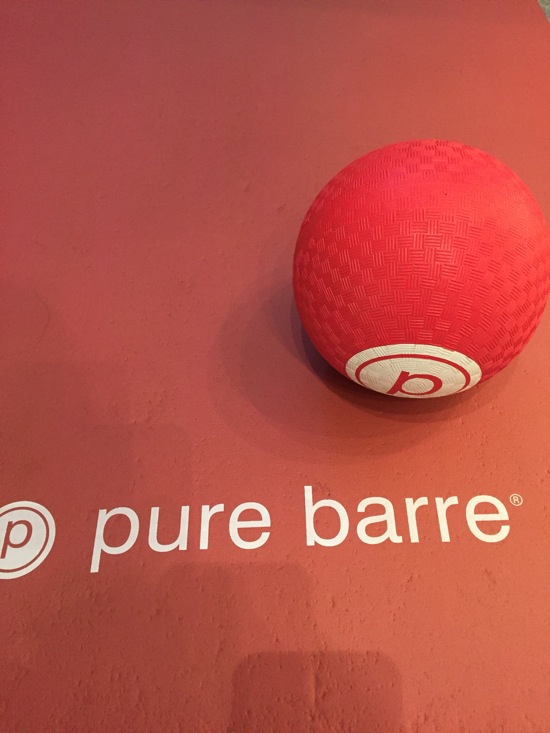 I still haven't been able to check out their studio, but we've been friends for the past few years, and it makes me so happy to see how well they've been doing! Their class was fantastic thigh-shaking glory, and the playlist was killer. I will definitely be in to take a class next time I'm in town.
After barre, the fam met me back at La Encantada for an amazing dinner at Blanco. I enjoyed 1400 chips with salsa and guacamole, and this salad with grilled mahi, radish, avocado, romaine, jicama and dressing + a side of refried beans.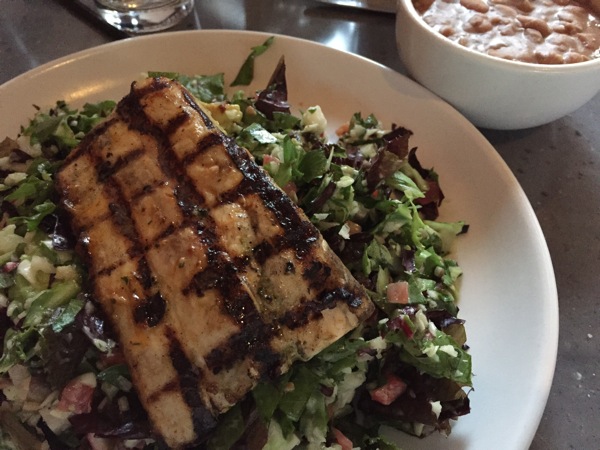 This was during the DJ yoga session, taught by two of my favorite instructors ever: Chelsea and Kristin from Session Yoga. I love their classes so much, but was tired from the earlier classes and was also wearing these loose-fitting running shorts. Down dog in that is like oh no.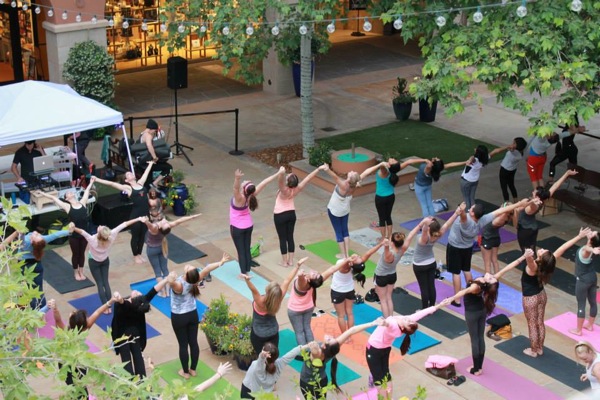 (from their Facebook album)
We had to make a stop at Frost on the way out for some gelato,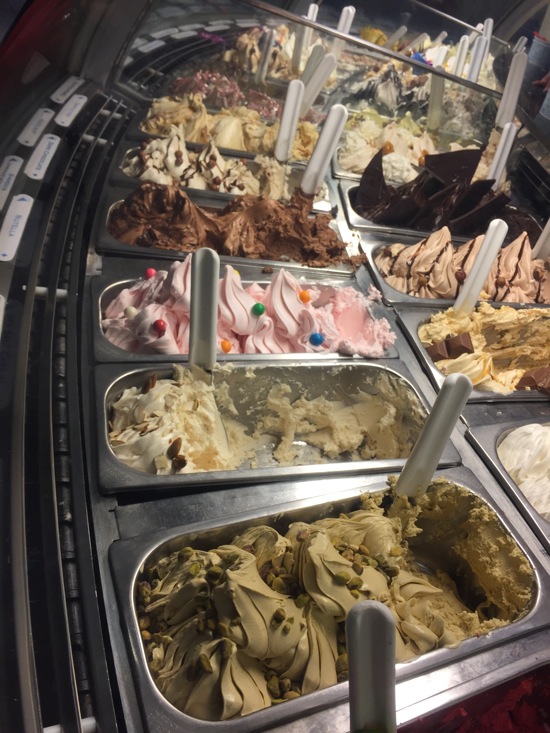 and after dessert, we went over to my aunt and uncle's house so Livi could play with her cousins. She misses them a lot, so we're always happy when the three little ladies get some time together.
Are there any fun fitness festivals or events coming up near you?? Have you ever won anything from a contest or giveaway? I've won some random things in the past -like a stuffed elf at a Christmas show we went to?- but the luckiest one is my nana. 🙂
Hope you have a lovely night! See ya in the morning with an insanely fresh and healthy dinner recipe!
xo
Gina
Need a workout for tomorrow? Check out this strength and cardio circuit! It's one of my faves, and the cardio blasts will keep your heart rate elevated and promote a higher calorie burn during the strength sets. Check in with today's workout here!