Seared Halibut with Romesco Sauce
This seared halibut recipe is sponsored by Blue Diamond Almond Breeze Almondmilk, my very favorite almond milk.
Let it be known to the world that I finally made halibut without overcooking it.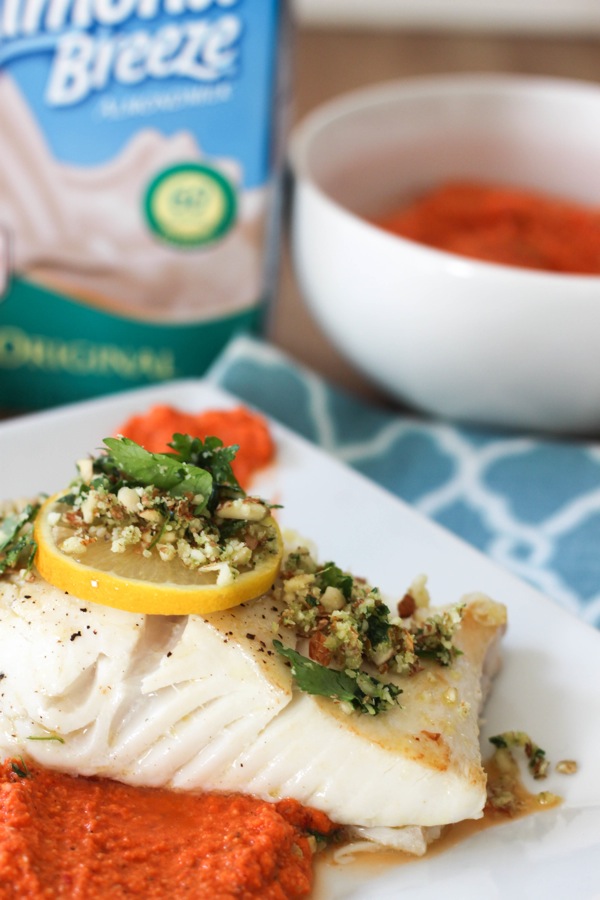 Seared Halibut
In the past, I've always baked it, and it's always come out of the oven like a chewy white fish eraser. We'd smother it in some kind of sauce, take 500 chews to swallow, and it would be bearable. I finally figured out the secret: do not bake, pan sear.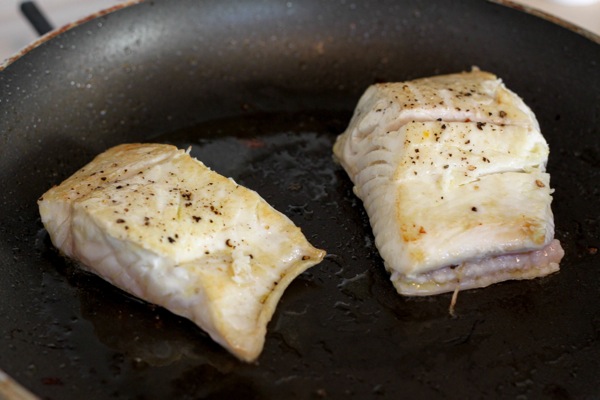 I picked up some gorgeous wild halibut from Whole Foods,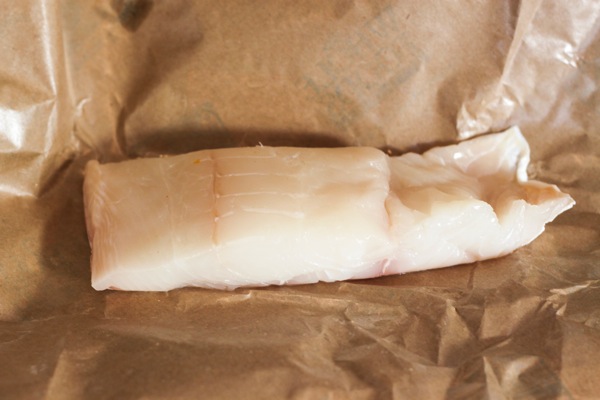 seasoned it well with salt and pepper, and then pan-seared on medium high in olive oil, skin side up, for 3-4 minutes. I flipped, said a prayer, squeezed some lemon juice on top and cooked for another 3-4 minutes until it started to flake. This is the only way I'm cooking white fish from now on.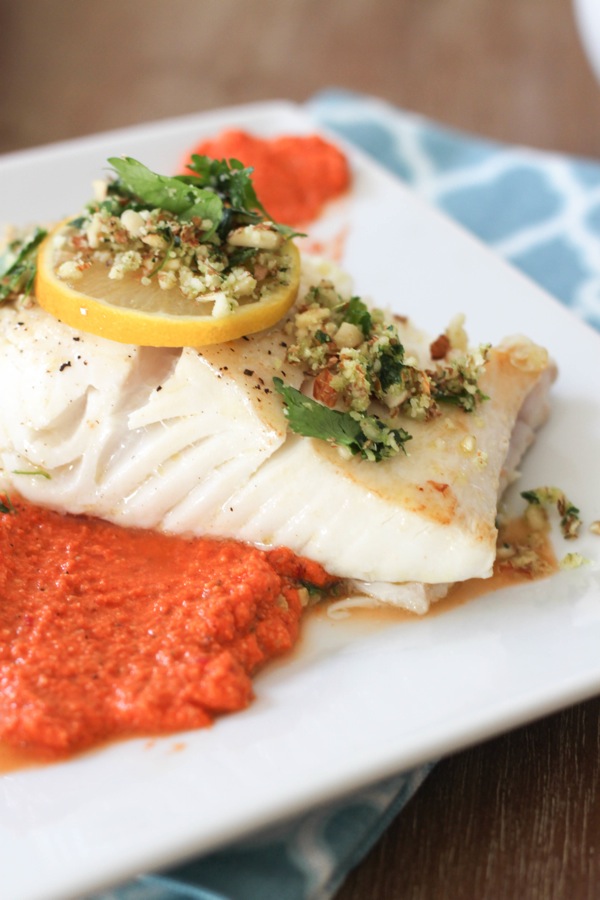 Romesco Sauce
While the halibut would have been delightful on its own, what took it over the top was this fresh Romesco sauce, using a secret ingredient: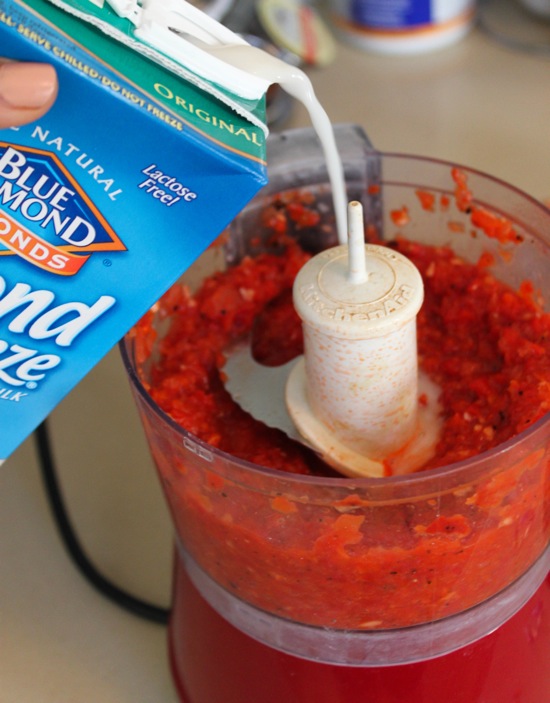 Romesco sauce originated in Northeastern Spain, and the fisherman of the area made it to enjoy with fish. There are quite a few variations of the recipe, but a few staples that it needs to include: roasted red peppers (and/or tomato), almonds, vinegar, lots of garlic. The sauce is thick like an aioli or mayo, and very savory; it's perfect for fish, sandwich spreads, vegetables, or dipping.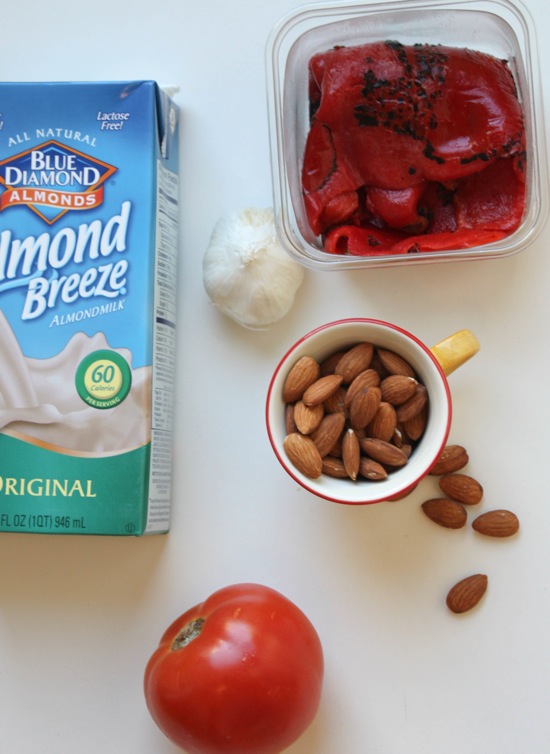 I blended it up in the food processor (until it exploded. whoops.) and then transferred the mixture to the blender for a creamy, savory sauce.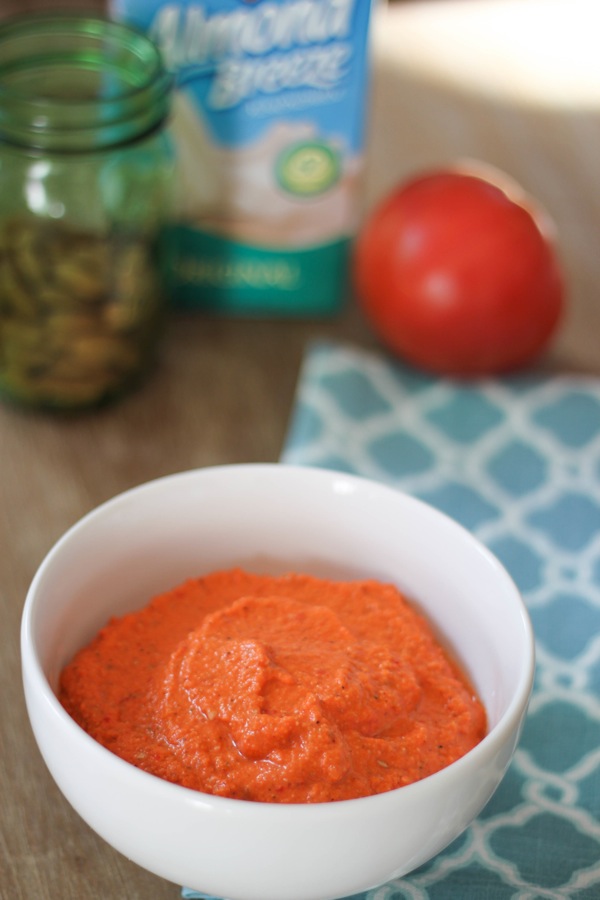 Next, I plated it up,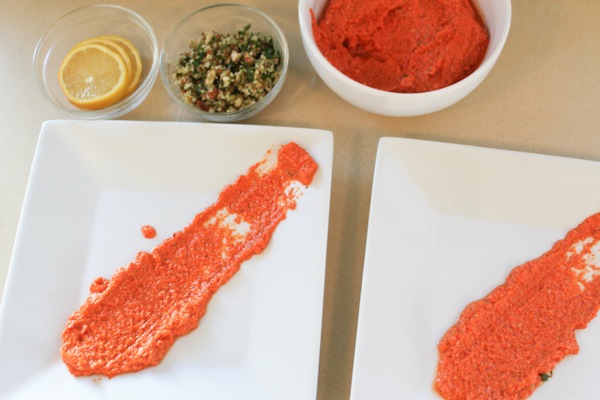 added the fish, and topped with a lemon wedge and almond-herb crumble. It was INSANE.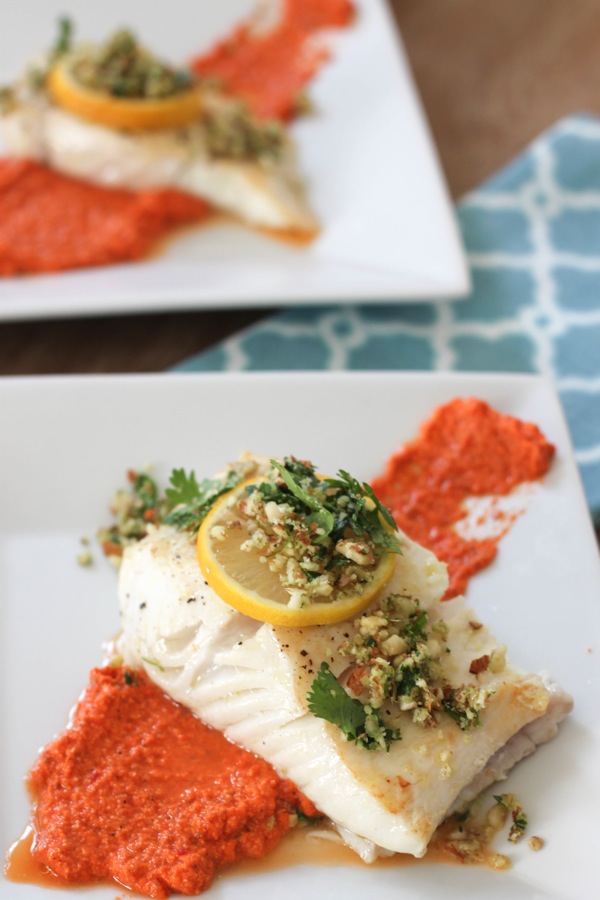 This is a perfect healthy and light summer dinner, packed with protein, healthy fats, fiber, citrus and savory flavors. It would also be great for a dinner party; just make the Romesco sauce and crumble in advance, then quickly sear the fish before serving.
Here's the recipe if you'd like to give it a try!

Seared halibut with Romesco sauce
A fresh and delicious dinner option. Save the leftover Romesco to enjoy on a sandwich, as a dip, or with vegetables!
Prep Time:

15

Cook Time:

10

Total Time:

25 minutes
For the Romesco sauce
1/2 cup

almonds

2

roasted red bell peppers (about

1 cup

. Use the jarred vinegar ones, or those found in the antipasto section of the grocery store)

1

beefsteak tomato, seeded

2

–

3

garlic cloves

1/4 cup

Almond Breeze Almondmilk Original
Splash of olive oil

1/4 teaspoon

smoked paprika
For the halibut
2

servings of halibut
Salt and pepper
Fresh lemon juice
For the almond-herb crumble
1/4 cup

almonds

1/4 cup

cilantro

1/4 cup

parsley
Lemon slices for serving
Instructions
1. In a blender or large food processor, blend the Romesco sauce ingredients until smooth. Add salt and pepper if needed. Transfer to a bowl, and if serving immediately, add some to your plates for serving. (I used a silicone basting brush to spread the sauce across the plate.)
2. Make the crumble. Wash out the food processor, and add the almonds, cilantro and parsley. Pulse until chopped, and reserve in a small bowl. Slice a lemon for serving.
3. Preheat a large saute pan to medium-high and add a drizzle of olive oil. Season the halibut well with salt and pepper. When the olive oil begins to bubble and move, add the fish, skin side up, to the pan. Sear for 3-4 minutes before flipping. Squeeze lemon juice on top, and cook for 2-3 minutes on the other side, until fish begins to flake.
4. Place the fish on top of the sauce, add a lemon slice or two, and some almond-herb crumble. Enjoy!
Are there any recipes you've always had a hard time making? Favorite fish dish? One of my all-time faves is our maple-orange salmon.
Hope you have a great morning!
xoxo
Gina
This post is sponsored by Blue Diamond Almond Breeze Almondmilk. Thank you for supporting this blog and the companies who support our family. <3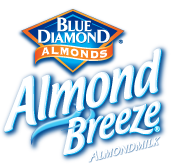 Here are some past recipe creations I've made in collaboration with them:
Dark chocolate almondmilk truffles
Gluten-free vegan banana pudding
Spring roasted vegetable risotto