Fourth, fireworks and festivities
Hi friends! How are ya? Hope you're enjoying the day! Sorry I'm a little later blogging today than usual. Livi had a weird bite on her leg -swollen and a ring around it- so we headed to the ped's to make sure it wasn't a tick bite or infected or anything like that. The good news is they think it's just an angry mosquito bite. I don't even know what to do about all of the Georgia insects. They're from a different planet.
It's been a pretty great week so far. I LOVE short weeks, and it was a special gift that 4th of July was on a Tuesday. The Pilot only had 3 days of work -YES- and then it's back to the weekend fun. It's been a bit of an extra crazy week because I've been teaching a lot of classes for friends who are out of town. My last one is tonight, and I'll probably be using the last of my hoarse voice. Excited to not have to yell tomorrow haha.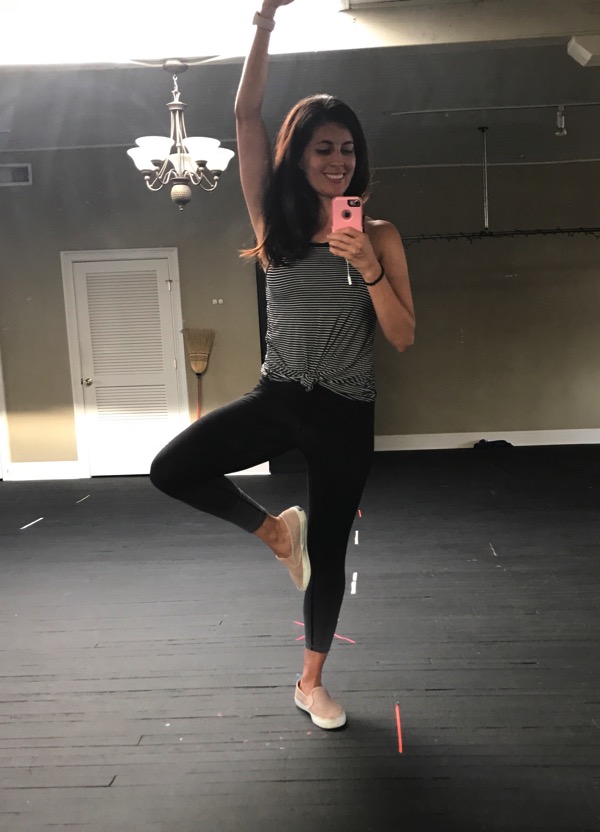 (Band Aid shoes for life)
After barre, some of the girls and I grabbed beers at Bleu Pub.
Barre + beer. I could get used to this combo.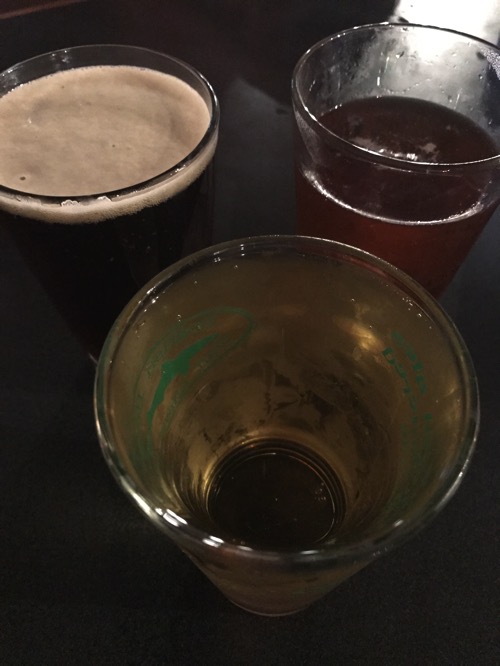 (Got a gf pear cider that was sweet and bubbly and kind of took that post-barre ache away from my legs)
Some pics from the 4th:
We had breakfast here at home, and then spent the afternoon swimming at the club
Of course, I had to put the girls in matching 4th of July outfits.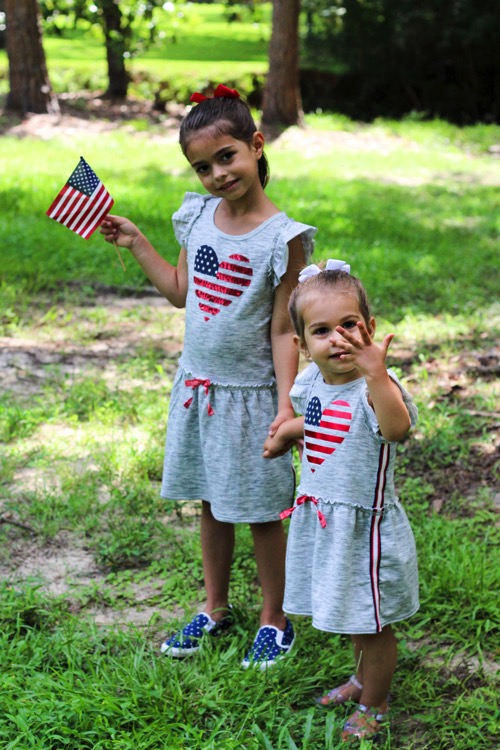 Before I had children, aka when I was a parenting expert, I though it was kind of silly to see kids wearing matching clothes. Now, I'm legitimately sad if they don't have a cute dress in both Liv and P's sizes. It's tragic.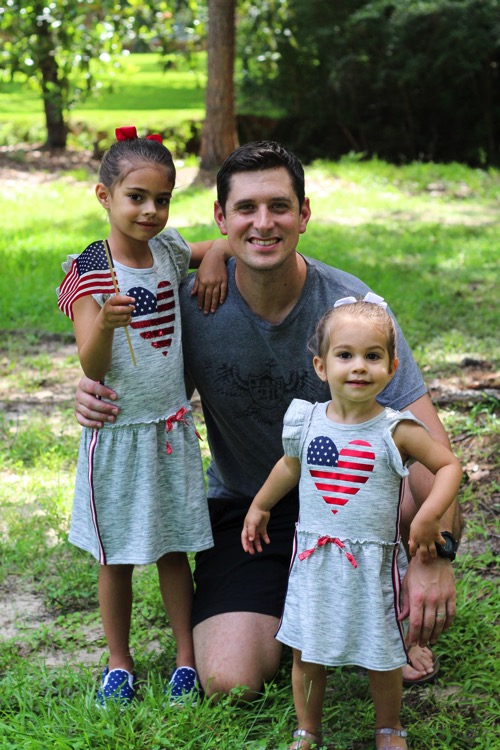 [Blurry] Family pic: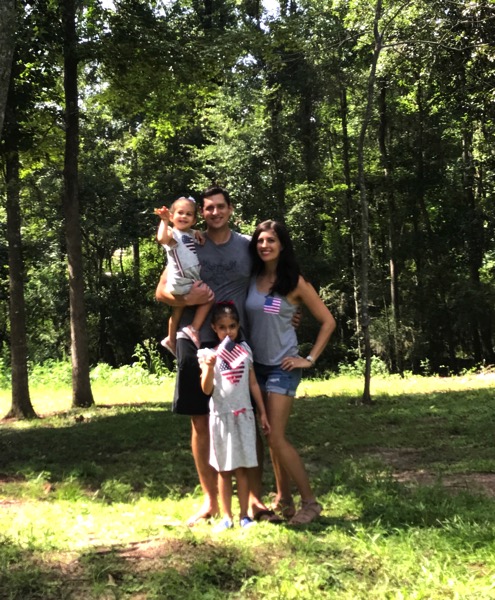 After swimming, we came home to grill! The Pilot is the grill master and we were all happy to have him out on the patio grilling dinner again. It means that summer is officially here. We had honey-lemon-garlic chicken thighs, sweet potatoes, roasted asparagus (with lemon and garlic) and corn on the cob.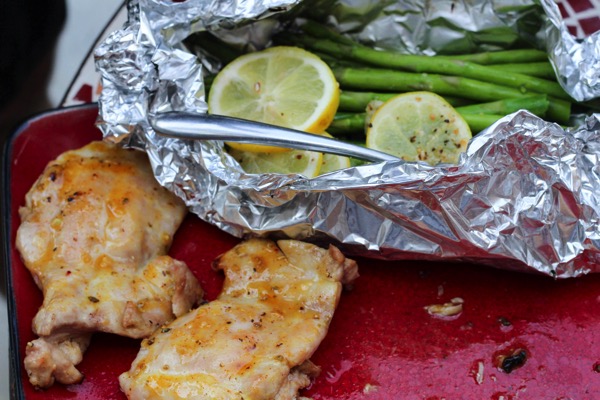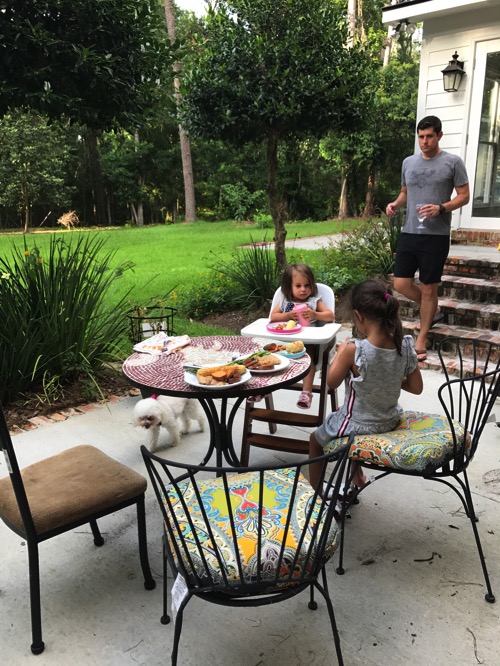 (Note Bella circling the table and wishing for dropped chicken)
Just as dinner was wrapping up, I brought out pizookies (made with Simple Mills cookie dough mix) and we had dessert, the girls danced around to music, and we lit a bunch of fireworks. It was perfect.
The rest of the week has been back in the normal life-teaching frenzy, but I'm excited for the weekend, girls' night next week, and a trip to Tallahassee. I've never been and can't wait to check it out!
Hope you had a happy 4th, too! Did you party it up or keep things low-key? What's your favorite quick dessert?
See ya in the am with Friday Faves.
xoxo
Gina