Hiiiii 😀 How are ya? Hope your day has been wonderful <3
Bella and I ended up deciding on the farmer's market– it was such a gorgeous day today.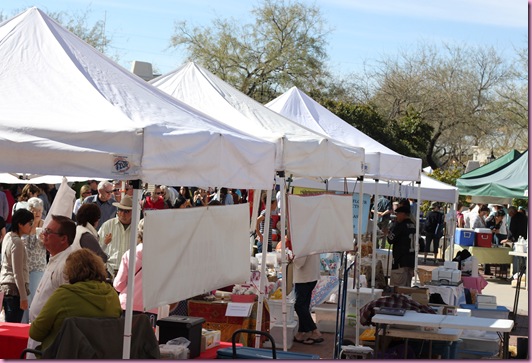 TONS of amazing vendors
and Bella got to meet many new dog friends: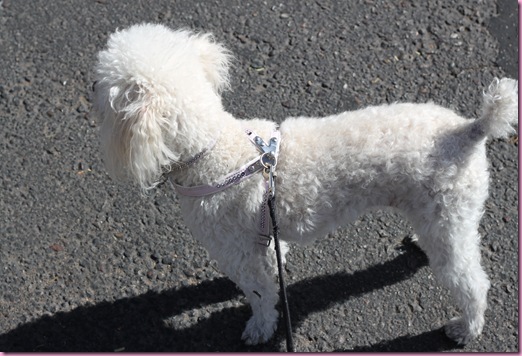 I didn't end up buying anything because I haven't planned out this week's meals- the main thing I wanted was goat cheese and they weren't there today. It was fun to walk around, people watch and food watch 🙂
After the market, I grabbed a snack: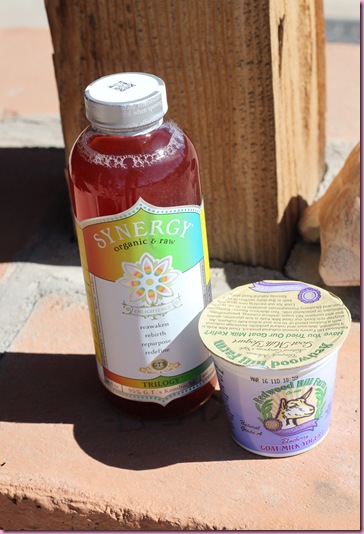 and met my madre at the salon to get my hair did.
Today we did a Keratin Complex treatment, which is a hair smoother. There is a lot of controversy and heresy out there about hair straightening and smoothing treatments, mostly due to the Brazilian Blowout, which my mom's salon (and many others) have refused to offer. Brazilian Blowouts have made quite a few people very sick and contain high levels of formaldehyde. Ever since I heard about it, I've been wary about getting any type of straightening or smoothing treatment on my hair and have spent the last year drilling my madre about Keratin Complex and doing online research. She's an Educator for the company (so she travels to train stylists on how to use the product and perform the treatments) and could answer ALL of my questions… including scientific mumbo jumbo that flew right through my brain (I'm a math girl, not a science girl).
Keratin Complex is a smoothing treatment, unlike Brazilian Blowout, which is a straightening treatment. Keratin Complex contains a high level of keratin (a protein that is in your hair—the keratin for this product is derived from sheep's wool and they aren't hurt in any way during their haircuts). As a smoothing treatment, Keratin Complex repairs your hair, whereas straightening treatments break the hair down. We lose keratin in our hair from everyday damage such as blowdrying and straightening (which I'm guilty of both on a very frequent basis), and no over-the-counter products will repair this damage.
Keratin Complex contains aldehyde, which is a plant-based preservative (all beauty products need some type of preservative to keep them from going rancid). It's at a level 2, which is the same level that's found in perfumes and body lotions (I use both of these). I found the treatment to be extremely gentle –it didn't hurt my eyes and smelled lovely- and feel like it was way less abrasive than getting my hair colored.
Of course, you always have to do what's right for you. There are a boatload of hair treatment options out there and it's up to everyone to become educated and make their own decision. Just wanted to share my experience with you 🙂
First, my madre washed my hair with a clarifying shampoo to bring my hair to the proper PH level. She then blow-dried it and applied the keratin treatment to my hair, from roots to ends. She wore gloves, but said the only reason for the gloves is that the molecular structure of the keratin is so small, it would end up going into her hands instead of my hair.
The treatment sat in my hurr for 20 minutes, not so that a chemical process would occur, but so that my hair would soak up all the keratin: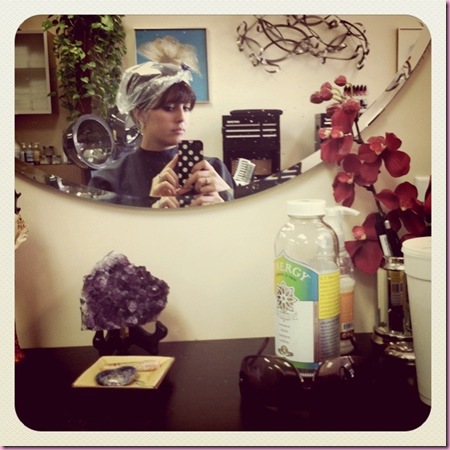 Then, she dried my hair again and straightened it to seal in the product.
My hair feels SHINY and NEW 😀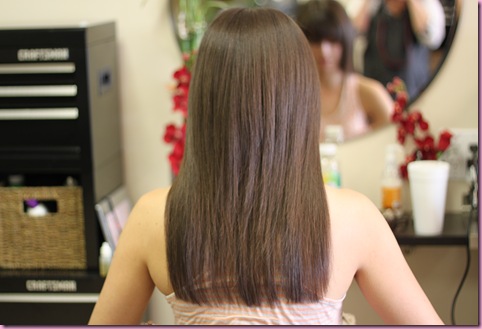 I've been banned from sweating for 2 days (which is perfect because I usually take Sunday and Monday off or active recovery) and then my hair will blowdry more quickly and be frizz free. FRIZZ FREE?!? I can't even imagine!
Here's what it looked like before:                                                       And after:
(After waking up hahah)
Fun 😀 It will still curl when I want to go curly, too.
After hair, we went and grabbed some lunch at Choice Greens, a create-your-own salad place.
You fill out the ingredient list with all of your salad choices: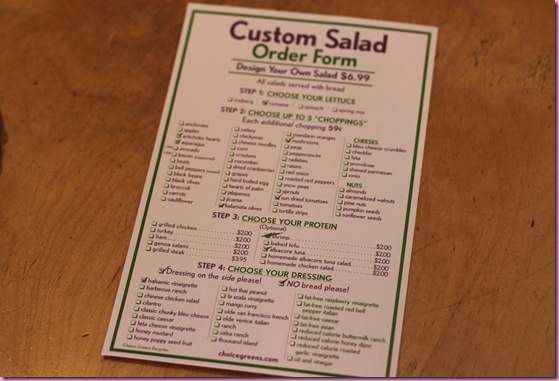 and the chop it all up for you!
A brilliant concept 🙂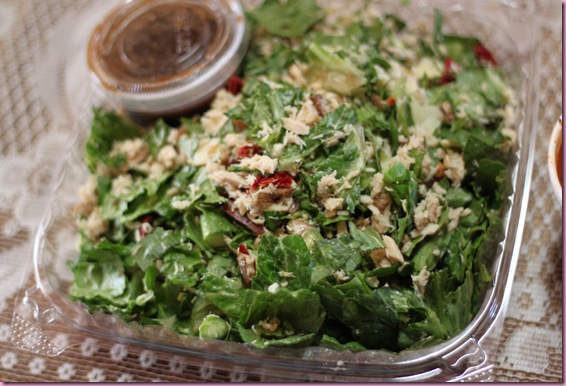 My salad beast of joy contained:
-romaine

-artichoke hearts

-asparagus

-sundried tomatoes

-mushrooms

-albacore tuna

-balsamic on the side
+ a veggie soup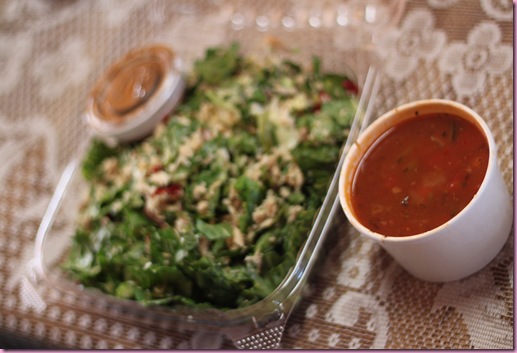 I'm off to pick up a cake for my friend's birthday and then celebrate!
Have a fabulous night <3
xoxo
Gina