Do you remember the time?
(Hee hee!)
Hi friends! How are you?
Hopefully you're having a beautiful and relaxing morning <3
Bella is.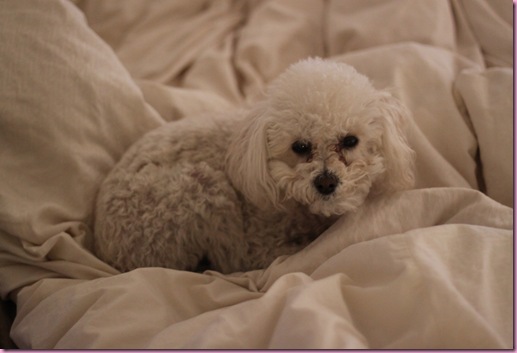 (The Pilot and I call her "Smushy Face" when she wakes up like that- one side of her fur is smushed down from sleeping)
Last night was SUCH a blasty <3
Before leaving to meet up with the girls, I had a fashion crisis (the kind where you don't like anything you own, change 8 times and end up wearing what you started with) and in the process forget my lens for my camera :/ So instead, some iPhone photos:
We ate at the B Line cafe on 4th ave, a super cute restaurant that looks like the inside of a train car. They have a pretty diverse menu (quesadillas, tacos, pasta, salads, burgers), an incredible wine and beer selection and a rotating tower of dessert that was to die for: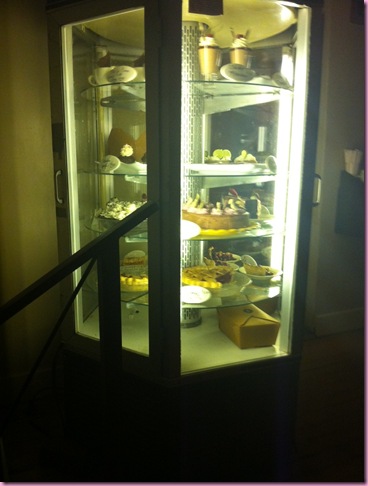 There was a salted chocolate caramel tart that would beckon to me every time it would spin around…. 🙂 After this detox is over, I may be back for it.
I enjoyed a salmon salad with extra veggies instead of cheese: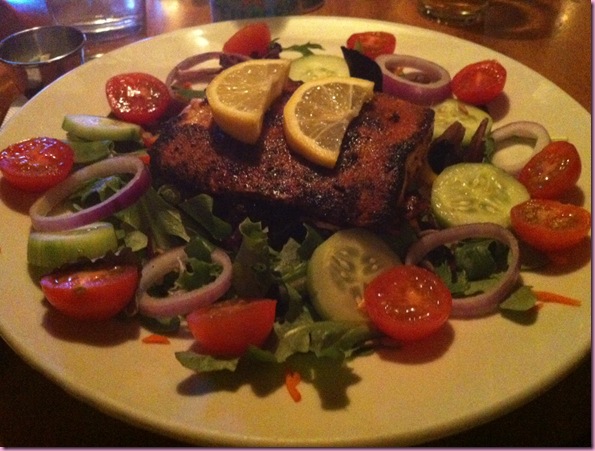 It was BEAUTIFUL. The salmon was as big as my face and cooked perfectly… win win 🙂
After our dinner, we walked down to Breakout, where our friend Cameron was performing.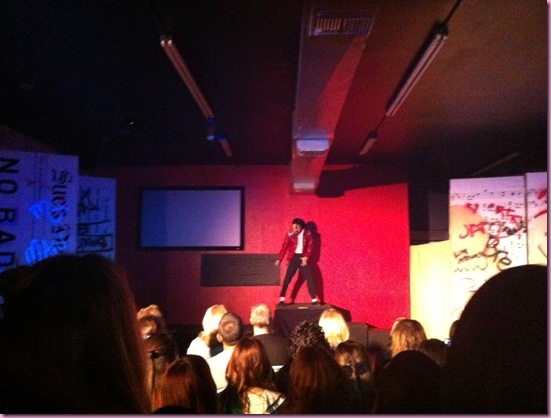 He's a Michael Jackson impersonator- an incredible one. I'm not even a huge MJ fan, but its always fun to watch insanely talented people do their thang 🙂
This morning, I had a bowl of protein ice cream with a crumbled amazeball on top: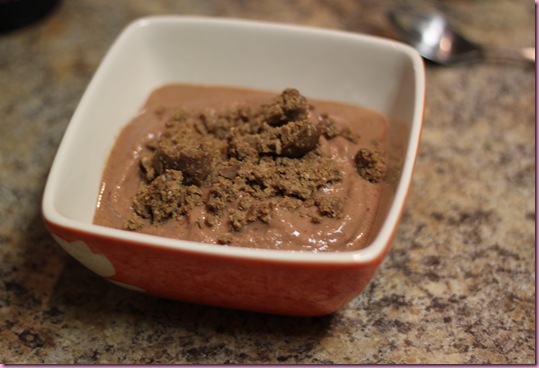 -1 C almond milk

-1 C frozen organic strawberries

-2 scoops protein (Sun Warrior and Dr)

-1 T raw cacao powder

-1 T decaf espresso powder

-cinnamon
It was… amazeballz 😉
I'm off to drag Smushy Face out of bed and take her to the park or Farmer's Market. We definitely need some groceries in the casa and Bella will love the attention and fresh air.
Later today, I'm getting a Keratin treatment on my hair (it's my first one- we were finally able to fit it in my schedule) and meeting some friends for yoga.
Have a great day and I'll see ya this afternoon!
xoxo
Gina
Upcoming:
-20 Days of Detox update post