I'm crashing the party over here today 😉
Here are some of the things I'm loving right now: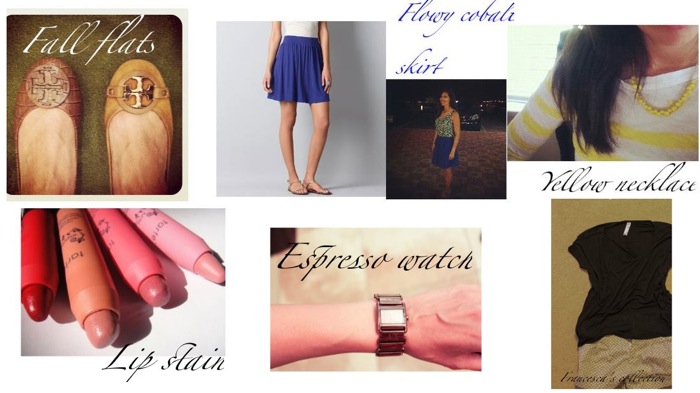 -This cobalt blue skirt from LOFT. I haven't been much of a skirt person lately (I adore maxi skirts but haven't donned a shorter one in quite a while), but I'm trying to get back into them, especially because I love them for fall in Tucson. It's going to be warm here for quite a while, still, so I picked up a fun skirt which surprisingly matches more than I thought it would. I especially love it with a printed black and white tank.
-Yellow necklace. This is a fun pop of color when you don't expect it, and also surprisingly neutral. 
-Cuff-style watches. This espresso watch is from Armani Exhange, and super cute by itself or layered with delicate bracelets.
-Flats season is heeeeeere again. I rock flip flops or sandals 90% of the year here, but love fall flats. I had a huge debate over which pair to go for, but decided on the ones on the left because the suede ones on the right would be filthy in .4 seconds. It's very dusty here and suede doesn't seem to do too well (or I just don't know how to take good care of it).
-Tarte lip stain (photo source). I love all of their products, but the lip stain has awesome staying power.
-Francesca's Collection. I'd always walk by the store and was curious about their clothing, but it seemed like too much of a treasure hunt. I was really excited to find a few things I loved, including the black slouchy top and black and white shorts above. For the price, I was really impressed with the quality. I wore the outfit with black heels and silver jewelry in Vegas, and today am wearing a white tank under the black top and sandals.
What are you loving right now? Any fun new finds? feel free to link away!
xoxo
Gina