Hello friends! Happy Wednesday! I feel like I haven't seen you in so long (when I missed a single day of blogging haha). There's a lot to catch up on! I'd love to hear about what you've been up to and how the week is going.
First of all, thank you SO much for all of your enthusiasm with the Fit Guides! Everyone received their first month this week (it's not too late to sign up here. When you sign up now, you'll get the first month of your plan automatically) and the designs are soooooo gorgeous. (Julia crushed it with the designs for these. Each one is totally different! They're all bright, fun, and easy to navigate.) It's been really amazing to see everyone checking in through our Facebook group and being tagged in IG stories with the new workouts. I started the Lean Machine plan this week and am excited to see my personal results with such a detailed and strategic plan.
For today, let's catch up on the weekend a bit! The girls and I enjoyed an outdoor festival at the local campus, headed to a friends' house for brunch (+ mimosas for the adults), and on Sunday, we ventured to the happiest place on Earth.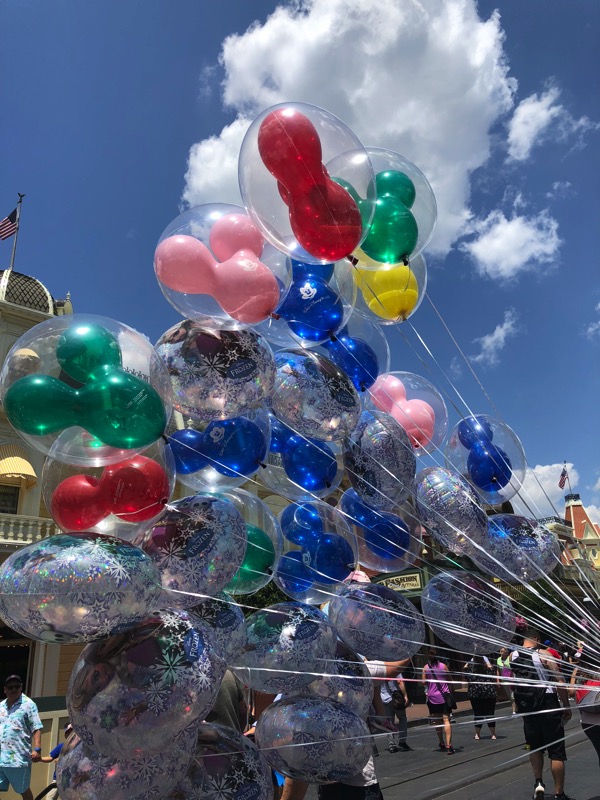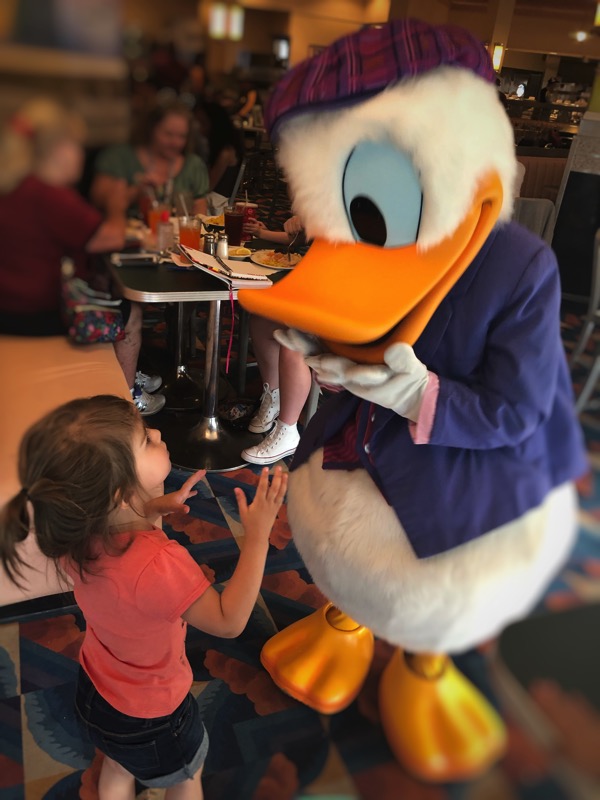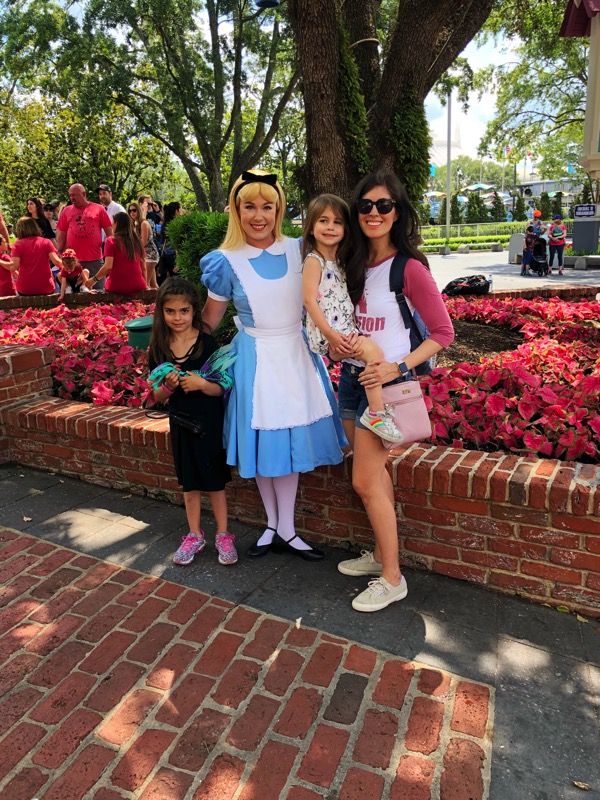 I had heard about an outdoor event on Friday and figured it would be the perfect way to get some fresh air, enjoy some new activities, and tire the girls out a bit before bedtime. 😉 The event was SO much fun. They had great live music, tons of booths (flower crown making, face paint, midway games) and inflatables for the kiddos. They also had a little carnival ride. We rode the ride together, made flower crowns, the girls got their faces painted (it was P's first time!) and then got some food.
We had a picnic in the grass and the girls danced to the live music under the moon. Have you guys seen Inside Out? It was definitely a core memory for me…I don't think I'll ever forget watching the girls dancing, chasing each other around, and eating churros with their faces painted and flower crowns.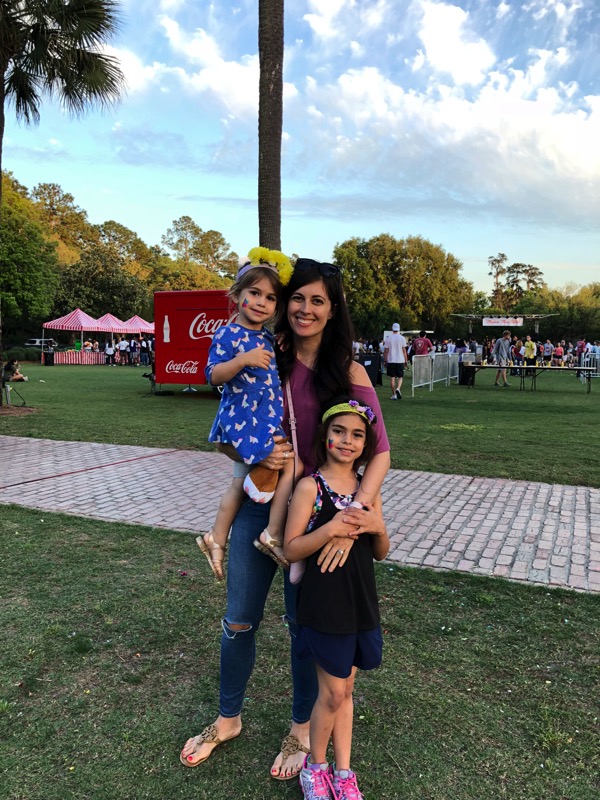 I'd already call the weekend a success, but on Saturday, we had an awesome morning with friends. I made some quick cinnamon rolls – was skeptical about the recipe since Alton Brown's is the STAPLE, but we were on a time crunch. They turned out really well!-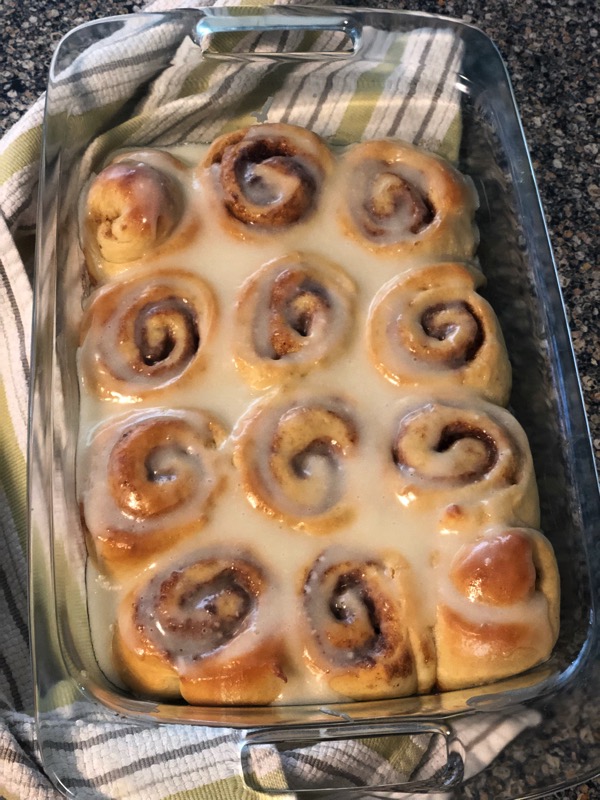 and we took said rolls over to a friend's house so the kiddos could play and the adults could chat. The kids all had a blast, only pausing their play to grab quick bites of food. The moms all watched them outside, we conversed in full sentences (the beauty of being at someone else's house so all the toys feel new to the kids), and sipped on mimosas. Not a bad way to start the day.
Sunday morning, we left early for Disney! We had a couple of days left on our park hoppers, so the girls and I took a little roadtrip together. I packed up everything while they were sleeping on Saturday night, so Sunday morning, all we had to do was get dressed and hop in the car.
We arrived at the hotel before noon, dropped off our luggage and took the Disney transport over to Animal Kingdom.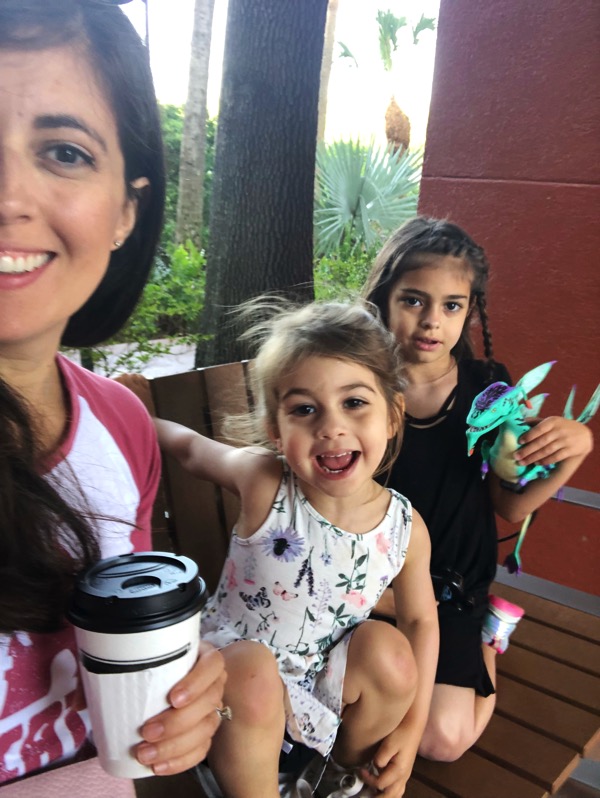 I had a few Fast Passes lined up for us, so we started walking to the Kilimanjaro Safaris. On the way there, we spotted Timon from Lion King and the girls wanted to meet him, so we hopped in line. I knew it would be the perfect moment to start my Disney photo-snapping spree, so I reached into my purse and realized I'd left my phone at the hotel. Such a fail! (We stopped into guest relations so I could call the Pilot and let him know we were there and I had zero communication abilities.) Even though I really missed being able to take photos/videos (especially when both of the girls were in the Lion King show finale together), it forced me to be even more present than usual. I didn't have my watch constantly vibrating to tell me I had a notification or text, and I could just enjoy. We rode the Na'vi River Journey (so beautiful!) for our last Fast Pass, went back to the hotel to take a breather,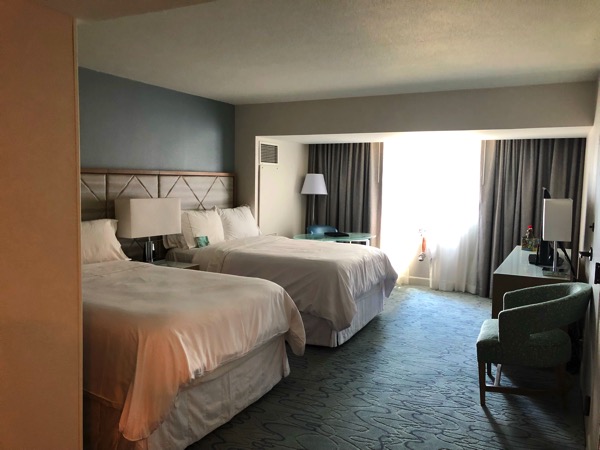 then headed back out to Hollywood Studios for the Disney Junior show + character dinner at Hollywood & Vine.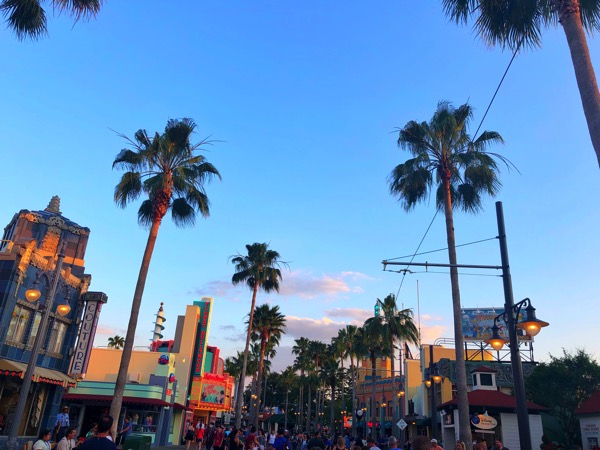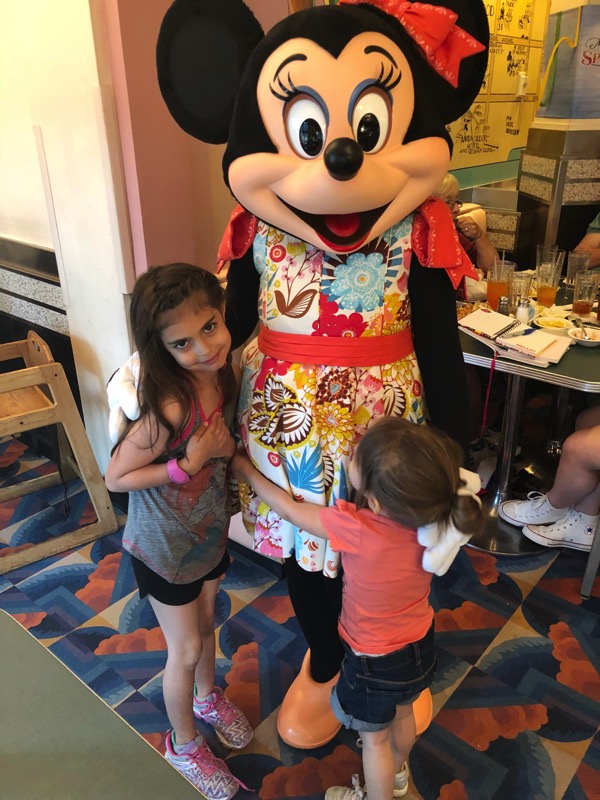 I've mentioned before that P is obsessed with Disney characters (not the human characters; the actual mascot-looking creatures in animal suits), so naturally, character dining is her JAM.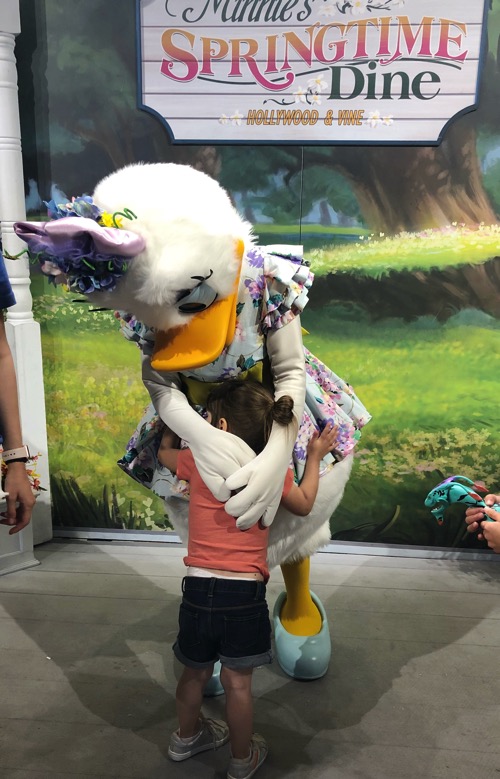 She was literally shaking with excitement waiting for the next character to come to our table. (Livi likes meeting the characters, but looooves meeting princesses, so thankfully we got to see Alice, Tiana, Rapunzel, and Sofia the First on our trip, too.)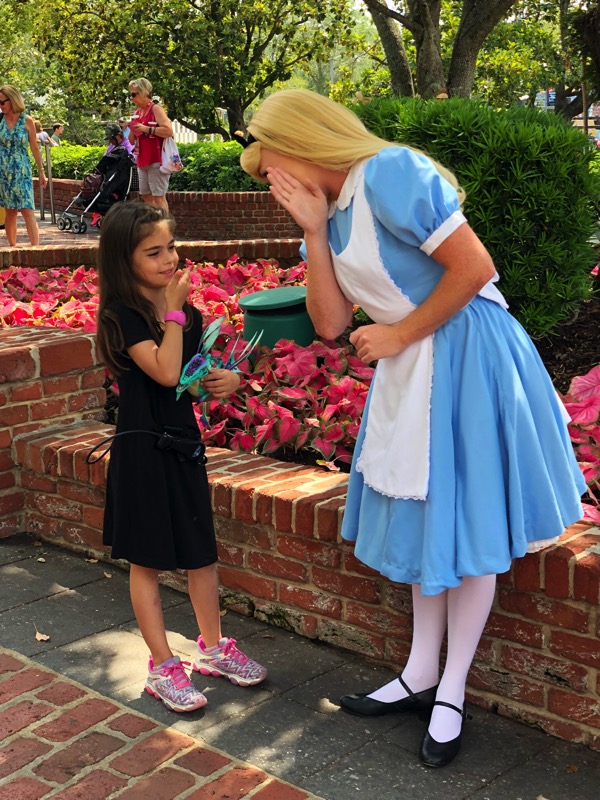 The buffet at Hollywood & Vine is surprisingly good, like most of the Disney food. They have tons of options geared towards kiddos (a station with mini corn dogs, different veggies, rice, mac n' cheese, etc.) + adults: mahi-mahi, plantains, various salads, mashed potatoes, risotto, shrimp, baked salmon, soups, carving station, etc.
We walked around Hollywood Studios for another hour or so, then headed back to the hotel to call it a night.
Monday morning, we were off to Magic Kingdom!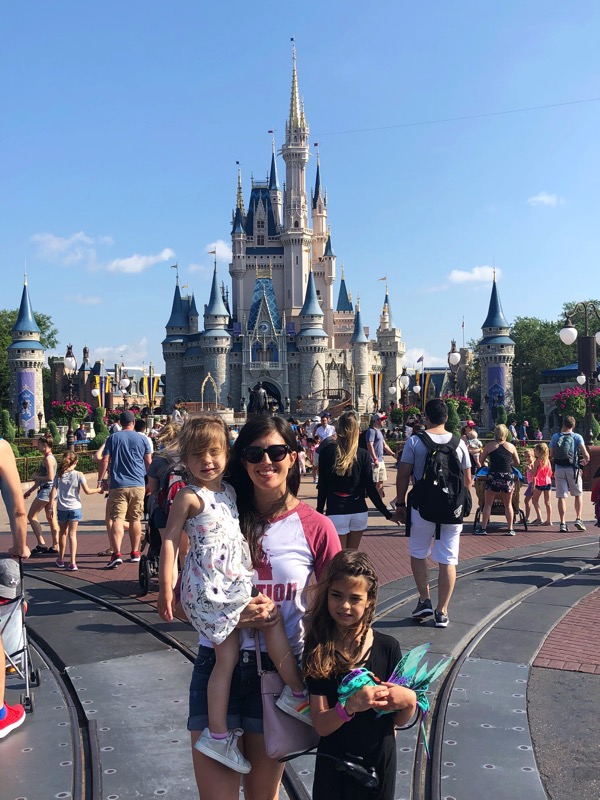 We did all of the usual favorites (Little Mermaid, teacups, Philhar-Magic, Small World, Tomorrowland Speedway) and stopped for a quick lunch in Tomorrowland.
Of course, we topped it off with sweet treats from the confectionary.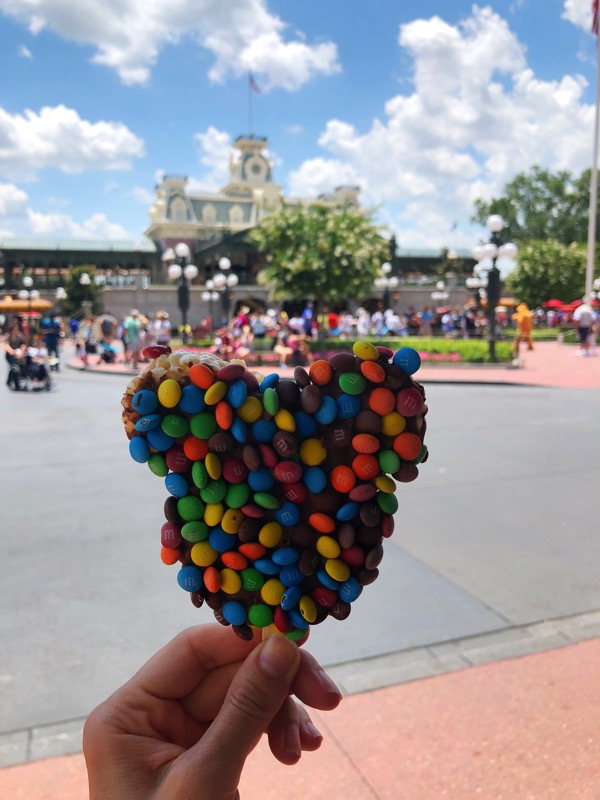 I always tell myself I'll probably just have half since it's usually directly after a meal, but no. 10/10 times I eat the entire time with a creeper smile on my face. It's the best ever.
So many times during the weekend, Liv was like, "This is the best day ever." She said it during the music festival, after brunch and multiple times while we were at Disney. While most weekends don't usually include this much official fun, it definitely felt like a special treat to spend some much time out and about enjoying different activities together. We've definitely hit the ages when traveling doesn't feel like work; it's just amazing to get to spend time somewhere new together.
I hope you had a wonderful weekend, too!
When you go for a quick roadtrip, where do you usually go?
Favorite must-have destination dessert?
xo
Gina